Front Page Story
1965 | United Kingdom
Fleet Street was the setting for this ATV series, which took viewers into the fictional offices of a daily newspaper with a circulation of 2,500,000 readers, called The Globe. 
Made by Rex Firkin, who produced the successful series The Plane Makers and starring London born actor John Bennett as Ray Boscombe, an ambitious, power-seeking newspaperman who was The Globe's editor. Most of the stories were seen through the eyes of two reporters, Danny Tarrant (Derek Godfrey) and Paddy Lucas (Harry Towb), the former being a persistent, unflappable character relying on smooth charm whilst the latter was a persuasive, argumentative and sometimes lazy journalist. 
Other notable's in this series were the Editorial Director played by Ivor Dean who was familiar to British viewers as Inspector Claude Eustace Teal in The Saint and rival newspaper reporter John Brownhill played by a young Patrick Mower (later the impetuous killer Cross in James Mitchell's spy series Callan).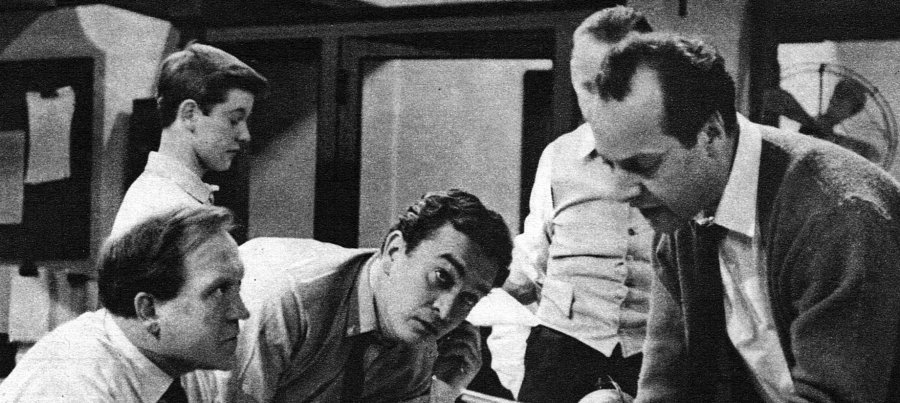 In order to make the series as authentic as possible many scenes were shot in Fleet Street itself (which at that time was the centre of the British newspaper industry) using a new outside broadcast one-camera technique called Monoculous. This single-camera unit was mounted on the roof of a vehicle that also contained sound and vision controls, together with a video tape recording machine. Dated by today's standards but quite innovative at the time.
Published on December 17th, 2018. Written by Laurence Marcus for Television Heaven.