Gideon's Way
1964 | United Kingdom
Having secured the rights from Leslie Charteris to bring his Simon Templar character to the small screen in 1961 both Robert S. Baker and Monty Berman were enjoying modest international success when in 1964 they added another crime drama to their portfolio when their New World production company produced Gideon's Way, a series based on John Creasey's Commander Gideon books, which he had written under the pen-name of J.J. Maric. 
Gideon had previously appeared in a 1958 movie release Gideon's Day starring Jack Hawkins, but for the TV series Baker and Berman cast John Gregson as Commander George Gideon, a policeman with an enormous capacity for work and a strong self-discipline, who was known as 'Gee-Gee' by those who worked in close association with him. Gideon's beat was the London Metropolitan Police area, and the series was one of the first crime detection series to make use of extensive location work, being shot mainly around the East End. Gideon's method of crime detection was in the best traditions of Scotland Yard utilising his vast knowledge of the workings of the criminal mind, of police procedure, and of the city he oversaw.
Detective Chief Inspector David Keen was Gideon's 'leg man' sent by him to interview criminals, cops on the beat, and witnesses. Keen was often entrusted with duties which Gideon himself just didn't have time to handle. The handsome Keen was a very different type of man from his superior. An athletic type with a sharp mind and a firm believer in the scientific approach to criminal problems-sometimes to the exasperation of George Gideon, who was sometimes far less inclined to work on theory and believed that hunches, based on experience, were far more important. Detective Chief Superintendent Joe Bell, devoted to Gideon and fatherly to Keen, was another regular of the series. His Scotland Yard career had been steady but unspectacular. He was steady as a rock in times of crisis. Daphne Anderson played the role of Gideon's wife, Kate, with Andrea Allen, Richard James and Giles Watling playing the roles of their children.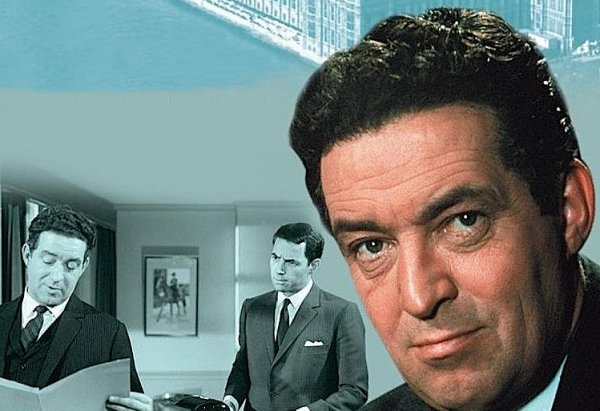 John Gregson started his acting career after having been a factory hand in his home town of Liverpool. His father was a Liverpool council surveyor. After numerous jobs he finally decided to try and make it as an actor. However, his first trip to London turned out to be a dismal disappointment to him and he failed to secure any acting roles. At that point war broke out and Gregson served as an able seaman on a mine-sweeper. After the war he managed to get some small parts in local rep which eventually led to an engagement with the Perth Repertory Company. Two years later, now married to actress Thea Gregory, John returned to London and was this time more successful. After landing a number of small film roles and building up a reputation as a respected and established actor he was offered the part of George Gideon. He gleefully accepted the role of the character that he knew from having read John Creasey's original novels. Creasey had written a dozen books about Gideon, and his 'Gideon's Fire' was named the Best Mystery Novel of 1961 by the Writers Guild of America. 
Alexander Davion played the role of Keen, a character specially written for the series to add romantic appeal and contrast to Gideon's great family attachment. Alex's first ambition was to be a journalist. "My first introduction to Fleet Street was a tea boy in a newspaper office," he said in an interview at the time the TV series was being made. "I might have become a reporter in the long run if they hadn't insisted on my making so many cups of tea. I couldn't stand it any longer. My journalistic ambitions were drowned in hundreds of gallons of tea!" He decided to become an actor and studied at R.A.D.A. He eventually broke into films, later went to America and did extensive theatre work before landing small parts in a number of popular US series such as 'Dr. Kildare', 'Perry Mason' and 'Have Gun Will Travel'. On his return to the UK he continued to build up his reputation until landing his biggest break as a regular character in a TV series.
Ian Rossiter portrayed the 'Super', Joe Bell. Ian (real name Hugh Ross Williamson), was a dramtaic author. He became an actor when Jack Hawkins, who was going to star in his TV play 'Bernadette' suddenly became ill. The producer of that production rang up Ian and told him that there was not enough time to cast another actor in the live broadcast and that Ian would have to play the part himself. He proved so successful that from then on he split his career appearing as Williamson in print and Rossiter on screen. The series also featured a number of guest stars who were just embarking on their careers. Many would become regulars in British TV over the years and they included George Sewell, Anette Andre, Anton Rodgers, Derek Fowlds, Jean Marsh and Mike Pratt, while some, such as Donald Sutherland and John Hurt would go on to international movie stardom. The series was shot on 35mm film giving it higher production values than other contemporary police series such as Z Cars and Dixon of Dock Green, and as such all the episodes were preserved in the archives and have been released as a box-set DVD.
Published on December 19th, 2018. Adapted from the 1965 'Television Show Book' annual..