Here's Harry
1960 | United Kingdom
Set in the fictional town of Woodbridge, Here's Harry presented the star as a bumbling complainer continually pitted against officialdom in a world that he always seemed to be one step behind. As far as Harry was concerned it was the world that lacked understanding and not him, perfectly summed up by a scene where he attempted to by a rail ticket and asked the ticket-clerk for a return fare. "Where to, sir?" came the reasonable enquiry. To which Harry replied in all innocence; "Well, back here of course." He lived at 52 Acacia Avenue with his cat, Tiddles and his oft-referred to but never seen aunt, Mrs Amelia Prendergast. A semi-regular supporting cast of characters included his housekeeper, Mrs Benson (Doris Gambell) Alf (Joe Gladwin) and Tommy (Reginald Marsh). 
Harry Worth was born Harry Illingsworth, in Tankersley, near Barnsley in 1917, and at the age of 14 he went down the mines to work, in spite of the fact that his own father had been killed in a pit accident when Harry was barely a year old. During the Second World War Harry began entertaining his RAF colleagues with whom he was stationed in Burma. On his return to civilian life he borrowed a book on ventriloquism from his local library and decided to become an entertainer. With two dummies (Fotheringay and Clarence) Harry landed his first theatrical date at the Bradford Mechanics Institute in 1946. However, this was by no means the beginning of a runaway success and after failing to get any more professional engagements for some time, he was seriously considering returning to the mines when just in time he was offered a 12 week contract at Southsea. This was his turning point, and in 1948 Harry made his first appearance on BBC radio in New to You. He continued to find steady work without becoming a major star until 1952, when he found himself on the same variety bill as Stan Laurel and Oliver Hardy, who were touring Britain. The two Hollywood legends took an instant shine to Harry and made sure that he was a supporting act on their next British tour (1953-54). This time the comic duo suggested that Harry give up his vent act and go it alone as a stand-up comedian.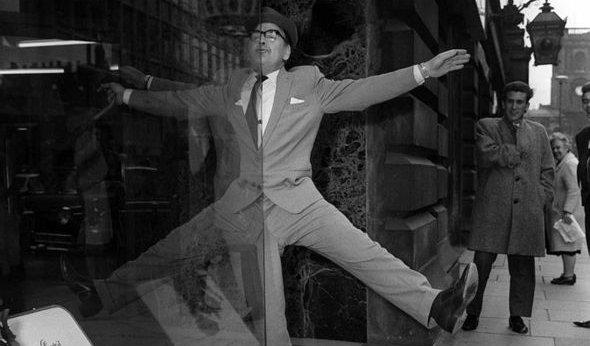 Harry's first 'solo' performance, in Newcastle, left him a virtual nervous wreck, but his uncertain, almost apologetic style went down so well with the audience that he developed it as part of his act. It was that same act that Harry presented in his first BBC series in 1960 called The Trouble With Harry. Although he continued to appear in numerous TV series right up until 1980, it was Here's Harry for which he is best remembered. The opening credits to the show featuring a trick performed by a shop window that made it look like he was lifting both legs off the floor at the same time was copied by schoolchildren around the British Isles. The series was so successful that it won Harry the Variety Club of Great Britain Award for BBC-TV Personality of the Year in 1962. Harry continued to work on radio until 1988 and passed away on 20 July 1989. 
Like a 1960's version of Victor Meldrew, but without the resolutely aggressive attitude and biting edge of knowing social commentary, Here's Harry presented viewers with an exasperatingly endearing and comedic portrait of a social misfit forever tilting unsuccessfully at the monolithically unimpressed windmills of society.
Published on December 21st, 2018. Written by Laurence Marcus for Television Heaven.