My Old Man
1974 | United Kingdom
"40 years - 40 years you live in a house then suddenly someone decides its a slum. So down it comes and out you goes. Daft beggars!" Ronnie Barker set the scene for this sparkling generation gap comedy as part of his 1973 series, Seven of One. But when both Open All Hours and Porridge proved to be runaway successes for the incomparable Mr B, writer Gerald Frow took his character off to Yorkshire Television where it became a starring vehicle for Clive Dunn.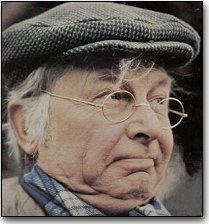 Dunn, best known for his role as Corporal Jones in the BBC sitcom Dad's Army had cornered the market in playing crotchety or forgetful old men, even though, when Dad's Army first began he was only 48. From an early time his trademark character was that of a doddering old man, arriving on the television scene in the early 1960s hit sitcom Bootsie and Snudge, a spin-off from The Army Game. Born in London on 2nd January 1920, a cousin of former EastEnders actress Gretchen Franklin, Dunn played a number of small film roles from the 1930s onwards before serving in the army in World War II, during which time he was captured and placed as a prisoner-of-war in Austria for a total of four years. After being liberated he returned home and picked up his acting career once more working in music halls and theatres. In 1956 and 1957, Dunn got appeared in The Tony Hancock Show. In the 1960s he made many appearances with Tony Hancock, Michael Bentine, Dora Bryan and Dick Emery, but it wasn't until he landed the role of 83-year old Henry Beerbohn Johnson in 'Bootsie' that the then 38-year old became a household name.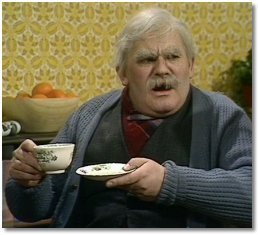 In the Seven of One pilot - Ronnie Barker is introduced as Sam Cobbett, a veteran of two world wars, who is forced to move out of his mid terraced condemned house on Ironmonger Row and go and live in a towering skyscraper. All in the name of progress. "They're building five hundred new homes on this site." Sam tells us. "They don't tell you they're pulling down 700 to make room for them." Sam is an old campaigner who is struggling to come to terms with modern society. He doesn't like central heating ("dries you out"), he doesn't like his new 'local' ("looks like a nancy-boy's bedroom") and he certainly doesn't like his son-in-law Arthur, a snobbish middle class social climber who is embarrassed simply to be in the old man's presence. This makes life especially difficult for both of them as they are now living under the same roof, Arthur having been forced to give up the spare room in his high-rise flat at the behest of his wife, Doris.
Fortunately, the old man's sparkling wit and unimaginable delight at causing Arthur as much discomfort as possible keeps his spirit up. There were a number of cast changes for the full series. As well as the obvious lead role, the part of Doris, Sam's daughter was played by Clive Dunn's real-life wife, Priscilla Morgan (there was an age difference of 15 years between them but nowhere near the two characters supposed aged), Edward Hardwicke, who had recently finished the classic BBC drama series Colditz played the part of Arthur, and their son Ron was played by 17-year old Keith Chegwin.
Published on January 9th, 2019. Written by Laurence Marcus (5 August 2003) for Television Heaven.