On The Buses
1969 | United Kingdom
Commissioned by then Head of Comedy for LWT, Frank Muir, and written by Ronald Chesney and Ronald Wolfe who had previously devised The Rag Trade, On The Buses, rejected by the BBC, was typical 1970's fare of vulgar innuendo and corny situations played to perfection by its colourful cast. 
Former music hall variety man Reg Varney (who had starred in the two Ronald's earlier series), played downtrodden but ever hopeful Stan Butler, a bus driver for the Luxton Bus Company working the Number 11 route to the cemetery gates. Together with his bus conductor partner Jack (Bob Grant), the plots usually revolved around the twosomes attempts to woo the mini skirted, big-busted female employees who worked as 'Clippies' (Bus Conductresses) for the same company. Bain of their life was the humourless Inspector Blake (Stephen Lewis), who tried in vain to catch the chirpy pair up to no good so he could dismiss them. Blakey's catchphrase "I 'ate you, Butler" was quickly adopted by the viewing public.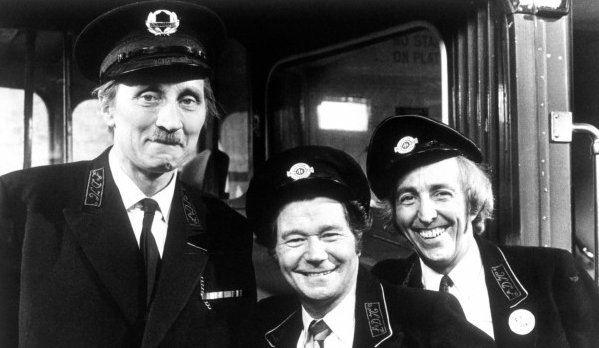 At home Stan's life was not much better, living with his mother (Cicely Courtneidge, who was later replaced by Doris Hare), his dowdy sister Olive (Anna Karen, who later starred in a revival of The Rag Trade playing the same character, and later still starred in EastEnders as Peg Mitchell's sister), and her layabout husband Arthur (Michael Robbins). When Olive became pregnant she told Arthur that the doctor had informed her that her husband would have to go without his 'little pleasures' for a while, to which Arthur replied, "Oh no, I'm not going without my football!" 
A bus garage owned by the Eastern National Bus Company in London's Wood Green area provided exterior shots after London Transport refused to cooperate, stating in a letter to the producers that they felt it (the series) might damage their image. The series became a smash hit for LWT and the letter was framed and hung in the production office by original director Stuart Allen. The series success spilled over to the big screen and no less than three feature films were given cinema releases, the first of which was the highest earning British film of 1971, even overtaking James Bond ( Diamonds are Forever) in box office takings.

The format sold to the USA as Lotsa Luck, starring Dom DeLuise as Stan Belmont, a lost property clerk for the New York bus department. However, the show was not a success and has never been aired in the UK. A number of cast members left before the end of the seventh and final series. Michael Robbins quit at the end of series 6, his character was said to have finally walked out on Olive and even the main star, Reg Varney, bowed out half way through the final excursion as Stan found new employment in the Midlands. His place in the diminishing Butler household was taken by a lodger - Inspector Blake. By this time the two Ronald's had relinquished much of the writing and Bob Grant and Stephen Lewis were contributing scripts, as were George Layton and Jonathan Lynn. 
Lewis took his Blakey character to a spin-off series Don't Drink The Water, which saw him moving to a retirement home in Spain with his spinster sister (Pat Coombs) in 1974.
Published on January 15th, 2019. Written by Laurence Marcus (2003) for Television Heaven.