The Mary Tyler Moore Show
1970 | United States
In "The Great TV Sitcom Book", author Rick Metz wrote: "The Mary Tyler Moore Show ...marked the return to TV of a generation who had given up after 'The Flying Nun' flew off and Beaver left it to someone else... It was funny, it was intelligent, it was moving. What a relief from the sixties."
MTM gave America a new type of sitcom, one that used human relationships as a springboard for comedy. It also gave America a new definition of a single woman at a time when women's liberation became more than just a slogan. Mary Richards was not a sex object, nor was she desperately trying to snatch a fellow to walk down the aisle with her. (That job fell to best friend Rhoda Morgenstern.) And Mary paid as much attention to her career as she did to her social life, maybe even more.
Mary Tyler Moore began her television career in the early 1950's, playing the pixie "Happy Hotpoint" on appliance commercials for The Adventures of Ozzie and Harriet. She later showed only her legs as "Sam" the answering service operator on Richard Diamond, Private Detective (1957). But her greatest fame came as Laura Petrie on The Dick Van Dyke Show (1961-1966). When 'DVD' went off the air, Moore's career hit some roadblocks. A starring role in the musical version of Breakfast at Tiffany's closed even before it could get to Broadway. She started in several flop films (including Elvis Presley's Change of Habit, where she played a nun). But in 1969, Dick Van Dyke invited Moore to co-star in a CBS special entitled Dick Van Dyke and The Other Woman. The show earned high ratings and critical raves. CBS executives offered to buy 13 episodes of a new comedy series starring Moore.
She and her then-husband, television producer Grant Tinker, formed MTM Enterprises to produce the show. Tinker approached young writers James L. Brooks and Alan Burns, who were working on the high school series Room 222, and asked them to create a show. They came up with the concept of Mary playing a divorced woman who moves to Minneapolis, Minnesota to start her life over as an associate producer at television station WJM. But the network said no to a divorced woman--executives feared people would think Mary Tyler Moore broke up with Dick Van Dyke! The writers then made Mary Richards a single woman who had ended an affair. CBS accepted the new idea and the series got the green light.
Tinker and the writers cast the show with accomplished actors instead of comics. Ed Asner, who played Mary's boss Lou Grant, was a stage and character actor. Gavin McLeod (news writer Murray Slaughter) also appeared in guest roles on various TV shows. Valerie Harper (Rhoda) came out of Chicago's famed Second City comic troupe. Cloris Leachman (as landlady Phyllis Lindstrom) was an accomplished actress who would later win an Oscar for her work in the film The Last Picture Show. And Ted Knight was a voice-over artist who landed the role of incompetent and egotistical newsman Ted Baxter.
'MTM' premiered in September 1970. Slowly but steadily, it became a hit in its first season. By season number two, with powerhouse All In The Family leading CBS' Saturday night schedule, 'MTM' cracked the top ten and stayed there for the next three seasons. By all indications, the 'MTM' set was a very happy one to work on. Part of the reason was Moore herself. As she once described her role, "My forte is not being funny, but reacting in a funny way to those around me." Mary Richards was indeed the solid rock that allowed her friends and co-workers to display their flights of fancy. And 'MTM' was blessed one of the most talented casts ever in a situation comedy. Not only were they funny, but also they were able to grow and change as the series progressed. Lou Grant, for instance, divorced during the series, and attempted to get back in the dating world. Murray found outside interests, and adopted a boy near the end of the show's run. Rhoda and Phyllis were spun off into their own series during MTM's run (and 'Lou Grant' would move from comedy to drama after the show ended).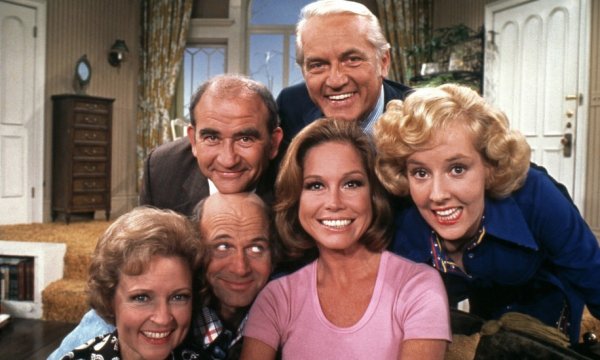 The biggest change came for Ted Baxter. Knight complained to producers that his character was too much of a buffoon. They responded by making Ted more grounded--first by giving him a wife (Georgia Engel), then making Ted and Georgette parents. Another significant character on the show first appeared on September 15 1973, when Betty White played sweet-talking and man-crazy Sue Ann Nivens, "The Happy Homemaker." In her first episode, entitled "The Lars Affair," Sue Ann had an affair with Phyllis' husband. Adultery was not an issue usually handled on a sitcom at the time, but 'MTM' pulled it off with wit and class (as did White, who later became a regular cast member). Probably the most famous 'MTM' instalment aired on October 25th, 1975. Entitled "Chuckles Bites The Dust," it revolved around the death of WJM kids show host Chuckles The Clown. He was killed when, as Lou Grant put it, "a rogue elephant tried to shell him" while he performed in a parade dressed as the character "Peter Peanut." The bizarre circumstances lead to jokes in the WJM newsroom. Mary refuses to join in the laughter--until the day of the eulogy. When the minister talked about how one of Chuckles' characters would "pick himself up, dust himself off, and say 'I hurt my foo-foo'", then recited Chuckles' famous saying: "A little song, a little dance, a little seltzer down your pants." The result: Mary broke out into laughter and when the minister urged her to laugh because "nothing could have made Chuckles happier," Mary broke down into tears.
In 1997, "TV Guide" named "Chuckles Bites The Dust" the best television episode of all time, "proof positive that TV can explore a social taboo with sophistication, wit, irreverence and impeccable good taste." By 1976 the sophisticated comedy of 'MTM' started dropping in the ratings, while physical sitcoms like Happy Days and Laverne and Shirley topped the charts. Moore learned during the Dick Van Dyke Show not to overstay your welcome. So the 1976-77 season became the last for The Mary Tyler Moore Show. Ideas for that final episode were talked about, including one where Mary and Lou would get married, turn off the lights, and Mary would whisper "Oh, Mr. Grant!"
Instead, a new station owner fires everyone--except Ted Baxter! The show (which aired on March 19th, 1977) ended with the cast singing "It's A Long Way To Tipperary" as Mary turned off the lights of the newsroom for the last time. The success of "The Last Show" encouraged other US sitcoms to broadcast "final episodes" at the end of their runs. Mary herself would have little luck recreating the magic of this series. Two variety shows would come and go during the 1978-79 season; her return to sitcoms failed with 1985's Mary; and she would star in the short-lived Annie McGuire (1988) and New York News (1995). But during that time, Moore branched out with success in such films as Ordinary People and Flirting With Disaster. She also took roles in several made-for-TV movies and mini-series.
In 1991 CBS aired a reunion of the entire 'MTM' cast for a 20th anniversary special (except for Ted Knight, who died in 1986). After much talk about an 'MTM' reunion, fans got some of what they wanted in February 2000 when ABC aired the TV movie Mary And Rhoda. It reunited Moore and Valerie Harper, now older and wiser, along with their daughters. (Mary had become a widow; Rhoda divorced-again.) None of the other 'MTM' originals guested, or were even referred to! Sadly, the movie was a disappointment, bogged down in 1990's relevance and political correctness--faults the original 'MTM' show avoided in its seven-year run. Even though the ratings were high, critics hated Mary And Rhoda. ABC refused to buy a series based on the movie.
Not even the faults of Mary And Rhoda can dim the excellence of the original. The Mary Tyler Moore Show gave a generation of Americans a new view of single women, and in the process, gave us friends we visited every Saturday night. Not just characters--friends. And why not? As the theme song told us, "love is all around." And the feeling was indeed mutual.
Published on January 3rd, 2019. Written by Mike Spadoni 2001 for Television Heaven.