The Old Grey Whistle Test
1971 | United Kingdom
Unlike BBC1's flagship pop show, Top of the Pops, which concerned itself with the latest chart entries and high risers, The Old Grey Whistle Test was the Corporation's showcase for 'serious' music and as such was presented on the much more cerebral BBC2. 
The series developed out of Disco 2 (1970-71 introduced by Tommy Vance), itself derived from the earlier Line- Up (1964-72), originally a ten-minute curtain raiser to the evening's programmes on what was at that time British television's newest channel. The 'Old Greys' of the title were the doormen who worked for record companies in the 1920's. The 'test' being that executives would play them the latest compositions, and the ones they heard them whistling later on were the ones that would be sure-fire hits. 
The series was presented from the start by the former assistant editor of Melody Maker; Richard Williams, but it was another 'paper' man who is most closely associated with the series in the consciousness of the British public; co-founder of Time Out magazine Bob Harris. His easy going and laid-back style of presenting earned him the nickname 'Whispering' Bob Harris and later presenters included Anne Nightingale, Andy Kershaw and Richard Skinner, amongst others. 
The Old Grey Whistle Test boasted a number of firsts, including the first British TV performance of Bob Marley and the Wailers as well as the debut on our screens of The Stone Roses.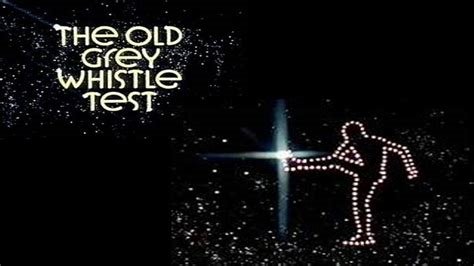 The series was introduced most famously with an opening graphic of a star-kicking male while the theme music was Stone Fox Chase by Area Code 615 (who made a single appearance on the show in 1978). The series normally featured no more than two bands playing in a sparsely furnished studio and would often feature pre-filmed interviews, one of the most famous being John Lennon who, in 1975 chatted and performed songs from his latest album; Rock 'n' Roll. 
The series changed its name to simply Whistle Test in 1984 and in 1985 it was the Whistle Test team that presented the BBC's broadcast of the Live Aid concert. Three years later the series was deemed to have run its course and although it was dropped from the schedule its influence can still be seen today in shows such as Later with Jools Holland. 
In a list of the 100 Greatest British Television Programmes drawn up by the British Film Institute in 2000, The Old Grey Whistle Test was placed 33rd.
Published on January 15th, 2019. Written by Laurence Marcus for Television Heaven.