The Owl Service
1969 | United Kingdom
Roger's father, Clive, has just married Alison's mother. They have all gone on a family honeymoon to a house in a Welsh valley. The sun shines on the mountainside. The river sings. But the ancient savagery of the place is already groping in the unlit places of their minds. Strange things are seen and heard. Dark reflections of their own loves, jealousies, hatreds. "A thing of such overwhelming power, beauty, wit and terror that one is left speechless right up to the last word. The Turn of the Screw is a trifle by comparison"-so said one press review of Alan Garner's 'The Owl Service,' which in 1967 became the first novel ever to win both the Guardian and Carnegie awards. (TV Times for week commencing 20th December, 1969.)
Although broadcast in the 'family slot' on a late Sunday afternoon from 1969 to 1970, The Owl Service was nothing like the typical children's drama series that teenage viewers and their parents had been used to. As a result, it most probably changed the tone and direction that children's drama would take for the next few decades.
When Alison's father died, he left her a remotely situated Welsh country house. The house comes with a history, though. Alison's father inherited it from a cousin, Bertram, who died there in mysterious circumstances. Now that Alison's mother has remarried, her new stepfather, Clive, has decided it would be a good idea for the new family (along with his own son, Roger) to spend a few weeks there in the summer so they can bond.
Along with the house comes a small staff of 'domestic's', namely Huw Halfbacon - handyman and gardener, Nancy - cook and housekeeper, and her son, Gwyn - who has only recently joined his mother and knows very little about the history of the house apart from stories he's heard from his mother. It would appear that she, and in particular Huw, know a lot more than they are telling. For some reason, Nancy doesn't want Gwyn to have anything to do with Huw.
One afternoon, whilst sitting in her room, Alison hears scratching noises in the attic above her bed. She calls Gwyn who initially passes it off as the sound of rats scurrying around. But Alison persuades Gwyn to climb the ladder to the attic door, which obviously hasn't been opened in years. When he eventually manages to force the door open he discovers the attic is empty except for a stack of dinner plates with a floral pattern. He picks one up, but as he does so a strange vision flashes before his mind's eye. At the same time, Roger, who is lounging by a large upright stone some distance away from the house, has the impression of something flying through the air towards him.
Later, Gwyn tells Roger of the mysterious sounds and also of the plate, and Roger decides to visit Alison, who by now has copied the plate's pattern onto paper and discovered that rather than being flowers, when put together properly, the patterns form the drawing of an owl. From these drawings she begins to make paper folded owls. At the same time, Nancy discovers that Gwyn has been into the attic and expressly forbids him from going up there again. She then rushes upstairs in a rage to retrieve the plate from Alison, but when the girl hands it over the pattern has vanished and the plate is completely plain. One by one Alison removes the plates from the attic, one by one she traces the pattern to make another owl (by now obsessed with the need to make them), and one by one the patterns disappear.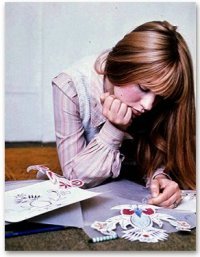 From what Huw says, it seems there might be a connection with the ancient standing stone of Gronw, and an ancient legend. The legend tells of Blodeuedd, a woman created from flowers by a Welsh wizard as a wife for the hero, Lleu. But she fell in love with a young man, Gronw. Standing on a hill, Gronw threw a spear which killed Lieu, who was then magically restored to life and then similarly aimed a spear which passed right through the stone and killed Gronw. As punishment for being unfaithful and inducing Gronw to kill Lleu, Blodeuedd is turned into an owl.
Is history about to repeat itself? With both Gwyn and Roger becoming rivals for Alison's affections, Huw warns the three teenagers that they are in danger of reliving the old legend. Even Nancy has her own secrets to keep and was once possessed by the same plates Huw discovered in the attic. Alison has by now hidden all the plates and is denying all knowledge of them. In the house's billiard room part of the plaster wall begins to crack and fall away, gradually exposing a picture painted underneath of a woman made of flowers. As the mystery unfolds, even more questions are asked: What is hiding behind an old barn door? Who was Nancy's secret lover and who is Gwyn's real father? And has Huw more to do with the death of Bertram than he would like to admit?
The serial was shot between April and June 1969 and was the first fully-scripted drama to be made entirely in colour by Granada Television. It was, however, shown in black and white on its original run and not seen in colour until its 1978 repeat (shown as a tribute to cameraman David Wood who had died a few months earlier). Filming was shot in and around Dinas Mawddwy, North Wales. Poulton Hall in Liverpool was used as the house location when the owners of the Welsh mansion where Alan Garner had set his novel, Bryn Hall, refused filming permission. The serial's kitchen scenes were filmed at the Marfords County Remand Home, Bromborough.
Alan Garner had been fascinated by the story of Blodeuwedd, the woman created out of flowers then turned into an owl as a punishment for her part in her husband's murder years before a friend showed him a plate from an old dinner service, pointing out how its curious pattern could be seen as either flowers or owls. Having seen the plate in 1960 Alan Garner began work on 'The Owl Service' in 1963 -- the novel was published four years later. In September 1969, the TV Times published a picture of the pattern and asked if any readers owned such a plate. There was no response. The mystery deepened when the Hanley Museum examined the plate's marks and told Granada that it originated from Wales. Was it possible that the only copy in existence found its way to the one man who would read the message? During the transmission of the first episode of 'The Owl Service' one family who were watching realised they were actually eating their tea off just such a plate. By 1980 it is believed that a total of three plates had been discovered.
'The Owl Service', it is said by many critics, raised the bar on children's drama by introducing adult themes such as class struggles and awakening teenage sexuality, subjects that had not been the topic of children's drama previously. By covering such subjects the series was the first to cross the boundary from cosy teatime viewing into adult television and one can only wonder at how many mothers and fathers sat uncomfortably in their armchairs with their children seated on the floor as the camera panned seductively over Gillian Hills, the actress who, just a year before had appeared naked in cinemas across the country in the cult 60s flick 'Blow Up.' Many typical 60s cinema techniques were employed by director Peter Plummer, including the use of jump cuts, subliminal shots and at times the drama was given an almost documentary feel. But after raising the bar children's television pretty much dropped it several notches again and for a little while longer Sunday afternoon television didn't feel the need to push the boundaries of acceptability any further. Indeed, for a while it stood well behind the line and parents around the country probably breathed a heavy sigh of relief.

The Cast
Brought up in a converted shepherd's cottage in Snowdonia, 19-year old Michael Holden described how the legend took control of the cast during the six weeks filming. "It was an incredible experience for all of us" he was reported as saying in a TV Times interview. "It was as if we personally were living the thing. The legend, the spirit of the valley was so strong that we became obsessed by it." Michael spent several nights in the little village post office before filming began. "I felt very close to the whole thing. The area was much like where I grew up in Bethesda-and it was nice to go back to being outnumbered by sheep." Sadly, in 1977, Michael Holden was murdered. 

Gillian Hills who played 17-year old Alison in the series reportedly once turned down a film part offered to her by Roger Vadim. When she was 16 she was terribly star struck and sent off a photograph of herself to Vadim asking him to autograph it. Instead, Vadim wrote back offering her a part in a film he was making at the time. Gillian considered herself too young and turned down the offer. Only then did the idea of acting take firm root in her mind. 
Trivia
Alan Garner based Huw upon the remarkable character and memories of Dafydd Rees of Llanymawddwy who made two appearances in the programme itself bringing him sudden fame at the age of 81!


By coincidence, Raymond Llewellyn was offered the part of Huw only a few days after reading the book from which the series was adapted.
In 2007 The Owl Service was selected by judges of the CILIP Carnegie Medal for children's literature as one of the ten most important children's novels of the past 70 years.
Published on January 17th, 2019. Written by Laurence Marcus (18 April 2008) for Television Heaven.