The Sunday Break
1958 | United Kingdom
Television had little or no time to devote to religion when the BBC began transmitting the first regular television service in 1936 and indeed this remained so until the advent of Commercial Television in 1955.
Although church services were broadcast on radio both the Church and the BBC felt that the act of worship would be devalued by television coverage, and similarly people would be encouraged to stay away from evening services by having any type of programming whatsoever. Therefore, a 'closed period' was in place every Sunday between 6pm and 7.30pm and remained so until 19th January 1972 when the Minister for Posts and Telecommunications, Christopher Chataway, a former ITN newscaster, withdrew government restrictions on the hours of broadcasting.
However, the Government were prepare to "ignore" the restrictions as long as the programmes transmitted between these hours were of a religious nature, and therefore, on 8 January 1956 at 7pm, About Religion, the first Sunday evening religious programme on British television was born as was a period of television that would become known irreverently as "the God slot."
But by 1957 it was felt by many that the youth of the day were more interested in Rock n' Roll or Skiffle music than staying at home to watch religious programmes. So, in the Autumn of that year, Howard Thomas, ABC Television's Managing Director, presented an idea for a religious programme to the Central Religious Advisory Committee, which governed all religious programmes. His idea was for a programme to be transmitted during the evening break in Sunday programming and bring together in an informal atmosphere a true cross section of youth.
The Sunday Break's producer, Ben Churchill, wrote; "We wondered whether they (the youngsters featured in the programme) would, in fact, talk together and be prepared to hold serious discussions. For this reason we organised in Birmingham, where the programme was produced, a meeting before the first programme (which went out at 6.15pm - 7.00pm in March 1958). After the first get-together there was no problem. Part of the programme was devoted to music, and that meant meeting the tastes of most young people with Jazz and Skiffle. The teenagers danced as they did in any club. No special effort was made to play religious popular songs. The idea was to help the musical appreciation of young people so far as that could be applied to the kind of music they like, and also to ask them to be open-minded about other kinds of music."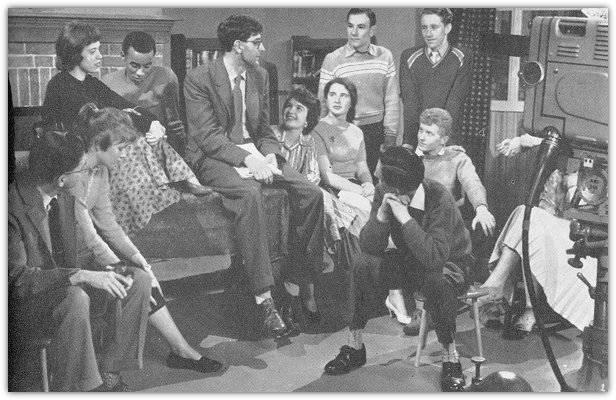 The discussions that took place during the course of the programme included the morality of Western films, the role of the Christian in the Army, sport, politics, big business, gambling and smoking and teenagers were encouraged to Bible reading by way of competitions for modern versions, written by themselves, of selected Bible stories. A painting competition bought forth a very large entry, many of them good enough to win the praise of professional artists. And it was quite noticeable that from it's initial broadcast the adult religious programmes that followed The Sunday Break almost doubled it's audience.
Jazz, Rock n' Roll, and Skiffle, discussions on subjects ranging from Christian doctrine to sex and science, set in a club atmosphere, transmitted for 45 minutes three times a month, The Sunday Break was one of the most controversial and adventurous religious programmes of it's era. As Ben Churchill wrote in 1958: "The Sunday Break, whatever it may be doing spiritually, has helped make that worthwhile discovery about Britain's youth today. In fact, we who work on this programme believe that it is reaching young people in a way that the church alone cannot reach them; and that it is helping them to face up to their biggest problem, that of living to their own good."
Published on February 4th, 2019. Written by Laurence Marcus (6th April 2005). Sources of reference for this article: 'The Guiness Book of TV Facts and Feats' and 'The Television Annual for 1959' for Television Heaven.