Then Churchill Said to Me
1993 | United Kingdom
When Frankie Howerd is mentioned, most people have images running through their head of him hand on hip, wearing his naturally forlorn look and bemoaning some variations of 'Oh no, don't', Nay, nay and thrice nay,' or the infamous 'Titter ye not, missus.'
Aside from his stage performances, which rarely changed during his career, Howerd had a mixture of radio, television and movie roles, but one that very nearly slipped through the net and indeed never surfaced until after the much-loved comic's death was the little known Then Churchill Said To Me.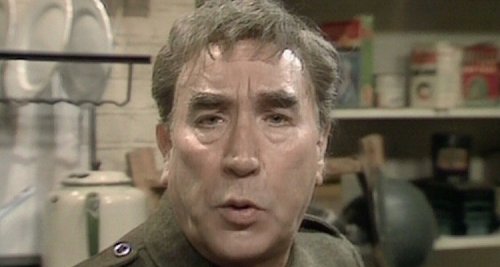 By the late 1970s, Frankie Howerd's career – well reported as having peaks and troughs throughout its entirety – was in a slump. He was without a comic vehicle to amuse his fans and was reliant largely on guest spots and stage appearances. The reasonably well received The Frankie Howerd Variety Show on Radio 2 failed to provide the impetus to generate a successful television series, and since Howerd was primarily a performer more than a writer, he remained largely in the comic wilderness in the early 1980s.
In 1981, the BBC commissioned a series penned by Maurice Sellar and Lou Jones. Sellar had previous experience of writing for Howerd, having been one of the team to pen the short-lived Whoops Baghdad, a failed attempt to recapture the success of Up Pompeii.
In reality, Then Churchill Said To Me was very much a variation on a theme. Up Pompeii had moved to Baghdad for Whoops Baghdad and now it moved to a secret World War II bunker where Howerd's character, Private Potts, was busy doing anything and everything he could to avoid any military entanglement, despite his vocation.
As had been the case with his previous sitcoms, the episodes would commence with Howerd directly addressing the audience, moving on from reading through Churchill's speeches and claiming that the PM would be lost without Potts, to admitting that he was simply a skiver as he cleaned Churchill's bin of its cigar butts.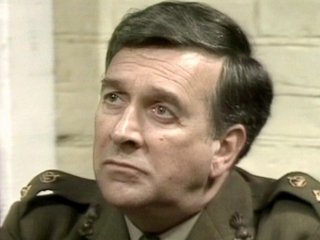 Howerd's main co-star is Nicholas Courtney as the disapproving Colonel Witherton. He offers the role Howerd's Potts is intended to rebel against. Howerd himself is able to try his hand at the straight man, taking on the dual role of the much-feared General Freddy Hollocks.
There are plenty of Howerd's more trademark grunts and groans, plus the usual abundance of double-entendres; 'Come in please Bottomley, I'd like you to take something down.' The six-episode series revolve around Potts' incompetence irritating his superiors before he manages to dig himself out of his self-dug holes.
Quite how Then Churchill Said To Me would have been received at the time, we will never know. Upon its completion it was immediately shelved. The BBC offered the outbreak of the Falklands War as the official reason for it being held back from being aired, allegedly wary of gaining laughs at the troops' expense while a genuine conflict was taking place. Perhaps however, the humour of the show was deemed ground already trodden too many times.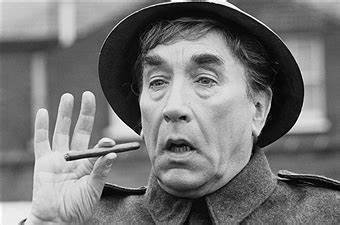 Then Churchill Said To Me remained in the archives until after Howerd's death in 1992. In the year ahead of his demise, Howerd had been rediscovered by a new audience. People flocked to his stage shows and were desperate to hear his standard catchphrases. With that, UK Gold released the show to largely mixed reviews, but it was nonetheless a welcome arrival.
It's easy to be critical of Then Churchill Said To Me. The significant success of Up Pompeii had been largely due to its absurd situation, Lurcio amongst the lusting of his employer's families. Similar opportunities were almost non-existent in Then Churchill Said To Me. However, the reliable delivery of Howerd of the tried and tested material was far superior than the critics might have you believe.
At Howerd's memorial service, good friend Cilla Black affectionately recalled that, 'He was as subtle as an avalanche – and how we loved him.' Of the comedy greats there is an argument that diluted performances are better than no performances at all, and while Then Churchill Said To Me is certainly not Howerd at his best, it is nonetheless a very welcome reminder of how a mediocre script can be elevated to something more simply by the genius of its star performer. Ah well, Francise – back to the barracks!

About the reviewer: Brian Slade
Born and raised in Dorset, Brian Slade turned his back on a twenty-five-year career in IT in order to satisfy his writing passions. After success with magazine articles and smaller biographical pieces, he published his first full-length work, `Simon Cadell: The Authorised Biography'.
Brian is a devoted fan of the comedy stars of yesteryear, citing Eric Morecambe, Ken Dodd, Harpo Marx and Dudley Moore amongst his personal favourites. He was drawn to the story of Simon Cadell through not only `Hi-de-hi!' but also `Life Without George', a programme he identified with having grown up in the Thatcher era.
Published on December 5th, 2019. Written by Laurence Marcus for Television Heaven.