"I didn't start out wanting to be an actor," said Chuck Connors when interviewed in the mid 1960's. By that time the 6' 5" New Yorker had starred in two popular TV Western series, firstly as widower Lucas McCain in The Rifleman -which ran from 1958 to 1963 on US television- and then as Jason McCord in the short lived but now fondly remembered Branded, the tale of a US Army captain accused of cowardice.
Connors was the son of an Irish immigrant from Newfoundland and was born in Brooklyn in 1921. His parents christened him Kevin Joseph Aloysius and the youngster grew up determined to be a sports star. "I was crazy about sport at school. I was always kinda big for my age, and I guess sport came natural to me." Indeed, young Kevin Connors proved himself to be an outstanding athlete and eventually became a favourite of baseball and basketball fans as a player for the Brooklyn Dodgers, the Chicago Cubs and the Los Angeles Angels making him one of only 13 athletes in the history of American professional sports to have played both Major League Baseball.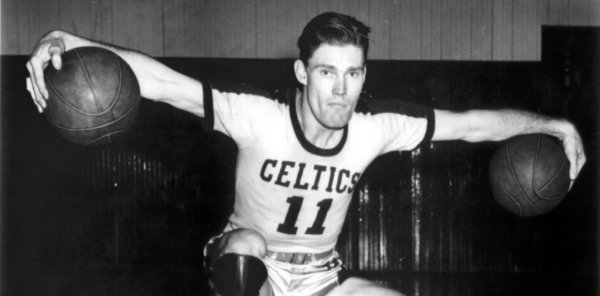 "I was thirteen when this guy came into my life," Connors recalled. "I remember one afternoon playing with a ball in the street when I saw these kids, a whole bunch of them, coming down the road carrying gloves, bats and baseballs. So I followed them and found out they called themselves the Celtics. John Flynn ran the club and he was like a father to them. John told me to grab a glove and take part in the game." John Flynn, a bank-teller by day, was to have a profound influence not only on young Chuck's life, but also on that of the entire Connors family. "In those days jobs were scarce and like a lot of families we were poor and living on relief. My sister and I didn't realise how poor we were. My dad had been out of a job for a long time." But John Flynn used his contacts to get Chuck's father a job in the police force. "Dad held on to the job that John got him from 1935 to 1960, when he retired." Flynn also coached the young Chuck until he got his first professional break.
When he eventually joined the Los Angeles Angels he became a favourite of many top Hollywood actors and moviemakers who were basketball fans. But service in the army disrupted his basketball career and following his spell at West Point Military Academy he was asked to play small guest roles in a number of movies.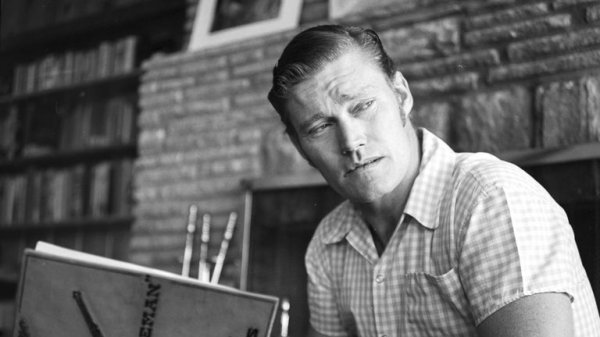 Realising that he would not make a career in professional sports, Connors decided to pursue an acting career and was spotted by an MGM casting director and subsequently signed for the 1952 Tracy–Hepburn film Pat and Mike, performing in the role of a police captain. In 1953, he starred opposite Burt Lancaster as a rebellious Marine private in South Sea Woman and then as a football coach opposite John Wayne in Trouble Along the Way. "I had never trained or studied to become an actor, I just stood there in front of the camera's and did what came natural to me."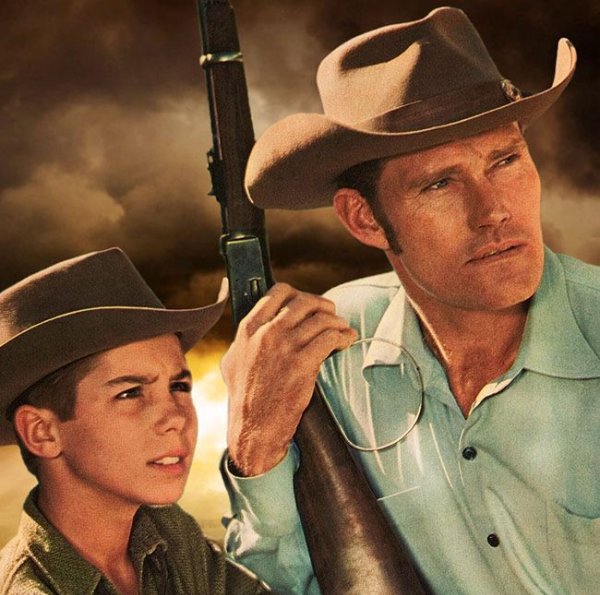 However, it's for his television work and not the movies that Connors will be mostly remembered. In 1958 he auditioned for, along with 40 other actors, the lead in The Rifleman. The series was notable for being the first show to feature a widowed father raising a young child. Connors very nearly didn't take the part when it was offered to him. The producers offered him a deal to do 39 episodes for the 1958–59 season. But the offer was far less than Connors was making doing freelance acting, so he turned it down. A few days later, the producers took their own children to watch Old Yeller in which Connors played a strong father figure. After they watched him in the movie they decided to make him a better offer, including a five-percent ownership of the show. The Rifleman was an immediate hit, ranking No. 4 in the Nielsen ratings in 1958–59, behind three other Westerns – Gunsmoke, Wagon Train, and Have Gun – Will Travel.
Between his two best remembered TV series Connors also starred as defence attorney John Egan in a 1964 series entitled Arrest and Trial, an innovative drama series that set the pattern for crime movies for years to come.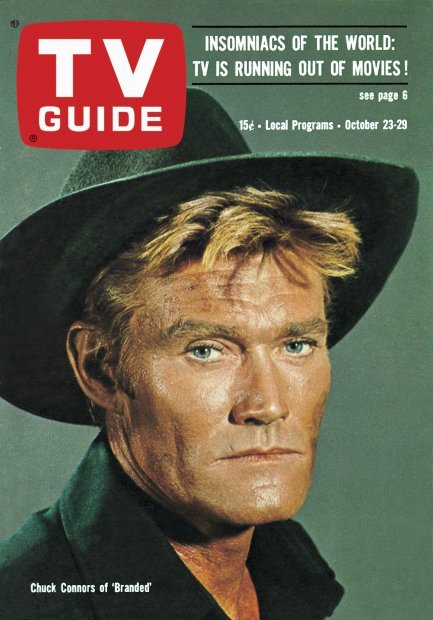 In the 1970's Chuck resurfaced in the outstanding mini-series Roots and continued to make guest appearances on popular shows such as The Six Million Dollar Man, Fantasy Island and Murder, She Wrote, until his death in 1992. The year before he passed away, Connors was inducted into the Hall of Great Western Performers of the National Cowboy and Western Heritage Museum.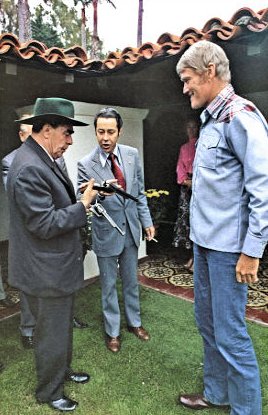 In the early Seventies, when Leonid Brezhnev made his historical visit to the United States, the White House staff asked the Russian leader if there were any American stars or celebrities he would like to meet. He requested - Chuck Connors. The Rifleman was apparently one of the few American shows that aired on Russian television at that time because, it was - or so reported, Breshnev's favourite series. According to his New York Times obituary: "When President Richard M. Nixon invited several celebrities to meet Brezhnev in 1973, Mr. Connors presented the visiting Soviet leader with United States armaments--two Colt .45 six-shooters--and a cowboy hat. Brezhnev, a Western fan, was delighted. He and the actor locked in such an enthusiastic bear hug that Mr. Connors briefly lifted him off his feet." Connors and the world leader became friends, and the actor was invited by Mr. Brezhnev and the Russian State Department to be their guest in late 1973 for two weeks. Whilst there, Connors filmed a 90-minute documentary entitled Peace and Friendship, which, it has been boldly claimed, led to breakthroughs that helped quicken the thaw between the two countries.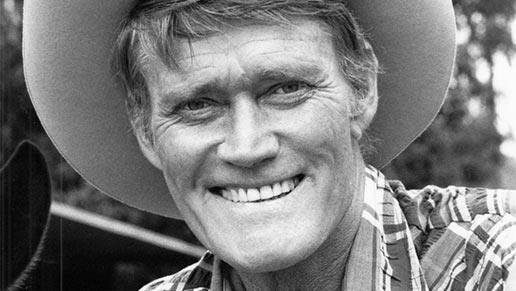 Although he himself was the first to recognise, and indeed acknowledge his dramatic limits as an actor, he knew those limits and was always careful to work within them. The result was over 100 TV and movie credits including a string of consistently professional performances, which have helped to make the shows he starred in as watchable today as when they were first presented.
Published on March 23rd, 2021. Written by Malcolm Alexander for Television Heaven.