When asked once if any of the characters she had played on television reflected her true personality, Dawn French replied "Nope, not really. I keep my own personality in a cupboard under the stairs at home so that no one else can see it or nick it." So, I thought it was about time we looked a little more closely at one of Britain's best-loved actresses to discover that personality for ourselves.
Dawn Roma French was born on October 11th, 1957 in Holyhead, Wales. Her parents were childhood sweethearts from Devon, and her father, Denys, who was in the Royal Air Force, was at that time stationed in Wales. As a youngster Dawn would often become depressed about her short stature and weight. But her father was a tower of strength for Dawn, impressing upon her how special she was and giving her constant support. "Everything my parents did, they did with such love and such care.... It was my father who taught me to value myself", she once said. "He told me that I was uncommonly beautiful and that I was the most precious thing in his life."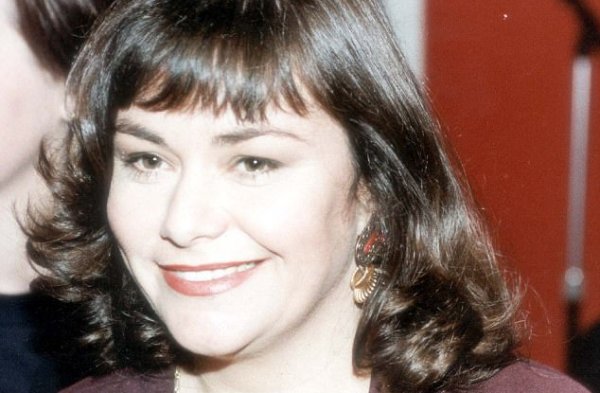 Conversely, in spite of this encouragement Dawn's parents decided that she and her older brother, Gary, should be sent to boarding school. It was felt that because of Denys' military career and the fact that the family moved frequently, Dawn and Gary would have a more stable upbringing if they remained in one place. At the age of 11 Dawn was sent to St. Dunstan's Abbey in Plymouth, where she felt a little ill at ease among the well-to-do pupils. But she soon became a favourite with some of the students, as well as many of the teachers. One teacher in particular was to have a major influence on Dawn -her drama teacher, Ms Abbott.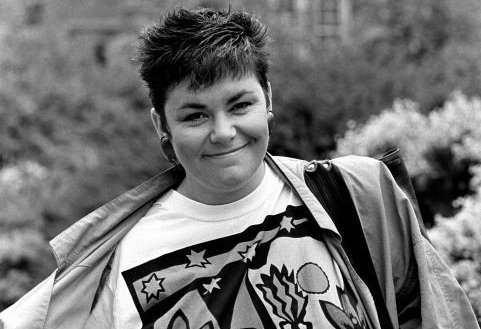 In 1976, as result of winning a public speaking contest, Dawn was rewarded with a year's scholarship at the Spence School in New York City. During this time she met an Irish sailor, David White, whom she fell in love with. The couple became engaged. However, there was much turmoil and heartbreak ahead for Dawn. Her father, Denys, had retired from the military and became increasingly depressed. In September 1977, at the age of 45, he committed suicide.
It was a very distressing time for Dawn. For someone who had instilled in her a great self-confidence, Dawn's father could not find it within himself to break out of his own depression. Shortly after his death Dawn moved to London where she joined the Central School of Speech and Drama having decided to follow in the footsteps of Ms. Abbott and become a drama teacher.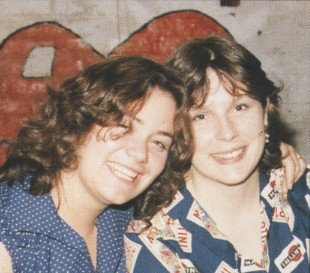 Her arrival at the Central coincided with the arrival of Jennifer Saunders. There was no instant friendship, though, and according to both women they actually went out of their way to avoid each other at first. But they eventually discovered that they had several things in common. Jennifer's father was a pilot in the RAF and she had also attended boarding school. Like Dawn, she also went abroad after graduation, working for a year as an au pair in Italy. They even discovered that they had shared a mutual best friend during childhood.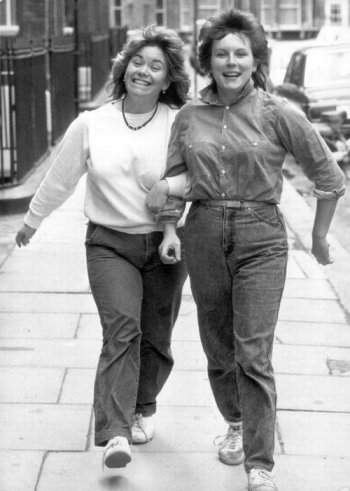 In their final year of college, Dawn French and Jennifer Saunders shared a flat with several other students. They quickly realised that they shared a similar sense of humour and began to do impromptu sketches for their flatmates. Jennifer quickly became the boss of the flat while Dawn became her 'right-hand man' who gave the orders to everyone else. They would return to this experience later in their sitcom Girls on Top, although in that scenario Dawn was the bossy one.
Dawn received another blow when fiancé David - with whom she had been carrying on a long-distance relationship since he was working in Sri Lanka - decided that he was in love with another woman and broke off their engagement. She focused on her work making a name for herself as an unorthodox but popular teacher at her school. Then one evening Jennifer noticed an ad in the paper calling for comics to try out for a new club. They auditioned and were accepted.
Dawn finished out her year of teaching while doing stand-up with Jennifer in the evening. They performed at the legendary Comedy Store - a small venue that played a large role in the history of British comedy during the 80s. They were one of the few female comedy acts, but that did not give them immunity from the ferocious heckling that was a part of the Comedy Store experience.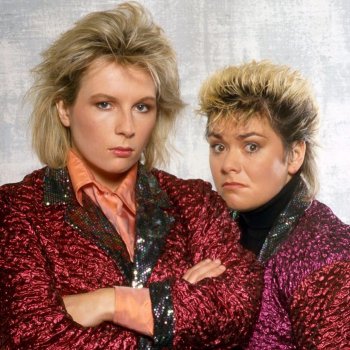 After appearing at the Comedy Store for about a year, Dawn and Jennifer were part of a group who decided to open their own venue. In October 1980 The Comic Strip club opened at the Boulevard Theatre in Soho, London, located next to a strip joint.
The others who defected were Comedy Store regulars Rik Mayall, Adrian Edmondson, Nigel Planer and Peter Richardson -who originally came up with the The Comic Strip idea. Richardson wanted to give performers a place where they could do their comedy while not worrying about hecklers or getting booted off stage by The Comedy Store's infamous gong.
The Comic Strip regulars became an extremely close group of friends and co-workers and when Mayall, Edmondson and Planer broke into television as The Young Ones, Dawn French and Jennifer Saunders both appeared in several episodes. Dawn got a chance to be the Easter bunny while Jennifer got to play a mad murderess named Helen Mucous.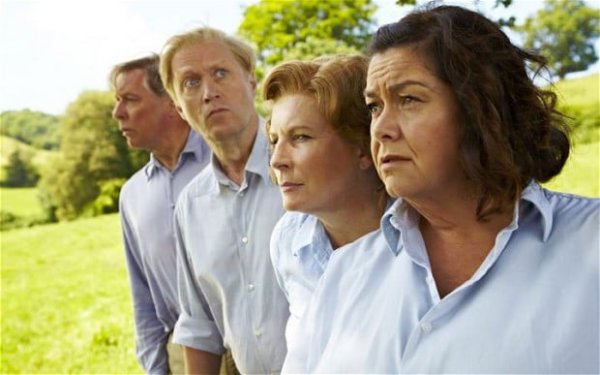 Peter Richardson was also keen to break into television, and after the group thrashed around several ideas, he approached Jeremy Isaacs, head of Britain's fourth TV channel that was due to open in November 1982. As a result, Isaacs commissioned six films under the banner The Comic Strip Presents..., the first of which, Five Go Mad In Dorset -a parody of Enid Blyton's children's stories, aired on C4's opening night, November 2nd, 1982.
As the result of a meeting between French, Saunders and US writer/performer Ruby Wax the sitcom Girls On Top was born. Completing the ensemble was Tracey Ullman, suggested by comedian Lenny Henry who had worked with her on the comedy sketch show Three of a Kind, and whom Dawn had begun dating in 1982. Girls on Top was described as a female version of The Young Ones, although it didn't indulge in the violent slapstick that was a feature of the male version. Dawn and Jennifer then moved on to another sitcom, Happy Families, before landing their own sketch comedy series simply entitled French and Saunders. They created a repertoire of recurring characters, the best remembered of which were two fat, crude sexist men. They also excelled at parodying pop culture and this enabled Dawn to do impersonations of everyone from Madonna to Pamela Anderson to Harry Potter. Although the series no longer exists the duo still come together for the odd special such as their parody of Lord of the Rings and Titanic.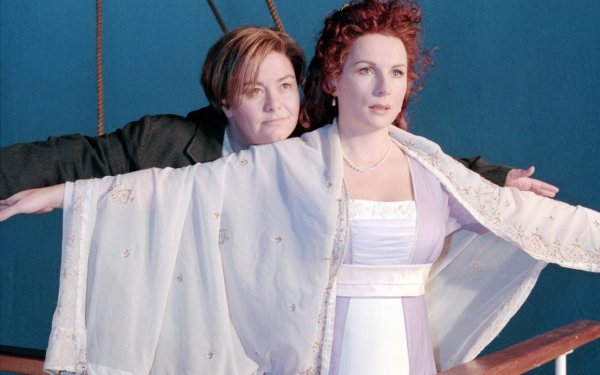 In October of 1984 Dawn married Lenny Henry. As a mixed race couple they encountered their share of difficulties in spite of their celebrity. When they moved to their first home they were the targets of a hate campaign by racists. In November of 1991 the couple adopted a child and named her Billie. Until the child was past the period where the natural mother could reclaim her they went to great lengths to keep the adoption a secret.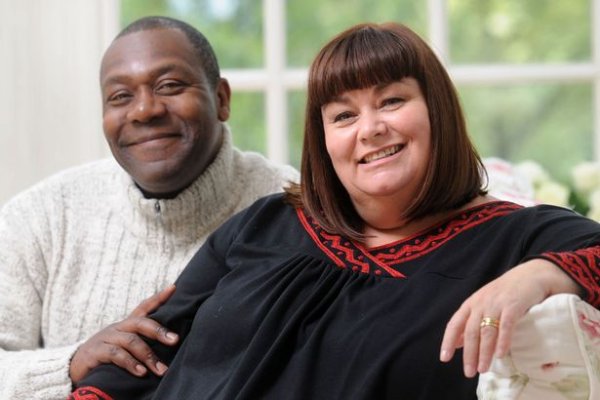 Also in 1991 Dawn went into partnership with Helen Teague to give larger-size women a fashionable alternative. The result was sixteen47, a shop that took its name from the fact that roughly 47% of British women are a size 16 or above. Besides a shop in London, sixteen47 has a Web site from which clothes can be ordered.
By now Dawn had conquered stand-up comedy, theatre (most notably playing a poisonous tabloid journalist in Ben Elton's Silly Cow), and television. Not only was she working with Jennifer, but also in 1991 she had a solo hit with Murder Most Horrid in which she played eighteen different characters in a series of murder mysteries that contained more than a bit of black humour. It was following this that she decided to take time off to concentrate on being a stay-at-home mother.
During this time Jennifer Saunders took a sketch that she had written for French and Saunders and turned it into the critically acclaimed sitcom Absolutely Fabulous. This meant that when Dawn was ready to return to work, Jennifer was too busy for them to work together. This led to a rare moment of doubt in Dawn's mind as she lost her self-confidence and was worried that she may not get back the regular work she had previously enjoyed. But she needn't have worried because she returned to television with an acclaimed dramatic performance in Tender Loving Care. The usually jovial, likeable Dawn starred as a psychiatric nurse who murdered her patients under the guise of 'mercy' killings. She followed that with more Murder Most Horrid and a West End play with Jennifer called Me and Mamie O'Rourke. Then her pal Richard Curtis came up with Dawn's most popular role to date - that of The Vicar of Dibley.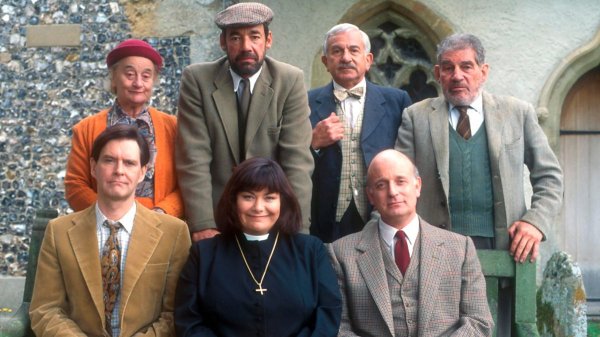 It was something of a payback for Dawn from Curtis. Over the years Dawn, Jennifer and Lenny Henry had been very supportive of Curtis's Comic Relief charity. The trio have appeared at almost all of the Comic Relief telethons. In 1994 Curtis, who has been responsible for some of Britain's biggest modern day box-office successes (Four Weddings And A Funeral - Notting Hill - Love Actually), repaid Dawn's kindness by creating the character of Geraldine Granger in The Vicar of Dibley just for her.
Vicar Geraldine Granger was loosely based on a real-life vicar named Joy Carroll, and the creation of the character came at a time when the ordination of female vicars was a very controversial and topical issue. Geraldine is a thoroughly modern vicar, a lusty woman who is not averse to cracking ribald gags, dreaming of her fantasy man, (Sean Bean) and eating copious amounts of chocolate. Her sometimes-lewd behaviour has at times caused more than a few viewer complaints, but The Vicar of Dibley very quickly became one of the BBC's all-time comedy favourites. Rather than previous tame, old-fashioned religious comedy characters, Geraldine is a complex, nicely developed character brought to life with spirit and energy by Dawn who was absolutely perfect for the role. Dawn remains committed to the series and has said that she'll continue to play Geraldine whenever Curtis is able to provide the scripts, which she demonstrated in December 2020, returning to the role after 3 years for a series of short lock-down specials.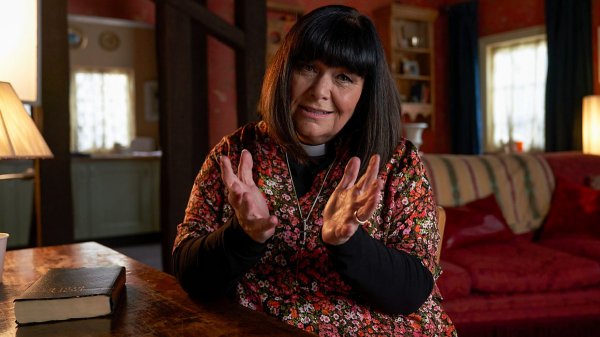 Dawn's family life appeared to going well until 1999, when tabloid reporters caught blonde receptionist Merri Cheyne emerging from Lenny Henry's hotel room while he was on tour in Australia. Lenny returned home to face a distraught and humiliated Dawn. Cheney later denied the affair, calling Lenny the "most married man" she'd ever met. A couple of weeks later Lenny was hit with a fresh scandal when stories broke about his supposed lewd, drunken behaviour during an earlier trip to Spain.
Lenny, who always had a Mr. Nice Guy image, cracked under the pressure. Suffering from depression, he checked himself into a private hospital for a brief stay. The couple maintained a dignified silence in the press about their marital trouble, and both took a break from work in early 2000 to work on their relationship. Things seem settled then and In 2002 Dawn returned to situation comedy for Wild West, a series set in Cornwall. However, in the face of poor critical reviews and a dwindling audience the series never went beyond its initial run of 6 episodes. More recently she was seen as the Fat Lady in the painting on the wall in Harry Potter And The Prisoner of Azkaban and she is currently giving her voice to Mrs Beaver in a movie version of Chronicles of Narnia: The Lion, The Witch And The Wardrobe. She has also fronted a hugely successful advertising campaign for Terry's Chocolate Orange using the catchphrase "They're not Terry's - they're mine!"
In April 2010, Dawn and Lenny Henry announced they were separating after 25 years of marriage. The separation was amicable. They had decided to separate in October the previous year but left announcing it until some months later. Their divorce was finalised later that year.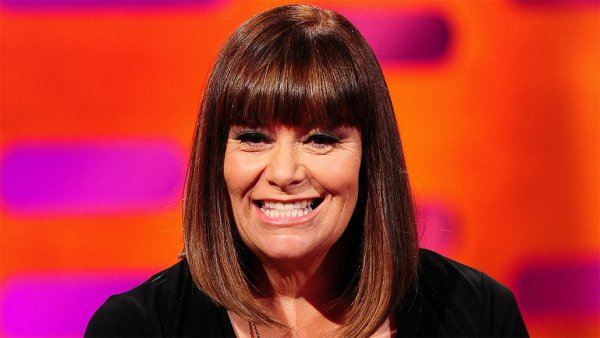 French and Saunders won the honorary Golden Rose of Montreux award in 2002 and in 2003, and Dawn was listed in The Observer newspaper as one of the 50 funniest acts in British comedy. In a 2006 poll consisting of 4,000 people, she was named as the most admired female celebrity amongst women in Britain. In February 2013 she was assessed as one of the 100 most powerful women in the United Kingdom by Woman's Hour on BBC Radio 4. Dawn has also written a best-selling autobiography, which she titled Dear Fatty. She was was paid a £1.5 million advance for the book, which was released in 2008. On an appearance on The Paul O'Grady Show on 6 October 2008, she said that "Fatty" is her nickname for Jennifer Saunders, as a joke about her own size. The book consists of letters to the different people who have been in her life. In 2017, Me. You. A Diary, Dawn's second non-fiction book, was released. She has also written four novels – A Tiny Bit Marvellous (2010), Oh Dear Silvia (2012), According to Yes (2015) and Because of You (2020). In 2014 toured an autobiographical one woman show 30 Million Minutes in the UK and Oceania.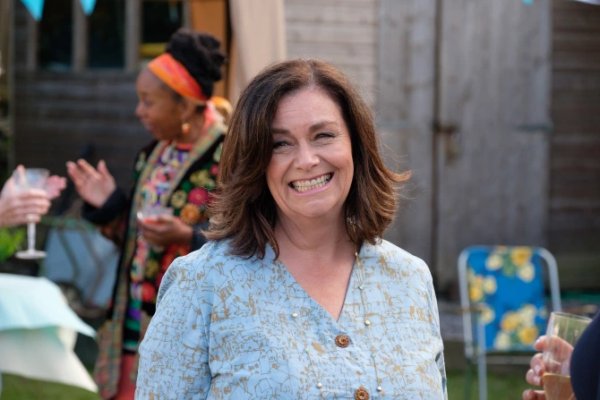 From 2016 until 2019 Dawn starred in three series of Delicious on Sky 1, co-starring as a talented cook who is having an affair with her celebrity chef ex-husband (Iain Glen) who has remarried and started a successful hotel business with his new wife. In 2020 she starred in the comedy-drama series The Trouble with Maggie Cole, in which she appeared in the title role of a local historian, the wife of a local headmaster (played by Mark Heap) who appears on local radio. Drunk – she spills the beans about six people who live in the same village as her, all of whom have intimate secrets. She then has to deal with the ramifications of her gossiping. Dawn is the executive producer of the show, adding yet another credit to her long list of abilities.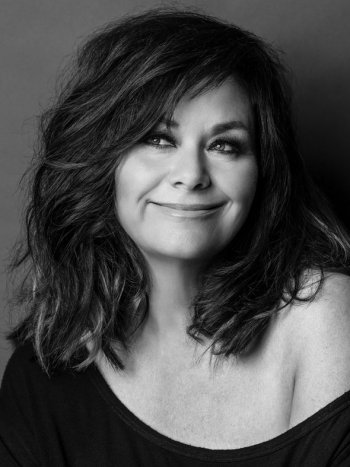 Dawn French has a huge talent that has been proven over and over again. Her warm smile, likeable personality and natural comic timing makes her one of Britain's best loved modern-day television actresses and it surely won't be long before critics and fans alike are singing her praises once more. After all, a gift like that can't be kept hidden away in a cupboard under the stairs for too long.
Published on February 6th, 2021. Written by Malcolm Alexander for Television Heaven.