Applied only to a blessed handful of performers, the term 'Star' seems woefully inadequate to describe the genuinely deep affection lavished upon them by a public that has taken them into their collective heart and invested on them an almost familial status. One such blessed performer was a multi-talented individual whose career spanned more than three decades as well as different genres of entertainment with a seemingly effortless affability, warmth and outstanding charm. That performer was Harry Secombe, and this is his story.
Harry Secombe was born on September 8th 1921 in a back-to-back in Swansea. His parents rented two rooms in the house and Harry was their third child, the first being his brother Fred and the second his sister Joan, who died when she was four years old. After Harry they had a fourth child, another girl who they named Carol. Harry had fond memories of his childhood and said that he could only ever remember having a lot of love and affection. His mother was the manageress of Peacock's Bazaar in Swansea Market for a while and also worked as a sort of 'unofficial' District Nurse. "If anyone had any trouble they'd come to mum and she'd be on call for laying people out and bringing people into the world." His father worked in an office for a wholesale grocer and eventually became a commercial traveller, travelling up and down the Valley's, as Harry remembered "...flogging stuff for about 30 bob a week (£1.50) - but he was also a good artist and supplemented his income by doing drawings for the Swansea Evening Post."
They were a deeply religious and church-going family and Harry became a regular in the church choir from the age of seven. However, the young Secombe was not a natural performer. "Sometimes, after church, they'd have a bit of a party where everybody did something, a 'turn' if you like. But when they wanted me to sing I was too embarrassed and I'd have to go and sit in the toilet and sing from there with the door open, whilst the others sat in the other room listening to me."
As well as terminal shyness Harry's early days were also plagued with ill health and he suffered from bouts of Scarlet Fever and Yellow Jaundice, "...all the colourful diseases", as he put it. He also had to wear glasses and this directly led to him developing a sense of humour and fun. "I didn't want to get picked on by the other kids at school or be called four-eyes, so I began making jokes instead, and it seemed to work." Harry was a big musical fan and an avid radio listener although he rarely visited the theatre in his early days. He did however, read lots of books, mostly adventure stories and boys annuals. "I was determined to travel, having read about different places in these books. I was always looking for adventure." He found that adventure when he joined the Army before the outbreak of World War ll, and was eventually posted to North Africa as Lance Bombardier Secombe of the 132nd Welsh Field Regiment Royal Artillery. "In those days it was pretty obvious that there was going to be a war and it was something you felt you had to do."
Shortly after the invasion Harry was sent to Algiers, and arrived there around November 1942 when a big push was starting to get to Tunis as quickly as possible. "That's when we got clobbered. We got cut off without any aircraft to back us up and we had dwindling supplies. I was Command Post Officers Assistant and we'd set up the big guns and prepare barrages for the Infantry to move in behind." It was a very important job and one that required precise planning. "You had to be sure you didn't fire short or you'd end up killing your own men." Of course this being a forward position the German's were doing exactly the same to the British. "You lived with death every day." said Harry. By now it was March 1943 and little ground had been gained. It was here that Harry briefly met a Gunner by the name of Spike Milligan, and although there have been a number of stories about that first meeting, the fact of the matter is that both men were far too involved with the task at hand to have made much of an impact on each other, and they soon parted company. However, Harry was soon struck down with inflammation of the gall bladder and kidneys as a result of exposure. "I went down to about 9 stone and was carted off to a convalescence depot for 3 months and it was there that I joined a concert party. I found myself doing shows on a regular basis and eventually it was getting nearer to the time I was going to be sent back up the line, so I volunteered for the Concert Parties and (for me) that was it as far as the war and firing on the Germans was concerned."
It was whilst with the Concert Party that Harry met up again with Spike Milligan, and although they had completely different acts they now struck up a firm friendship. Harry had developed a comedy routine that involved him arriving on stage and saying to the audience "I'm sorry I'm late -I haven't shaved yet." He would then begin shaving in the style of a whole host of different people. By the end of the act the stage floor would be awash in water and lather. When hostilities finally came to an end, Harry, encouraged by friends like Spike, decided to opt for a life in show business. However, things didn't go according to plan at first, and Harry found himself in London both jobless and homeless. Many nights he managed to sleep in a flat that was shared by Spike and another young showbiz hopeful, Norman Vaughan. However, Harry (and the others) ran the risk of being discovered by the landlady, an act that almost certainly would have found them all thrown out on the streets.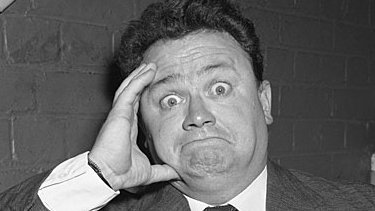 Eventually Harry landed an audition at London's famous Windmill Theatre and did his shaving act for the theatres owner Vivian Van Damme. V.D. (as he liked to be called) was notoriously hard to please, and many well-known comedians, even those who eventually went on to become major stars, were unceremoniously shown the door. After leaving the stage in the same state as always followed his act, Harry was called up to Van Damme's office. "I didn't know what to expect, but as I walked in he just said to me 'How much do you want a week?' I remembered the advice that Norman Vaughan had given me to ask for more than you expect and then you could always come down. So I asked for 40-quid and he said "Alright"'.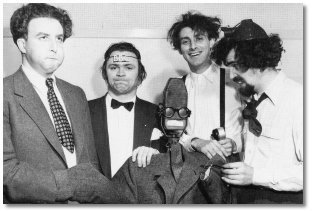 Harry's act went down very well at the Windmill and whilst he was there he met, and struck up a friendship with Michael Bentine, who he then introduced to Spike Milligan. On November 11th 1946 Harry made his first billed TV appearance for the BBC. He continued touring the country in variety although there were the occasions when his act was somewhat misunderstood. One particular theatre owner paid Harry off and at the same time told him, "You'll not work my theatre again. In future you'll shave in your own time and not in mine!" Harry went into partnership with writer and agent Jimmy Grafton who ran the Grafton Arms Public House in London, and it was here that he, Bentine, Milligan and another friend, Peter Sellers, met up and devised one of the most revolutionary and influential radio comedy shows of all time -The Goon Show.
The show originally went out as Crazy People on May 28th 1951, (the first show to go out under the 'Goon' title was on 22nd June 1952) and led to each of the participants becoming household names. Although Bentine decided to go his own way, performing with them for the last time on 11th November 1952, the rest of them continued until 1960. (The last show, on 28th January was titled The Last Smoking Seagoon -Neddie Seagoon was Secombe's character). By this time Harry was a major star in his own right, appearing regularly at the London Palladium (where he did five shows in ten years), as well as several Royal Variety Performances. By 1960 he'd also gone to voice-training classes where he developed his natural tenor voice, and starred in two BBC series of his own as well as numerous specials. In 1963 he created the part of Mr Pickwick for the stage musical version of Dickens' Pickwick Papers, which ran for two years in London's West End, before transferring to Broadway. The show also provided Harry with a number two hit single, If I Ruled the World. Also in the 1960's he appeared in Lionel Bart's Oscar winning musical Oliver, in which he played Mr Bumble. He was also awarded the CBE for his work for the Army Benevolent Fund.
Throughout the seventies Harry continued to work steadily, and also got together with Milligan and Sellers for one more outing of Goonery in the The Last Goon Show of All, which was filmed by the BBC in 1972 as part of their 50th anniversary celebrations. An audience of 600 fans watched them perform at the Camden Theatre; amongst them were The Duke of Edinburgh, Princess Anne, Princess Margaret and Lord Snowdon. Prince Charles, a self-confessed Goon fanatic, was unable to attend. For the show Secombe's parts were billed as Ned of Wales, Neddy Seagoon and The Houses of Parliament. He also managed several trademark raspberries!
In December 1980, Harry was touring Australia when he was taken ill. A few days later he flew to Barbados to join his family for a holiday, and it was here that it was discovered that he'd been struck down with peritonitis and had to have an immediate life-saving operation. Although only 5ft 7inches tall, Harry had reached a hefty 19 stone, and he was now told to lose weight or he'd be dead in two years. Over the next nine months he shed around 5 stone and looked a new person. "I saw my knees again for the first time years," he joked.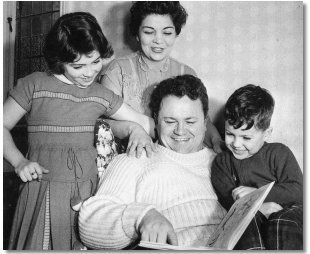 In 1981 he was awarded a knighthood for his services to entertainment and charity and two years later he began fronting a series of religious programmes for ITV called Highway. The series followed Harry as he toured the country inviting guests to sing religious songs, give readings, discus their faith or just chat about their lifestyles. Harry provided many of the songs himself and the series proved hugely popular, continuing until 1993 after which he returned with Sunday Morning with Secombe. Then in 1997 Harry suffered a stroke from which he made a slow recovery, only to be diagnosed as having prostate cancer, in September 1998. Three days before he was due to commence radiotherapy he suffered a second stroke. Drawing on his faith and looking at life very philosophically he commented, "There are so many people worse off than me."
Harry finally retired from public life in 1999, spending the last years of his life with his dearly beloved wife of more than 50 years, Myra. They had two sons and two daughters and they helped to keep Harry's feet on the ground at the height of his fame. Whenever he returned home with an exciting new offer, Myra would send him upstairs first to talk to the children, before listening to him. Harry would describe it as "pricking" his balloon. "Very good for my soul." One of the proudest moments of his life was during the Royal Investiture of Prince Charles as Prince of Wales at Caernarvon Castle. During his speech the Prince said that Wales had produced "...poets and tragedians and a most memorable goon." One of the saddest moments of his life was when his stroke robbed him of his powerful singing voice. He passed away on April 11th, 2001 at the age of 79.
Harry Secombe was an inspiration for us all. His infectious laugh and schoolboy sense of humour instantly endeared him to a generation of fans. Of his name he would say, "It helped my career in music and comedy. It created a feeling of warmth and established a closeness to the public."
With typical modesty and understatement where his own standing was concerned, Harry Secombe's evaluation of both his closeness to the public he had entertained for so long, and his massive contribution to the entertainment industry as a whole, was charmingly disarming in the extreme.
In truth the deeply spiritual Welshman was a bedrock of his profession. A big man possessed of a big heart and an even bigger talent, which effortlessly spanned and delighted generations of admirers.
Harry Secombe's passing has left us all a deeply rich entertainment legacy which, while never quite compensating for his no longer being with us, will nevertheless ensure both song and laughter for decades yet to come.

Published on February 20th, 2019. Written by Laurence Marcus & SRH for Television Heaven.