Bridge of Sighs
1960 | United Kingdom
A young refugee couple stand on the bridge between East and West. The girl is about to have a baby. The frontier guards will not let them pass to the other side. What can they do? 
The 1959 winner (out of 280 nominated plays) of the Charle's Henry Foyle Award for Best Contemporary Play produced outside London's West End, Bridge of Sighs starred Desmond Walter-Ellis and Sydney Tafler as frontier guards on either side of the Iron Curtain. This satirical comedy was directed by Eric Fawcett and the narrator was the play's author, Thomas Muschamp.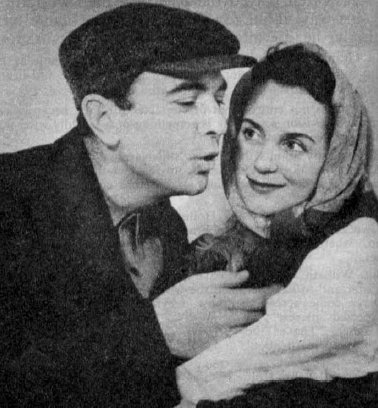 The play was set at a frontier post where a small bridge crosses a mountain stream running between two barriers. The Eastern side is manned by Gregor (Tafler), the Western by Johanne (Walter-Ellis). Both are soldiers on opposing sides but also the best of friends. But while they are exchanging schnapps and snaps on neutral ground, two refugees duck under the Eastern barrier and, by refusing to return, they create an international situation. Joseph (Edward Cast) is a student, and his wife, Anna (Margaret John), is within hours of her confinement. But even in this predicament Johanne has not the authority to raise his barrier until morning. More chaos ensues when United Nations intervene with Bessie Love, in the part of Mary Louella Partridge. Both Sydney Tafler and Desmond Walter-Ellis returned to the parts they had played on stage. The play was produced by George More O'Ferrall and made by Anglia Television for Associated Rediffusion. Shown at 9:50pm on Friday 29th April 1960 as part of the Television Playhouse strand. 

Published on March 19th, 2019. Adapted from original TV Times article..