Champion House
1967 | United Kingdom
Joe Champion is a no-nonsense, self-made man. Starting work at the age of twelve, by the time he had reached forty he'd grafted, sweated and worked his way to the top to become the owner of his own modern wool textile factory. But now, in his sixties, he is planning for his family's future. He knows he cannot take it with him when he dies. But he is equally determined that his fortune won't be gobbled up by the tax man. So, John Champion has a plan.
With no wife to leave his fortune to, Joe looked towards his two sons but knew all along there was only one choice. Edward, the youngest of the two had run off to London to study art and as a result Joe had virtually cut him off. But his elder son, Jack, was a dependable hard worker who was very much a product of his father's image, even though he was completely ruled by the old man. It was an easy decision for Joe to decide who he would bequeath Champion Mills to. 
18 months ago, Joe Champion set up his scheme to avoid death duties. By Deed of Gift Joe made over the largest share of the business to good old dull and dependable Jack. An ideal arrangement for Joe because it meant he remained the boss de facto boss of the mill since Jack obeyed every word and every order that Joe gave him. At the same time, it would avoid the crippling burden of death duties - provided Joe didn't die within the five-year period necessary to make the Deed of Gift effective. Then, within a few weeks of signing the legal paperwork - tragedy struck. Joe's trusted and dependable son and heir to the mill, died.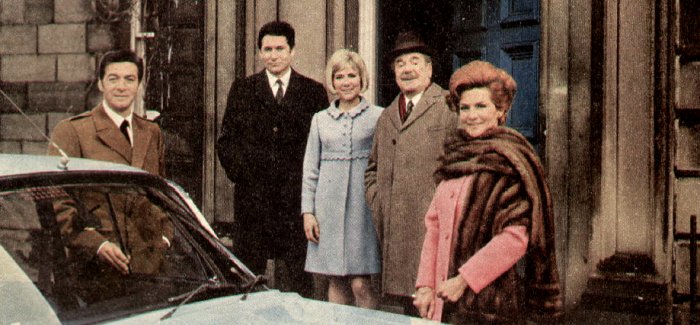 Now Joe finds himself faced with a financial crisis that could mean the end of the mill - and a new boss. Stephen, his grandson and Jack's son, is now the managing director and single biggest shareholder, who won't do as he's told by anyone. Least of all by Joe. Stephen is convinced that the only way to save the company is a merger with their closest rivals. Joe will go to any lengths to stop it. The result is a family battle to end all family battles as Joe and Stephen struggle for control.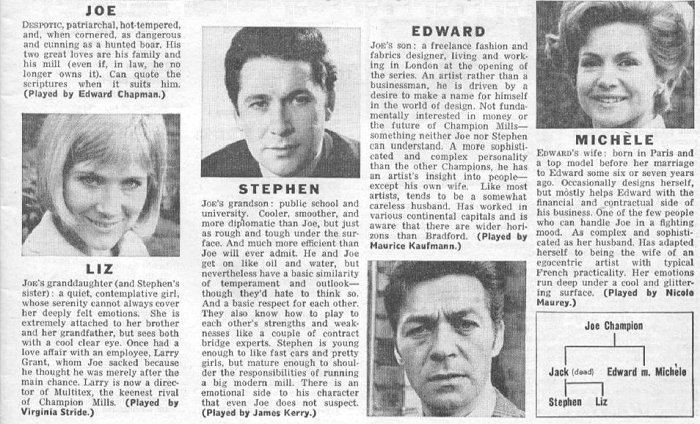 Champion House ran for two seasons and was created by Hazel Adair and Peter Ling, who had previously devised Compact and Crossroads. The series no longer exists in the BBC archives. 
Episode information is available at the BBC Genome site.

Published on June 18th, 2019. Written by Marc Saul for Television Heaven.