Firecrackers
1964 | United Kingdom
1960s comedy that was heavily influenced by the classic Will Hay comedy Where's That Fire? that had been shot twenty-five years earlier at the same Elstree studio. 
The setting was the remote English village of Cropper's End (population: 70) and concerned the misadventures of its local fire service who had to work with vintage fire-fighting equipment, assuming that they arrived to the scene of the fire on time on their 60-year old engine, Bessie.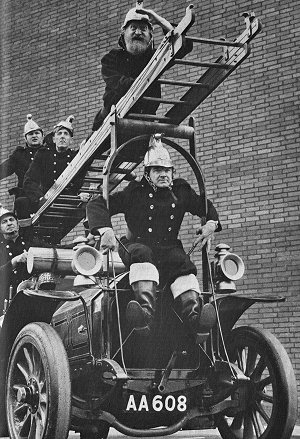 Most of the time there was very little fire fighting to do (except on the one occasion when the fire station caught alight) and they contented themselves by passing time at the local Cropper's Arms. Alfred Marks starred as Fire Chief Charlie and British comedy stalwarts Cardew Robinson, Joe Baker and Sydney Bromley (who bore a striking resemblance to Moore Marriott in the original Hay movie) aided and abetted alongside Ronnie Brody, Clive Elliott, John Arnatt, Norman Chappell and Colin Douglas. The writers included Fred Robinson (who had cut his scripwriting teeth on The Larkins) and producer Alan Tarrant went on to work, it seems, on just about every ITV sitcom on the 1960s. The series was popular enough to have two runs from August to October 1964 and January to February 1965, going out at peak time on Saturday nights.
Published on December 11th, 2018. Written by Laurence Marcus for Television Heaven.