The Larkins
1958 | United Kingdom
When builder's clerk Fred Robinson heard that his local Boy Scout group needed a script for a play, he offered to write one for them. Ten years later the nucleus of that script would be transformed into a comedy series that was described by Peter Black, the then TV critic of the Daily Mail, as "The best domestic situation comedy series created by British TV."

"I was helping out at a boys club in Harringey, North London," explained Robinson. "There was talk of starting an amateur dramatics group, but the problem was that they couldn't afford to pay royalties on published works. So I said, rather shyly, "I've got a play" and that's how the Larkins were born." Robinson returned to his house in Clapton, East London, where he was born, and worked out situations around a domineering wife, her hen-pecked, but shrewd husband, and their children. Later, when he was married and had a family of his own, he found it necessary to play the piano in his local pub in order to help out with the housekeeping. "All the characters in 'The Larkins' were based on people I'd seen in my local," he explained. Finally, Robinson worked up the courage to submit a script for a play, a comedy thriller entitled 'You, Too, Can Have a Body.' The play was produced and toured the country for a while, eventually finding a home at the Victoria Palace Theatre in London.

Robinson's next step was to submit The Larkins to the then Associated Television Productions Controller, Bill Ward. "It was the funniest script I have ever read or produced," said Ward in 1960. For casting, the production team turned to two well-established actors, Peggy Mount and David Kossoff. Mount had been a comparatively unknown repertory actress when she tried out for a play called 'Sailor, Beware' at the Connaught Theatre, Worthing. The play was so well received that it moved to the Strand Theatre, London. The morning after the play opened in the capital, Peggy opened her morning papers to see the critics hailing her as a new star. That same night her name went up in lights above the title of the play, which then ran for three-and-a-half years. Kossoff had been known in television, films and theatre for years, and had won an Academy Award in Wolf Mankowitz's 1956 movie, 'The Bespoke Overcoat.' In spite of being born in the East End of London, and in part due to his Russian parentage, Kossoff had mainly played a number of foreign roles. This was his first chance to play a Cockney. Supporting roles in the Larkins family were played by Shaun O'Riordan, (who had previously appeared in another much loved ATV series, Emergency Ward Ten), as gormless son Eddie, Ronan O'Casey as American son-in-law, Jeff Rogers, an out-of-work writer of cowboy comics, and Ruth Trouncer as daughter, Joyce. O'Riordan went on to be a major drama and comedy producer with George and the Dragon (starring Peggy Mount, Sid James and John LeMesurier) and sci-fi show Sapphire and Steel among his credits.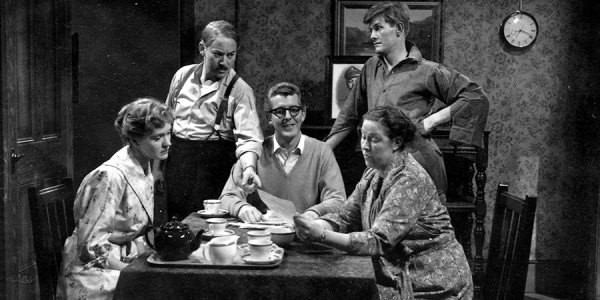 Together, the Larkins family found themselves in a variety of comedic situations that proved so popular with the viewing public that a spin-off movie 'Inn For Trouble', which found the family running a country pub, was released in 1959. Although now something of a forgotten classic, the antics of Alf and Ada Larkins, their family and nosy next-door neighbours, the Prouts, was essential viewing for almost six years from 1958 to 1964. In many respects, it's now clear to see that the Larkins became the standard template for the plethora of family oriented sitcoms which followed in its trailblazing wake. Although now unfairly overlooked, The Larkins, due in no small measure to its winning combination of skilfully funny scripts, well realised characters and expert playing from a team of top notch performers, deserves rightful recognition as a true gem of the British sitcom genre.
INN FOR TROUBLE
After 25 years of faithful service to Belcher's Brewery, Alf Larkins reckons he's entitled to manage one of their many pubs. Instead, all he gets for his years is an inscribed fountain pen! Leave it to Ada to set the brewery straight.
Now the Larkins are off to manage a local pub that has one vital ingredient missing - locals! With business as flat as Belcher's beer, can the Larkins find a way of bringing in the trade before their new home is sold to a rival brewery who, knowing that the main road is about to be rerouted straight past the pub, and that they are sitting on a potential goldmine, will try every dirty trick possible to drive them away?
Published on December 29th, 2018. Written by Laurence Marcus (October 19th 2000) for Television Heaven.