To many people, the name Peggy Mount will immediately conjure up an image of the ultimate battleaxe; a loud booming voice, a more than ample figure, a caricature in the best seaside postcard tradition. Yet behind this public image lay a very private person, a kind down-to-earth woman and a versatile, talented actress whose long and successful career spanned not only television but theatre and films too.
Margaret Rose Mount was born on 2 May 1916 in Leigh-on-Sea, Essex. Her childhood was tainted by unhappiness and poverty. Her father died when she was ten, leaving Peggy and her sister to be raised by their mother. In later years she described her mother as "not a nice woman. She never put her arms round me or gave me a kiss. She was always telling me that I was overweight and ugly. If you're told that often enough, you become ugly, and no matter what other people say you believe it." Not surprisingly, she broke off all contact with her family when she was older, not speaking to her sister for over 50 years.
Peggy left school at the age of 14 and began work as a secretary. Her love of acting had begun with the drama society of the Wesleyan chapel, which she attended. She took private drama lessons from Phyllis Reader and appeared in a number of local amateur productions, gaining the nickname of the Amateur Queen of Southend. She attended the theatre whenever she could, buying 'late doors' tickets sold five minutes before curtain up, with 3d carefully saved from her wages. She also travelled to London for some productions, dreaming of one day seeing her own name up there in lights but never really believing it would be possible. Peggy acted in concert parties during the Second World War then played her first straight role in a production of Stanley Houghton's Manchester comedy Hindle Wakes at Keighley, Yorkshire in 1944, with the Harry Hanson Court Players. At Worthing she appeared in The Sleeping Prince, playing the part of an eccentric guest that had originally been created by Martita Hunt. She stayed with the company for three years then spent another six years in reparatory theatre in Colchester, Preston, Dundee, Wolverhampton and Liverpool. Her big break came when she played the part of Emma Hornett in Sailor Beware at Worthing. She was a smash hit, but when the time came to transfer the production to the West End it was felt that a big name should be found to play the role. Only after failing to find anyone suitable for an entire year did Peggy get her chance. The play opened at the Strand Theatre in January 1955 and made her a star overnight. She made the character of the fearsome, meddling mother-in-law her own, and effectively set the tone for many of her future roles. She played the part over a thousand times during a three year run and also starred in a film version made during this time.
She moved into television in 1958 with the ITV comedy series The Larkins. David Kossoff starred as Alf Larkin while Peggy played his formidable wife Ada. It proved to be a huge success with an early television generation and went on to produce two more series, as well as a film version entitled Inn for Trouble. In 1966 came another highly successful and well-loved series, George and the Dragon. Peggy's role was that of housekeeper Miss Gabrielle Dragon while Sid James played chauffeur and handyman George Russell. Their employer was Colonel Maynard, played by John Le Mesurier. The series ran for a total of 26 episodes. Her next TV sitcom in 1971 saw her co-starring with Hugh Lloyd in Lollipop Loves Mr Mole. They played a couple called Maggie and Reg Robinson whose affectionate nicknames for each other provided the title for the series. Their peaceful domestic life is shattered by the arrival of Reg's brother and his wife, the latter played by Pat Coombs, who would go on to co-star with Peggy in another series, You're Only Young Twice. This was set in a retirement home called Paradise Lodge. Peggy took the part of Flora Petty, who mercilessly bullied her timid friend Cissie Lupin (Pat Coombs) into helping her with various schemes. It ran for a total of four series on ITV from 1977-81. Running alongside the TV comedies for which she is undoubtedly best known was her constant and varied theatre work. She first began to play classical parts in the 1960s with the Nurse in Romeo and Juliet and over the years appeared in many other famous roles, including Mrs Malaprop in The Rivals and the title role in Brecht's Mother Courage, which won her considerable critical acclaim. She later spent two years with the Royal Shakespeare Company at both Stratford and the Barbican. Her films included Oliver!, The Naked Truth with Peter Sellers and Hotel Paradiso with Alec Guinness. After the final series of You're Only Young Twice, Peggy moved on to play mostly straight TV parts, such as her guest appearances in Dr Who, Inspector Morse and Casualty. She toured the Middle East in plays such as My Giddy Aunt and Blithe Spirit. She was a regular performer in pantomime, including appearances in Alice in Wonderland at Stratford and Puss in Boots at Crewe. Her last panto role was the Fairy in Jack and the Beanstalk in Poole, Dorset at the age of 84. She was awarded the OBE in 1995.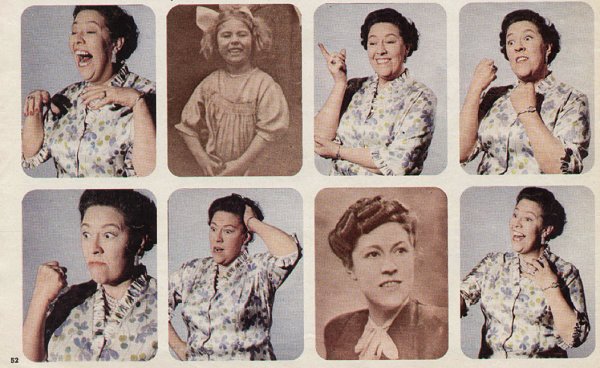 Peggy Mount's public persona was very far removed from her private one. She had a small circle of close friends to whom she was extremely loyal. This quality was also demonstrated by the fact that she always maintained her links with the Southend area, such as her costume maker who served her for over a generation. She made new friends too, however, especially in Islington, North London, where she lived in later life. She loved to make her own jam, and to knit for her friends' children and grandchildren. She owned a sailing boat named Dragon and on one occasion marooned three of her friends on a sandbank off Foulness when she misjudged the tide. "I'm not a bit like my screen image", she once insisted. "I don't bully. I don't shout. And if I do have a row with somebody it makes me ill for at least a week". She was horrified by the fact that people used to stop her in the street and ask her to bellow at them in the voice that was one of her trademarks. "I never minded not being able to play the fluffy heroine," Peggy said in a candid 1960 TV Times interview. "I was always fat, never good looking. A producer once said to me: "Peggy, you have a character walk, a character face and a character body. You will never be anything but a character woman as long as you live." I resented it at the time, but within a month I realised he was right."
Peggy Mount died aged 85 at the Denville Hall Nursing Home for aged actors in Northwood, West London on November 13, 2001. She had suffered a series of strokes and had recently lost her sight. Not long before her death she said "I've never married but I worked with a lot of very eligible men and I've had my chances." However, she revealed that in the 1970s she unofficially adopted a teenage boy whose mother had died and whom she regarded as a son. This went some way towards healing the deep wounds of her own family background. The position she held in the nation's affections as well as the sheer quality and variety of her television work means that Peggy Mount has earned her place alongside the TV greats.

Published on February 20th, 2019. Written by Denise Lovell (June 25, 2005) for Television Heaven.