Biography: Brian Slade
In the 1950s, Frank Thornton wrote of his scepticism of the new medium of television. Trying to carve out a successful theatrical career, television in his eyes threatened the industry that he had committed himself to and that he held so dear. By the time he died in 2013, Thornton had worked with the finest comic actors in the business, starred in two of the BBC's most internationally successful comedies, and become one of the most recognisable faces on British television. Coupled with being part of an Olivier Award nominated stage musical during an extensive theatrical career and appearing in more than 60 films, it's safe to say Frank Thornton's concerns had been well and truly quashed.
Born in 1921, Frank Thornton Ball had spent many happy hours watching comedy giants like Laurel and Hardy and Buster Keaton on the big screen as a youth while in education at Alleyn's School in Dulwich, influencing the expressions we would grow to love in his future comedy creations. As was so often the case at the time, his parents were wary of the financial insecurity of entering into the acting profession. So it was that young Frank went into insurance, but the financial rewards couldn't suppress his acting ambitions. His father was supportive enough to allow him to attend the London School of Dramatic Art during his evenings and after excelling there he became a day student. By 1940 Frank had taken all he could of the insurance world. Noting in his journals that the financial benefits were, 'not lucrative enough to compensate for the boredom thereof,' 1 April 1940 saw him commence work as an actor, initially touring with the Yorke Clopet Company in Ireland in Terence Rattigan's French Without Tears.
A year later, Frank joined the touring company of Donald Wolfit, who had been performing Shakespeare on the road and in London since his company's inception in 1937. Wolfit's musical director Rosabel Watson described him as, 'a nice intelligent actor…no silly mannerisms,' when he was cast as Mosca in Ben Jonson's Volpone. In 1941 Frank had the opportunity to join a repertory company in Sheffield, but despite doing so for a month, he chose to return to London out of loyalty to Wolfit. It was a move that proved pivotal, as in September that year while performing in The Merchant of Venice he met the love of his life, Beryl Evans, an actress that Frank would marry in 1945 and remain wed to for the rest of his life.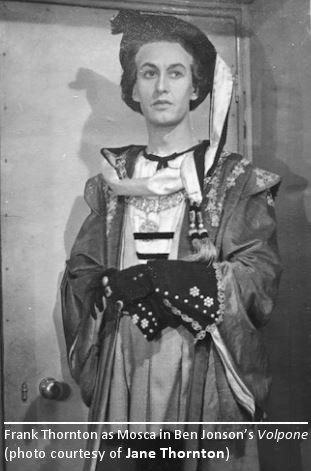 Wartime inevitably intervened and in 1943 Frank Thornton Ball received his papers and headed off to Canada for training in the Royal Air Force. During his time there, his thirst for the acting world had to be satisfied with being granted leave, which he put to good use by watching many stage shows in Manhattan. Frank never saw military action, returning to England in 1945. He did however remain with the RAF long enough to be given the role of running the RAF Entertainment Unit which included such future comic luminaries as Peter Sellers and Tony Hancock.
Frank had dropped the Ball from his name when he first launched into his theatrical career, keeping it only for his military service, and so Frank Thornton resumed his theatrical career after being demobbed. He picked up minor television roles in the early 1950s and made his first credited film appearance in 1954 in Radio Cab Murder. However, financial rewards were limited and it was with this in mind that Frank decided to supplement his theatrical income with a side-line in portrait photography. Learning his skills from his father, who printed his own landscape photography, Frank converted the butler's pantry in the family's flat in Earls Court to a dark room and used the dining room of the Victorian building as a studio. Here he would take photos for Spotlight profiles for the likes of Hattie Jacques and Clive Dunn among many others.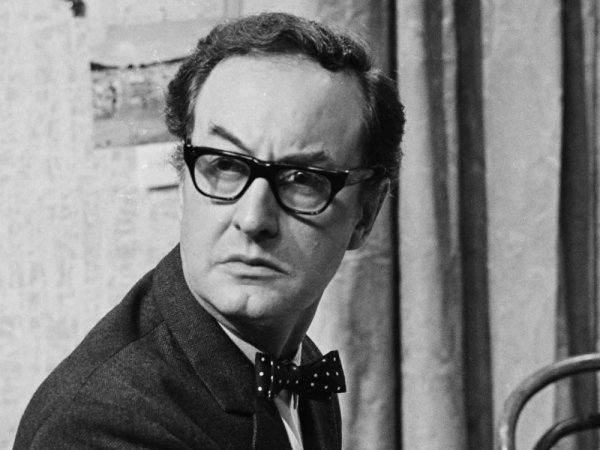 After many minor movie and television roles, Frank's big break ironically came courtesy of a big flop. He had been appearing in a musical, The Golden Touch, at the Piccadilly that had proven to be a disaster, with little beyond its musical numbers to give it any credit. After it closed, Michael Bentine offered him a part in Don't Shoot, We're English, a revue that had survived a troubled start in Newcastle to go on and have a successful tour of the country, and when it descended upon the West End Bentine offered Frank a part. Sadly, this show also lasted only a few weeks, Bentine believing that satire had become the rage in London, so the tour's success at seaside resorts was doomed to failure on transferral.
The friendship Thornton and Bentine had struck meant that for his next project, Bentine turned to Frank again, this time with huge success. It's A Square World was a cleverly written award-winning comedy for the BBC depicting bizarre news stories with scale models and Frank appeared in 43 episodes alongside Bentine, Dick Emery, Clive Dunn and a host of other comic performers. It was a time he enjoyed immensely and a first step towards television success, Frank recognising the potential it offered when pondering in his journals, '…a series is planned. This will be my first ever. Where will it lead?'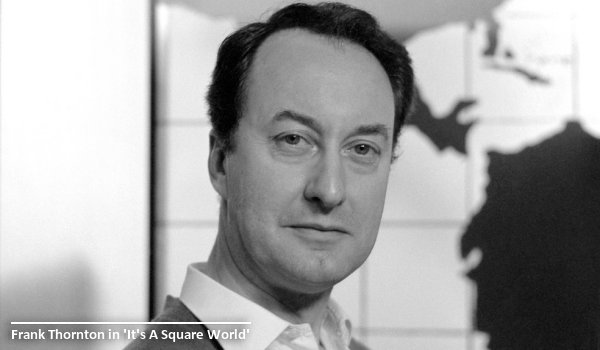 Frank became a constant presence on TV screens beyond It's A Square World. He appeared primarily in comic roles, but such was his success that he could boast an astonishing array of programmes within his CV. He sat with disdainful disapproval of Tony Hancock in the famous Blood Donor episode, appeared in multiple episodes of Steptoe and Son , and performed with some of the finest comics of the time in Harry Worth, Morecambe & Wise, Benny Hill, Frankie Howerd, Eric Sykes and Sid James.  He even appeared in the Beatles movie A Hard Day's Night, only for his role to be left on the cutting room floor.
Within this remarkable workload was a pair of appearances in Hugh and I, a comic vehicle for Terry Scott and Hugh Lloyd. Producer of that programme was David Croft, who had an uncanny knack for impeccable casting. Seven years after Frank's second performance in Hugh and I, Croft was casting for a sitcom pilot that was part of the BBC's Comedy Playhousein 1972. The role that he called Frank in for was that of a sneering floor walker within the clothing department of Grace Brothers Department Store. When regular programming was pulled because of the Munich Olympics massacre in 1972, the BBC turned to its stockpile and aired the pilot of Are You Being Served? from which Frank would gain worldwide fame in the defining role of Captain Peacock.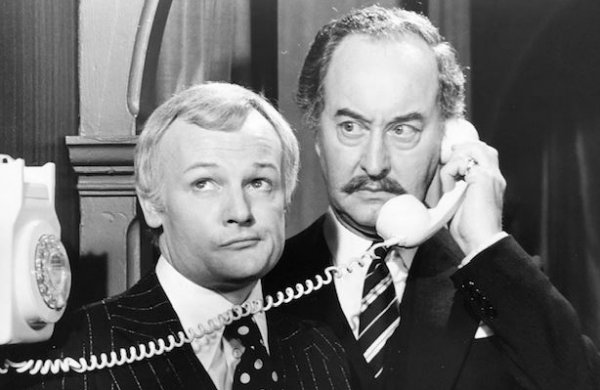 Are You Being Served? was an astonishing success. The ensemble cast worked perfectly, and although not always the case for British comedies, it crossed the borders and achieved further success overseas. The Americans loved it and regularly tempted its stars over for their adoring fans. Australia loved it so much, they made their own version, albeit with only John Inman from the British cast, while even in Holland fans worshipped the programme to the point that its stars were mobbed as they visited to open stores and events.
Peacock benefitted from Frank's ability to portray a rather superior character. Indeed, he described himself as having, '…the sort of face that can look pompous very easily.' Fastidious in appearance, Peacock sneered at the more common elements within his staff while at the same time finding himself often questioning the competence of his superior, Nicholas Smith's Mr Rumbold. Although some characters changed during the run, Frank portrayed Peacock throughout its 13-year stay and then again for two series of Grace and Favour, a short-lived spin-off set in a farmhouse B&B.
Although the BBC largely saw Thornton in comedic roles, it didn't stop him continuing with his remarkable run of work. Away from the sitcom world, he appeared in such diverse productions as a live performance of The Boundary, a one-act play for Omnibus in 1975 by Tom Stoppard and Clive Exton, and a Jonathan Miller direction of The Taming of the Shrew as Gremio alongside John Cleese.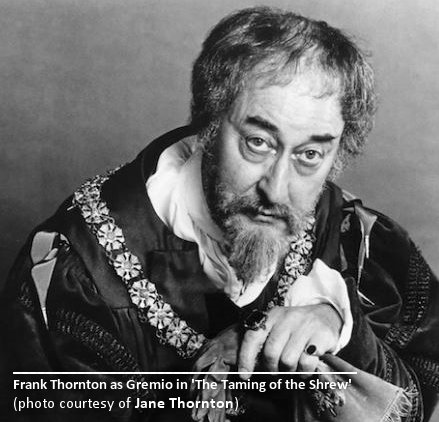 When Are You Being Served? ended in 1985, it had become somewhat out of touch with the changing face of comedy, even to David Croft. But the new edgier comedy still had room for performers of the calibre of Frank. He appeared with Ronnie Corbett in 1987, was a recurring contributor on The Kenny Everett Show and even spent a series as Judge Geoffrey-Parker Knoll in All Rise for Julian Clary .
While starring roles were not around immediately after the end of Are You Being Served?Frank returned to the stage. He came from a musical family, and although he considered learning music beyond him in his early years he did actually have significant musical talents. Dame June Whitfield described him as having, 'a magnificent baritone voice' from her days working with Frank on the Scott On… series, and a crowning moment in his stage career was his performance as Sir John Tremayne in Me and My Girl, nominated for an Olivier Award in 1985.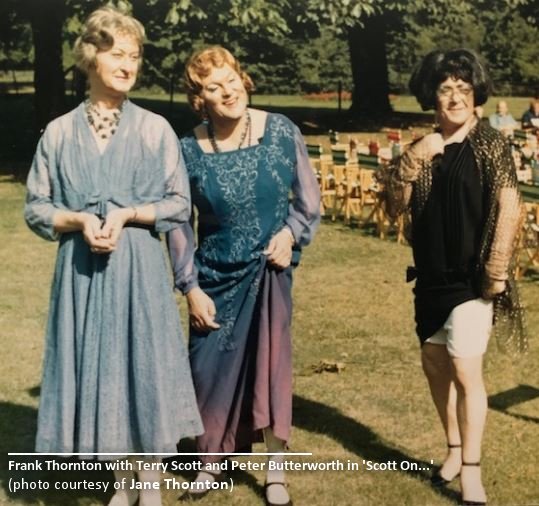 In 1997, Frank came back to prominence in one of the best known sitcoms of all time. Last of the Summer Wine , itself a successful product of the BBC's Comedy Playhouse, had been a permanent fixture on British television screens since 1973 and key to its success was keeping the balance of its characters when leading actors moved on. After two spells as Foggy, Brian Wilde had become ill with shingles and decided to retire from the character. He recommended Frank Thornton to keep the leading trio maintained and Frank debuted as Herbert 'Truly' Truelove in 1997. The initially temporary role transpired to be one of 135 episodes through to the unceremonious axing of the programme in 2010.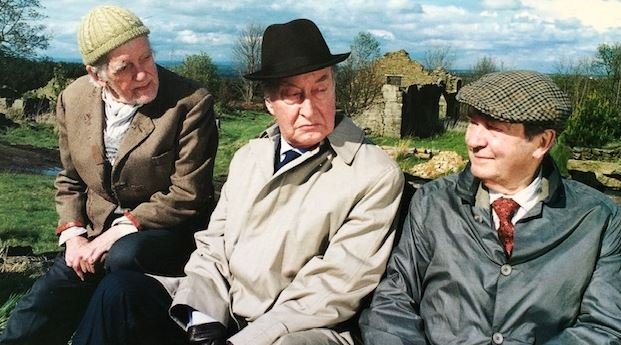 The final time audiences saw Frank Thornton was in 2012 in one of many cameos in Ray Cooney's Run for Your Wife . By the time Frank passed away in 2013 at the age of 92 he had defied his own doubts about both the medium of television and of his own skills. He never considered himself a leading man. Indeed behind the authoritative demeanour that his characters often presented was a man who shied away from star treatment. His many charitable intentions were done discreetly and it took three attempts for his family to concede to allowing him to be a subject on This is Your Life, knowing of his dislike of too much showbiz backslapping.
When in 1940 he began keeping a journal, Frank Thornton reasoned that it was, '…a record of the attempts of the above-mentioned individual to justify his invasion of the theatrical profession.' For over 70 years that invasion was a fully welcome one that should keep Frank Thornton remembered amongst the very greatest of British comedy performers.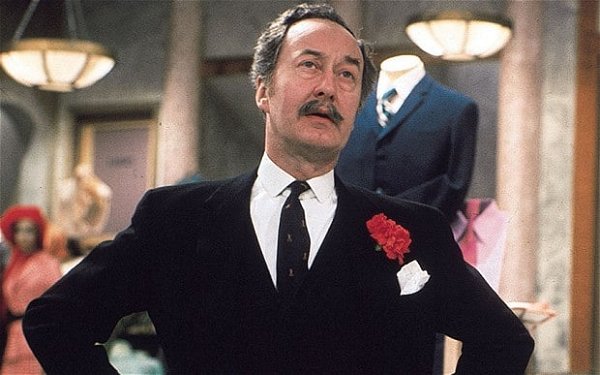 Brian Slade
Born and raised in Dorset, Brian turned his back on a twenty-five-year career in IT in order to satisfy his writing passions. After success with magazine articles and smaller biographical pieces, he published his first full-length work, `Simon Cadell: The Authorised Biography'.
Brian is a devoted fan of the comedy stars of yesteryear, citing Eric Morecambe, Ken Dodd, Harpo Marx and Dudley Moore amongst his personal favourites. He was drawn to the story of Simon Cadell through not only  `Hi-de-hi!' but also  `Life Without George', a programme he identified with having grown up in the Thatcher era. 
Published on July 18th, 2020. Written by Brian Slade for Television Heaven.