Grace and Favour
1992 | United Kingdom
Review - Brian Slade
When Are You Being Served? ended in 1985 it was generally accepted that the programme had gone as far as it could. Spanning ten series across 14 years, it had also spawned a feature-length movie and a hugely successful stage show, but with comedy becoming less tolerant of camp bawdiness and television companies embracing more rebellious alternative comedy, it was no surprise that the adventures of Mr Humphries, Mrs Slocombe et al came to an end.
Writers David Croft and Jeremy Lloyd were no strangers to using the same core actors across many of their series, just as Croft and other long-time writing partner Jimmy Perry did across their own creations. However, in 1991 they took the highly unusual step of resurrecting the characters from one of their biggest successes and transplanting them into a completely new situation. So it was that Grace and Favour arrived on our screens with the bulk of the characters that had waved goodbye when the Grace Brothers store closed its doors six years previously.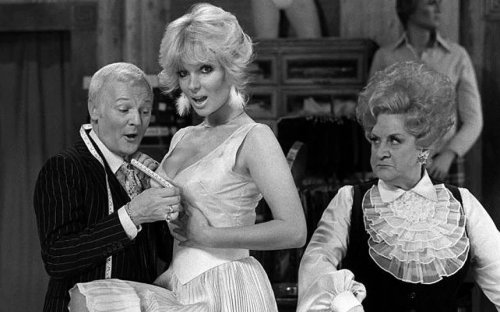 When Are You Being Served? had ended, David Croft had felt that although the programme itself had run out of steam, the characters themselves were still an interesting enough mixture to be afforded a future vehicle. At a farewell lunch, Croft promised them that their characters' experiences were not yet at an end, but it seemed an unlikely idea that they would return. Hi-de-hi! was still performing well, as was 'Allo 'Alloand when the former came to an end, Croft and Perry quickly moved on with You Rang, M'Lord? to further utilise some of the regular Hi-de-hi! cast. Any imminent return of the Grace Brothers staff seemed unlikely.
However, when 'Allo 'Allo reached its end in 1992, Croft was true to his word. He re-assembled the core of the Are You Being Served? cast under the unnerving premise given its timing that the Grace Brothers pension fund had been plundered and all that was left for the staff's retirement was a rundown country house hotel, left to them in the will of Young Mr Grace. With a remit that they could have the property and grounds, but not sell it for profits, the reassembled group begin running the house as a genuine hotel business.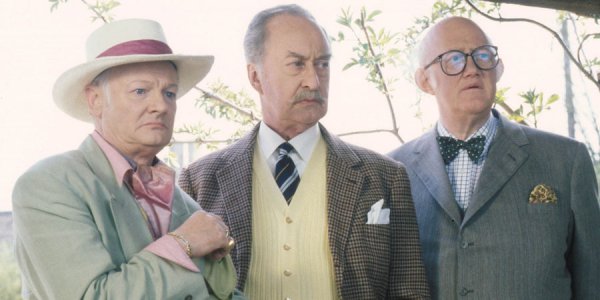 Some of the more well-known elements of Are You Being Served? remained in Grace and Favour. The superior nature of Frank Thornton's Captain Peacock and the bumbling authority figure of Nicholas Smith's Mr Rumbold both remained, although they stood to be shut down by the people formerly their juniors. Mollie Sugden remains in fine form, still asked to perform some excellent physical comedy when Mrs Slocombe is forced to shed her outwardly classy demeanour.
Despite being the rather dour figure of Pauline Mitchell in Eastenders, Wendy Richard returned to her more glamorous role of Miss Brahms, although she was no longer the only young lady on the screen – new character Mavis Moulterd, played by Fleur Bennett, was the buxom farmer's daughter who formed a bizarre relationship with John Inman's consistently camp Mr Humphries. They shared a room and indeed a bed, a novel way of Croft and Lloyd deflecting some of the criticism of Mr Humphries perpetuating homosexual stereotypes within comedy – even if Mr Humphries was determined to rebuff Mavis's advances.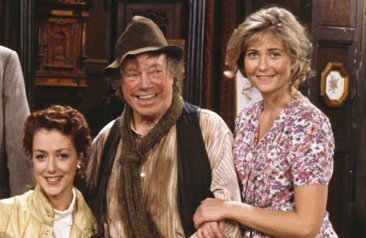 The one remaining new character was in the form of farmer Morris Moulterd. Actor Billy Burden had regularly performed the countrified farmer type in his career and had been called upon a number of times by David Croft to perform similar roles on other programmes within his career. He provided the local knowledge for the new owners as they tried to adapt to country life.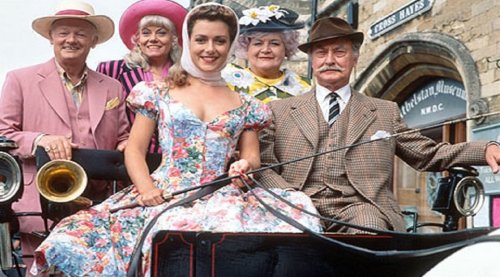 Grace and Favourwas a surprisingly brave move both for its writers and for the BBC. Moving such a large ensemble of characters into a completely new situation was largely untried, particularly with such a length of time between original and follow-up series. The writers attempted to keep the warmth of the characters but add a little more to their relationships. In an effort to do so, they tried to make the programme more episodic, with running storylines throughout the two series – something they had never done with Are You Being Served?  In terms of viewing figures, Grace and Favourperformed well enough, but as David Croft lost faith in the sweeping changes in both comedy and the BBC, so they appeared to lose a little faith in the product, and when the show finished in 1993, the same year that You Rang, M'Lord? ended, it signalled the end of Croft's successful spell writing with Jeremy Lloyd.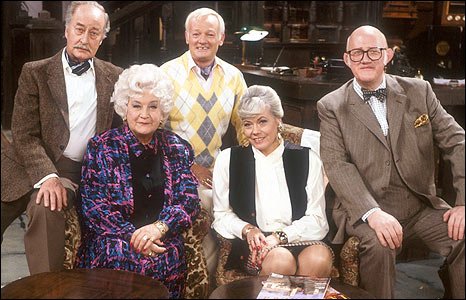 It's safe to say that returning such extreme characters as Mr Humphries and Mrs Slocombe to the screens after Are You Being Served? had run out of steam was an ambitious move, but it was one that was always destined to have a short life. If comedy stylings had changed when Grace Brothers shut up shop in 1985, it had almost completely transformed by 1992. However, to dismiss Grace and Favour as a failure would be wrong. It unusually gave its audience an opportunity to see beloved characters removed from the order and confines of their previous situation, and there is a charm to the two series that makes it a very fond farewell. To paraphrase Young Mr Grace…they all did very well.
About writer Brian Slade
Born and raised in Dorset, Brian turned his back on a twenty-five-year career in IT in order to satisfy his writing passions. After success with magazine articles and smaller biographical pieces, he published his first full-length work, `Simon Cadell: The Authorised Biography'.
Brian is a devoted fan of the comedy stars of yesteryear, citing Eric Morecambe, Ken Dodd, Harpo Marx and Dudley Moore amongst his personal favourites. He was drawn to the story of Simon Cadell through not only `Hi-de-hi!' but also `Life Without George', a programme he identified with having grown up in the Thatcher era.
Published on March 18th, 2020. Written by Brian Slade for Television Heaven.