The Walrus and the Carpenter
1965 | United Kingdom
Developed from a single Comedy Playhouse presentation, The Walrus and the Carpenter starred veteran actors Felix Aylmer and Hugh Griffith as a mismatched pair of septuagenarians who discover they have one common aim; to live their remaining years to the fullest by quite literally 'living it up.'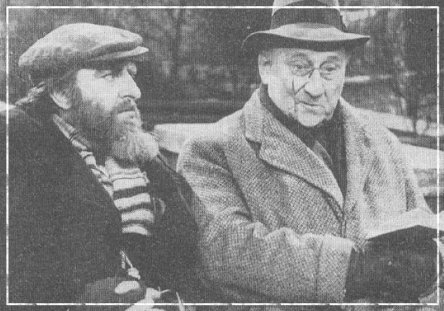 Aylmer played the wonderfully named Gascoigne Quilt, a highly literate retired schoolteacher, whilst Griffith played Luther Flannery, a womanising alcoholic who is completely illiterate. What draws them together at first is the fact that each possesses qualities the other wants, and while Flannery can improve his social standing by getting an education from his new schoolteacher friend, Griffith is equally keen to be educated by his Irish pal in the lessons of life. And so the pair set off on a number of adventures, normally embarked upon on the spur of the moment.
The pilot, which aired on 14 December 1963 and originally to have been titled 'You're Only Old Once' as well as the series, which didn't appear until March 1965, was written by Marty Feldman and Barry Took but due to contractual obligations Took's name did not appear on the credits for the pilot. A number of guest actors (they had not become stars yet) appeared throughout the 6-episode run, including Warren Mitchell and Ronnie Barker. Years later the same theme was revisited even more successfully by Roy Clarke in Last of the Summer Wine.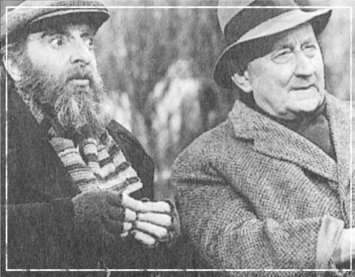 The outdoor scenes were filmed in North London, and according to Marty Feldman, who was interviewed at the time, blended perfectly into the studio sets. "It's exactly how we imagined the setting after we'd spent a couple of days wandering around Islington in search of atmosphere" Feldman told the Radio Times in 1965. Feldman and Took had not yet become familiar faces on television, and although Feldman would soon become one of the country's most recognisable funny men he and his partner showed little interest in appearing in front of the cameras. "Every time we fancy doing it we always see people who are better,' said Took.
Published on May 12th, 2020. Written by Laurence Marcus for Television Heaven.