Get Smart
1965 | United States
Inspired by the success of NBC's The Man From U.N.C.L.E., Dan Melnick, a partner in the production company Talent Associates, approached Mel Brooks to produce a series spoofing the current trend of spy thrillers and in particular the men of the United Network Command for Law Enforcement. Buck Henry joined Brooks in creating the show's characters and the ABC network duly commissioned the series. However, a number of creative differences between the network chiefs and the production team, plus a scene in the pilot in which the Statue of Liberty gets blown up so incensed ABC executives, that it prompted them to describe the show as "dirty and un-American", and meant that the proposed series was dropped before it even got started. 
Undeterred, Melnick then approached Grant Tinker at NBC who liked the concept and commissioned a series without reservation. Don Adams was chosen to play Maxwell Smart, agent 86 for CONTROL, an intelligence service that operated from headquarters ten storeys beneath Main Street, Washington DC. Entering HQ through a telephone kiosk, Smart would then get his orders from his boss, Thaddeus, who Maxwell always referred to as "Chief". Support came in the form of constant companion Agent 99, played by Barbara Feldon, a former Revlon model and winner of The $64,000 Question, and between them they managed to bumble their way through 138 episodes of blundering ineptitude, always, of course, saving the day and coming out on top. 
Like James Bond and the U.N.C.L.E. organisation, Max and CONTROL had chief adversaries and these came in the form of KAOS agents led by the megalomaniac Siegfried and his sidekick Starker. And Max also had his own gadgetry, including a telephone hidden in the heal of his shoe, the Cone of Silence (a clear plastic dome that descended from the ceiling in order to stop outsiders from hearing secret conversations -unfortunately those inside couldn't hear either), and Hymie, a robot with an IQ of 200 plus, but with an unfortunate habit of taking commands too literally, (when told to 'kill the lights' he did just that-by blasting them with bullets). 
There was also support from Agent 13, who could be found on stakeout duty in the most unlikely of places (such as mailboxes and vending machines). The first season resulted in an Emmy award for scriptwriting followed by awards for Don Adams (series 2), Directing (series 3), and Outstanding Comedy Series (series 3 and 4). By this time Max and Agent 99 were married to each other. However, it was also at the end of series 4 that NBC decided to cancel the show, prompting Dan Melnick to contact CBS who picked up the show for a fifth and final season.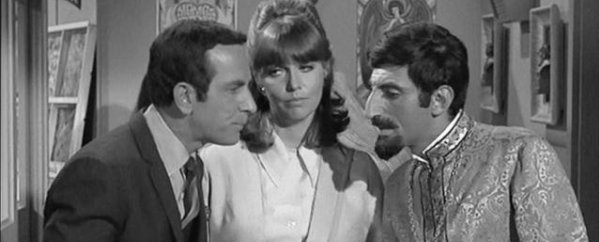 Some changes were made to the format, Agent 13 was gone, to be replaced by Agent 44 (Al Malinaro, later to appear in The Odd Couple, Happy Days and Joannie Loves Chachi), and the Chief began to get out and about with Max even more due to Agent 99's pregnancy. (They had twins but we were never told their names). By this time the shows ratings were going into decline, which led to its ultimate cancellation. However, echoes of the shows enduring popularity continued with a number of reunion movies and a short-lived revival in 1995, which saw the now grown-up twins taking on the mantle of their parent's secret agent status. Also the highly popular children's cartoon series Inspector Gadget modelled its central character so heavily on the Smart persona, that the producers even went so far as to employ Adams' instantly recognisable vocal talents to provide the inspector's voice. 
A Warner Bros movie was released in 2008 starring Steve Carell as Max and Anne Hathaway as 99.
Published on December 18th, 2018. Written by Laurence Marcus for Television Heaven.