Perfect Strangers
1986 | United States
Review - Mike Spadoni
A throwback to slapstick comedy in the grand tradition of I Love Lucy and Laverne & Shirley, this sitcom asked the question: Can two cousins–one all-American and the other from Mediterranean Europe–share an apartment without driving each other crazy. The answer: Yes, but barely. 
Larry Appleton (Mark Linn-Baker, who first gained notice in the 1982 film "My Favorite Year") was a Wisconsin native who moved to Chicago to start his own life.  But soon after, his distant cousin Balki Bartokomous (Bronson Pinchot)–who came to America from the island of Myops–visited Larry, and stayed. The series focused on the cultural differences between the two men, and their tendency to get into unusual situations.  There was plenty of physical comedy, made even better by the strong chemistry between the two stars.  While Balki was earnest, joyful and open, Larry was uptight and controlling.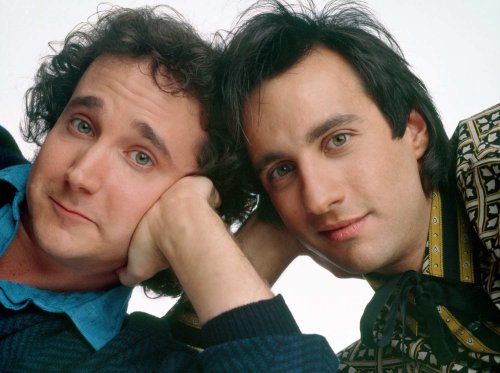 Producer Dale McRaven (who created Mork & Mindy) came up with this sitcom as well, which was initially rejected by the three major networks under the original title "The Greenhorn." Bronson Pinchot's well-received role in the 1984 film "Beverly Hills Cop" made him a hot commodity for television.  NBC snapped Pinchot up first, casting him as a gay attorney in the short-lived Geena Davis comedy "Sara."  When the show failed to win renewal, Pinchot was free–and this time, the concept of an immigrant in America won over ABC executives.  Stand-up comic Louie Anderson was originally cast as Larry, but was let go after a pilot episode was filmed.  Lynn-Baker impressed the network with a guest-starring role on Moonlighting, and took over the role.  Slotted between "Who's The Boss" and Moonlighting as a mid-season replacement in early 1986, "Perfect Strangers" was an instant hit.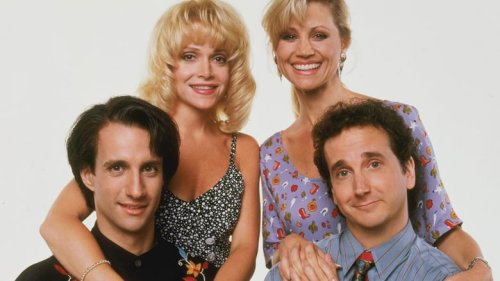 Initially, Larry and Balki worked at the Ritz Department Store (located on the ground floor of their apartment building); their landlord/boss was tightwad Donald Twinkacetti (Ernie Sabella).  By the second season, the boys gained girlfriends in the form of two airline flight attendants.  Larry dated Jennifer Lyons (Melanie Wilson), while Balki's girlfriend was Mary Anne Spencer (Rebecca Arthur).  Over the next several seasons, the boys moved into a new apartment building, while Larry began working as a writer at the fictional "Chicago Chronicle" newspaper.  (He gets Balki a job in the mail room.)  They gain a new friend in elevator operator Harriette Winslow (Jo Marie Payton-France), who eventually gets her own successful ABC sitcom. Larry and Jennifer eventually married and moved into a large home–with still-dating Balki and Mary Anne moving in to help pay the rent.  (The two eventually wed as well.)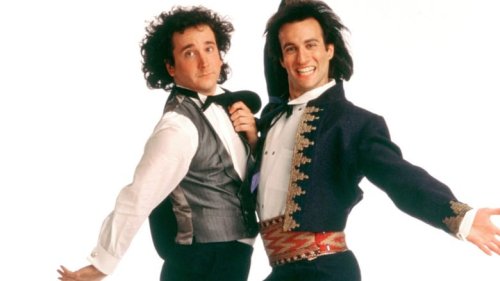 "Perfect Strangers" became one of the anchors of ABC's family-friendly sitcom block  known as TGIF ("Thank Goodness It's Friday"), which also boasted "Matters," "Full House," "Boy Meets World," "Sabrina the Teenage Witch" and others.  And unlike many aging series, "Perfect Strangers" actually gained viewers during much of its run.  But ABC stopped its momentum cold in February 1992, when "Strangers" was moved to lead off a new comedy block on Saturday nights.  Though "Strangers" fell to 65thplace against NBC's long-running "Empty Nest," ABC quickly moved the show back to Fridays, and the ratings rebounded.  But "Strangers" was still threatened by cancellation, prompting a fast response from its loyal viewers.  ABC decided to produce six final episodes to wrap up the show's storylines, but instead of airing in the fall of 1992, the episodes were shown starting in July 1993!  
Both Jennifer and Mary Anne were pregnant, and the focus shifted completely to the home lives of the characters. The two-part finale was a "clip episode" with the best scenes from previous seasons, ending with Larry and Balki doing their "dance of joy."
The show's optimistic theme song, "Nothing's Gonna Stop Me Now," was written by Jesse Frederick and Bennett Salvay, and performed by singer-songwriter David Pomeranz.  
Often funny and certainly winning, "Perfect Strangers" was a buddy comedy in the best American sitcom tradition.  
Published on October 20th, 2020. Written by Michael Spadoni for Television Heaven.