Mork and Mindy
1978 | United States
The launch pad for a future Academy award winning superstar movie career for its then (relatively) unknown star -brilliant stand-up comedian Robin Williams, Mork & Mindy was a direct spin-off from a February 1978 episode of the smash hit sitcom, Happy Days, in which Mork, a zany alien from the distant planet Ork arrived on Earth in a dream and attempted to abduct Richie Cunningham. So popular with the viewing audience was the manically scatological character as interpreted by Williams, that the young Marin County born comedian was immediately handed his own series by the ABC network in August of 1978, and unsurprisingly it became an instant hit.
Updated to contemporary America from the late fifties time-frame of Happy Days, Mork and Mindy introduced the basic scenario that Mork was a misfit on his own planet because of his innate quick-fire sense of humour which led him to poke fun at his people's leader, Orson. Seeking to understand such an 'alien' concept the humourless Orkans dispatched Mork off to Earth to study Humanity, in an attempt to illuminate them to the true meaning behind many of the confusing and crazy customs they had long been observing. Travelling via a man-sized eggshell-like spacecraft, Mork arrived in the locality of Boulder, Colorado. There he met and was befriended by Pam Dawber's pretty Mindy McConnell, a warm-hearted clerk working at the small music store run by her father, Frederick.
Although outwardly human in appearance, much comedy mileage was gained from Mork's decidedly odd and alien take on traditional human customs such as wearing a suit but putting it on backwards, sitting in a chair upside down and drinking by means of his finger, all of which led the majority of the human characters to view him slightly suspiciously as some kind of (albeit harmless) nut. Of course, Mindy knew her lodger's true origins and did her best to school him in the ways of human society, while allowing him an unpaid safe haven in the attic of her apartment. (Which initially caused some concern to her strait-laced father but not her more relaxed grandmother, Cora).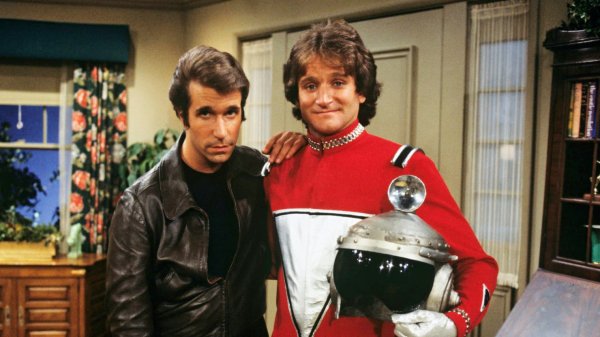 Through a well seasoned mixture of manic slapstick enhanced enormously by the razor-sharp and brilliantly quick-fire comic invention of Williams (its claimed that he made up almost a third of all the dialogue as he went along), the show became a literal ratings smash which seemed set for a long and successful run. However, it was at this point that a combination of star, producers and network seriously undermined their own hit by making the ill advised decision to shift the show away from its winningly simple formula and attempt more "meaningful" storylines. (This was accomplished very successfully almost two decades later in the award winning 3rd Rock from the Sun.)
The surrealistic and perplexing opening episode of season two had Mork shrink away to nothing and find himself transported to a weird netherworld peopled by broadly caricatured representations of good and evil. Mystified viewers immediately realised something was very, very wrong with the show they had come to love during its maiden run.
Further audience unease was hastened by practically the entire supporting cast being dumped between seasons, and the first ominous signs of the lead actor's tendencies towards overt mawkishness and over-sentimentality began to colour the simplicity of the Mork character's child-like comic persona (a flaw that has dogged William's big screen career intermittently to this day). Simultaneously, ABC executives arbitrarily decided to move the series from its established Thursday time slot to Sunday, in order to prop up their sluggishly performing schedule on that night. Understandably, instinctive viewer reaction to such reckless tampering was an immediate loss of interest, resulting in the series losing almost half of its established audience base in one fell swoop.
By the December of 1979 both ABC and the show's producers were desperately attempting to put right their short sighted and potentially fatal catalogue of creative errors. The first step in damage limitation was the reinstatement of the show to its Thursday slot, and the re-simplification of stories.
The character of Mindy's father, who had been one of the between season casualties along with the grandmother, was brought back into the fold for the retooled third season, having supposedly sold his music store and fulfilled a lifelong dream by going on tour as an orchestra conductor. Other notable changes which took place during the latter half of season two and the early part of season three included the unnecessary addition of new supporting characters Remo and Jean DaVinci, a brother and sister team recently arrived in Boulder from the Bronx. Remo, less than imaginatively, ran the New York Deli and was helping put Jean through medical school while Nelson was Mindy's cousin, a caricatured, dull and uninteresting young social climber with misplaced political ambitions. Added to this already over populated supporting character infusion, was the ill-tempered downstairs tenant, Mr.Bickley (the character had been seen fleetingly before, but was now given a greatly enlarged role in the proceedings), as was Mork's friend Exidor, the crazed, self-styled, prophet and leader of an invisible cult called, the "Friends of Venus". (A particularly ill thought out addition on the part of the producers, given the fact that the entire reason for the series was the very 'alieness of Mork himself), while Mindy, almost overnight became a journalism student and landed herself a job at the local television station KTNS.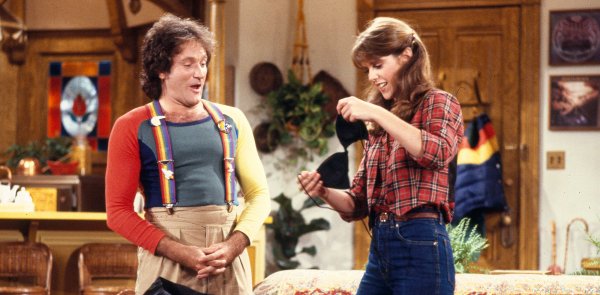 Admittedly some of these less than inspired changes recaptured a portion of the lost viewers, but it was a clear case of too much too late. Mork and Mindy was destined to never quite be the show that had started so promisingly during that first laughter filled season. But that certainly didn't stop the ever increasingly desperate producer's from attempting one final completely off-the-wall gamble.
In the fall of 1981 they married Mork off to Mindy and had him, by means of ejecting a small egg from his navel, give birth to the couple's full-grown hybrid offspring, in the corpulent shape of William's idol, legendary comedian/actor, Jonathan Winters, the 'baby' whom they christened "Mearth". But in this particular instance, "Mearth" didn't equal "Mirth", and the once proud series limped to a painfully unfunny end on 10th June 1982.
Despite the initial charm and genuine comedy invention of the show's first season, and the odd warmly welcome intermittent latter moments which allowed a showcase for William's unrestrained, scattergun stream-of-consciousness joke-a-second style, Mork and Mindy's real claim to fame is one single season of comedy greatness, and the reminder that if a show isn't broken, then over-ambitious TV executives should never attempt to fix it. Nanu Nanu!
TRIVIA
The role of Mork was initially offered to Dom DeLuise.

When offered the part in 'Happy Days' Robin Williams was a stand-up comedian working at The Comedy Store in Los Angeles.
The Mork and Mindy scriptwriters allowed Williams to ad-lib or improvise at certain points in the show by marking the script "Mork can go off here".
According to Mork his home planet of Ork was "bleems and bleems away".
The first comedy series to feature an alien living amongst humans was 'My Favourite Martian.'
Published on January 8th, 2019. Written by Laurence Marcus & SRH (2001) for Television Heaven.