Evil Roy Slade
1972 | United States
One of the great pleasures of writing for this website is that it offers the opportunity to draw attention to shows that deserve to be better remembered but which have been generally forgotten. However, it is not quite true to say that Evil Roy Slade has been generally forgotten - because it was not generally viewed in the first place. The few who have seen it have probably not forgotten it at all.
Humour is, of course, subjective, but those who developed their tastes in the 1970s might well remember it as one of the funniest things they ever saw.
Those of a similar disposition who have not seen it could do worse than to track it down and watch it for themselves. They may be very glad they did.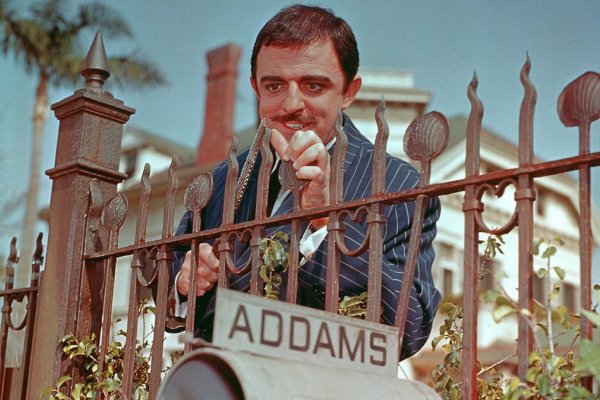 The "television movie" was the final stage of the long, and ultimately fruitless, quest to find a suitable star vehicle for the talented John Astin after his success as Gomez in The Addams Family. His cheerful, infectious grin, which stayed in place despite all the mock horrors around him, made him instantly likeable. It was combined with an otherwise mobile face and a manic energy that marked him as a natural leading man in comedy.
Given that The Addams Family is one of those shows that everyone knows, and that it is repeated frequently all over the world, it may come as a surprise that it was, like its equally well known rival The Munsters, not a commercial success when it was first shown. In those days, even more than today, shows lived and died by the ratings. Both The Addams Family and The Munsters were cancelled after only two seasons. In the case of The Addams Family, the cancellation was unexpected, as there were plans to upgrade the third season to colour - which, in retrospect, seems to miss the whole point of the show.
Yet for Astin, it looked as if the cancellation might prove to be a blessing in disguise. There was an assumption that he would soon move on to greater things, and there were people willing to help him to do so. Astin himself seems to be a genuinely agreeable man in real life, which is certainly no disadvantage, but what really matters in LA is being associated with a winner and that was what Astin was obviously going to be.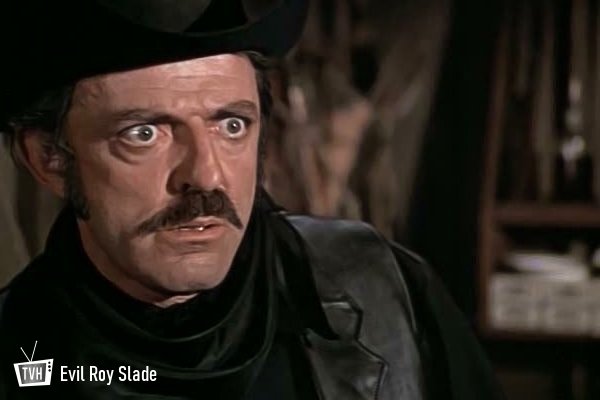 In 1967, a year after the end of The Addams Family, Astin first appeared as Evil Roy Slade in a pilot for a new comedy Western series called Sheriff Who. It was co-written and produced by Garry Marshall, himself destined for greater things, not least Happy Days. The premise was unusual even for the 1960s: every week, a new Sheriff, played by a different celebrity guest star, would try to capture Evil Roy, fail, be killed or otherwise removed, and duly replaced by next week's guest star. The first Sheriff was played by Dick Shawn, best known as Lorenzo St DuBois ("LSD") in the original, and best, film version of Mel Brooks' 'The Producers.'
Sadly, but not really that surprisingly, the pilot was not sufficiently successful for it to be made into a full series.
According to an unreferenced statement on the Internet Movie Database (IMDb), this was the first of no less than four pilots for this project, presumably including Evil Roy Slade itself, the eventual "television movie" which is the topic of this review. However, the same source, IMDb, mentions only two, the 1967 Sheriff Who and Evil Roy Slade, on the lists of Astin's, Shawn's, and Marshall's credits. That said, research on other projects has taught this reviewer that, although the accepted authority, IMDb is not always comprehensive in its lists of credits. What it says is usually true but it does not say everything.
Either way, it is safe to say that there was a lot of Hollywood politicking in between before Astin played Evil Roy again in the "television movie" that came out five years after that first pilot. Again, it was hoped that it would lead to an ongoing series being commissioned - as is clear from the ending - but, by that point, the hope was getting pretty thin.
The film begins on a dark note, with Baby Evil Roy's parents massacred by Indians. Sometimes, we are told by a helpful narrator, Indians adopt the children of their victims - but then we see the Indians take one look at Baby Evil Roy and turn away in disgust. We are also told that sometimes children are raised by wolves - but the wolves react in much the same way as the Indians. As a result, Evil Roy roams the West in his nappy, getting tough and mad at the world, with only his beloved teddy bear for company.
The teddy bear is a deliberate anachronism - the toy bear was popularised by association with President Teddy Roosevelt only in the 1900s - which really tells the audience what to expect.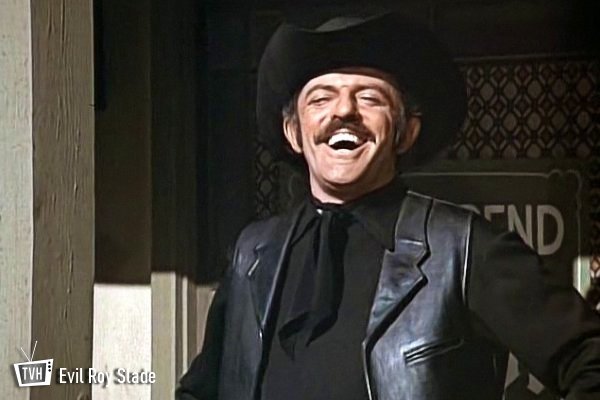 Anyway, given this start, it is no surprise that Evil Roy "grew up mean," as Johnny Cash might say. The early sequences in which he lives up to his name are great fun. Some of the humour is quite dark - it is made clear that Evil Roy kills people - but Astin's irresistible grin keeps him loveable until the inevitable moment when he is redeemed by the Love of a Good Woman. At that point he resolves to go straight, which is when things get even more amusing. Evil Roy is, after all, still Evil Roy.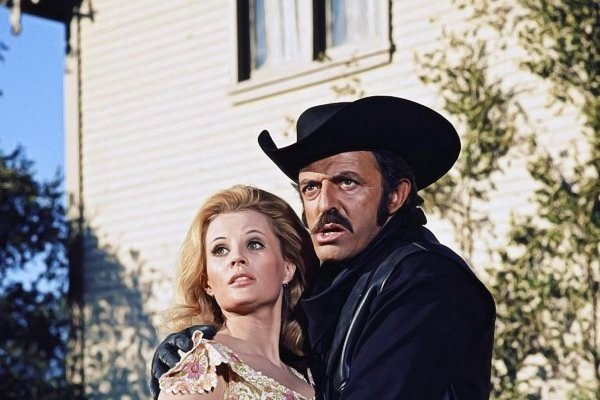 A strong supporting cast enters into the thing with the proper amount of seriousness. Mickey Rooney plays the Railroad President - apparently a satire on the one in Sergio Leone's magisterial 'Once Upon A Time in the West' - whom Slade robs ...a lot. Henry Gibson plays his incompetent nephew, supposedly in charge of catching Slade until Rooney secures the services of a famous "Singing Marshal" played by Shawn in the glorious tradition of Roy Rogers. Pamela Austin is the very unlikely Western beauty queen with whom Slade falls in love, Milton Berle is a nervous cousin, and Dom DeLuise is Evil Roy's distinctly 1970s psychotherapist.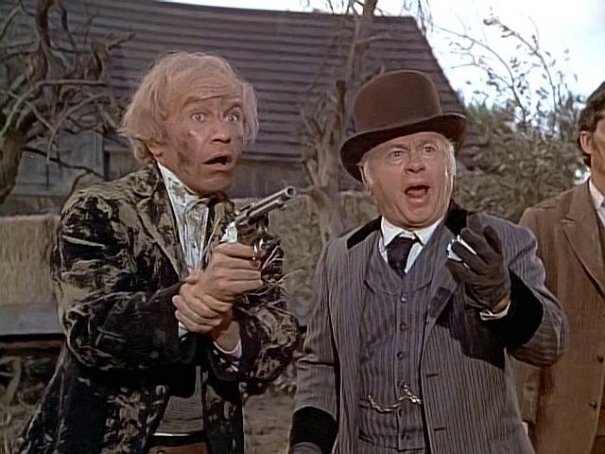 The jokes come thick and fast, so it is only to be expected that not all of them land, but the best of them - such as Evil Roy's first attempt at selling shoes - really stick in the memory.
Indeed, perhaps the humour is too rich. One of the reasons the later Police Squad did not attract ratings on television before its success in the cinema as 'The Naked Gun' was that it was all too easy to miss the jokes on a small screen - especially in the days when it was really small and usually in a busy room filled with the whole family.
This may be one explanation of why a film liked by almost everyone who saw it failed to ignite the ratings and land a commission for an ongoing series. The other is timing.
The 1970s were not a good time for the Western. In the cinema, the revisionist European Westerns made by Leone and his ilk had prompted a more "realist" style in American Westerns that did not find favour with mass audiences. The conventional wisdom for some years was that the genre was dying.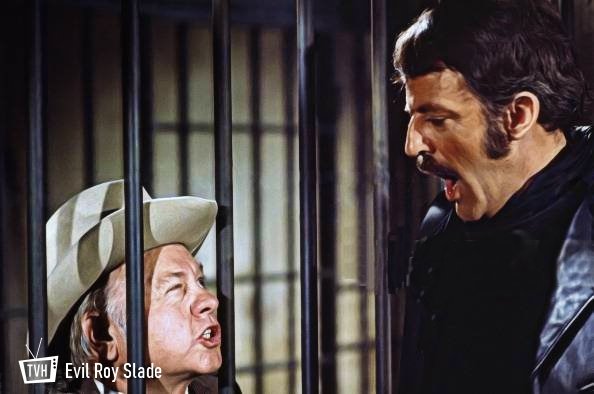 It was more resilient on television. Indeed, the advent of colour gave it a new lease of life, and the five years between 1967 and 1972 coincided with the production of a number of memorable high quality television series set in the West, including' Bonanza, The Virginian, The High Chaparral, Alias Smith and Jones, and the venerable Gunsmoke. One can see how Evil Roy Slade imitates the style and tone of these rather cleaned up portraits of the Old West very closely. Indeed, some locations, props, and costumes seem oddly familiar.
However, those same five years also saw a major shift, and by 1972 all those shows had either ended or were coming to an end. Viewers were not interested in a satire of a genre they did not watch anymore, no matter how clever it was. Evil Roy was possibly too daring in 1967 and past it by 1972.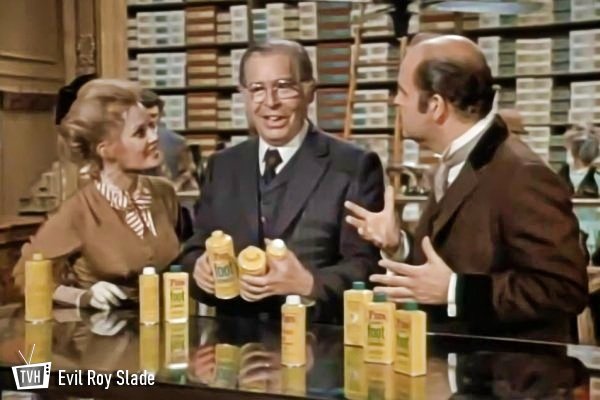 Nevertheless he may have a considerable, unacknowledged legacy. It is not difficult to spot parallels, possibly even direct references, in 'Blazing Saddles.' After all, Mel Brooks worked with both Shawn and DeLuise - the latter in 'Blazing Saddles' itself - and so was familiar with their other work. The quickfire humour can also be seen in 'Airplane,' 'Police Squad' and 'The Naked Gun.' Of course, as a studio production for a major network, the humour in Evil Roy Slade is not as scatological or as "adult" as some of the material in the feature films, but, for the time , it is just as daring in its way. One might also speculate if Nicholas Cage has based his entire career on parts of Astin's performance as Evil Roy.
Although he has always been busy, building up a very long list of credits, and simultaneously building a parallel career as a respected Professor of Theatre Arts at his old University, Astin himself never got his big leading role in a successful comedy series after The Addams Family. The irony is that he was simply too good - and too memorable - as Gomez, and audiences found it hard to think of him as anyone else, especially with The Addams Family being repeated so much. It did not help that he returned to the part in a couple of undistinguished revivals. While he is very far from a failure, he has not attained the level of stardom his talents deserve, and is perhaps another proof that there is such a thing as being too successful too early.
Review by John Winterson Richards
John Winterson Richards is the author of the 'Xenophobe's Guide to the Welsh' and the 'Bluffer's Guide to Small Business,' both of which have been reprinted more than twenty times in English and translated into several other languages. He was editor of the latest Bluffer's Guide to Management and, as a freelance writer, has had over 500 commissioned articles published.
He is also the author of 'How to Build Your Own Pyramid: A Practical Guide to Organisational Structures' and co-author of 'The Context of Christ: the History and Politics of Rome and Judea, 100 BC - 33 AD,' as well as the author of several novels under the name Charles Cromwell, all of which can be downloaded from Amazon. John has also written over 100 reviews for Television Heaven.
John's Website can be found here: John Winterson Richards
Books by John Winterson Richards:
Published on January 19th, 2021. Written by John Winterson Richards for Television Heaven.