M*A*S*H
1972 | United States
Developed from Robert Altman's 1970 movie about the day to day life of the war weary surgeons and staff of the 4077th Mobile Army Surgical Hospital during the Korean War, M*A*S*H was a dark anti-war satire that continually broke new ground on US television. Previously taboo subjects such as adultery and homosexuality were featured, and the anti-war theme that it carried was in direct contrast to America's involvement in the Vietnam War at the time. Different story telling techniques were also employed, one particular episode was shown entirely through the eyes of a wounded soldier.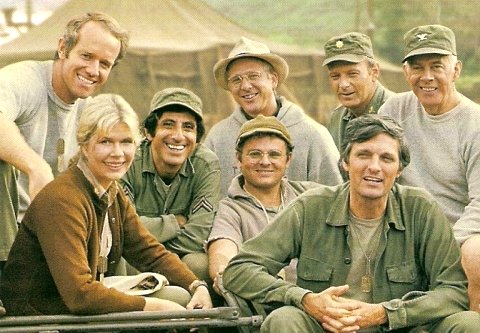 The cast were a collection of likeable oddballs, Hawkeye Pierce played by Alan Alda was the irreverent joker ably supported by Trapper John McIntyre played by Wayne Rogers. Head nurse Margaret 'Hotlips' Houlihan (Lorretta Swit) was having an affair with Major Frank Burns (Larry Linville), while Henry Blake, (McLean Stevenson) was the fishing obsessed CO who ignored the antics of his officers just as long as they continued to perform in the operating theatre. Walter O'Reilly (Gary Burghoff-the only survivor from the original movie's cast) was nicknamed 'Radar' because of his ability to predict incoming wounded before the helicopters carrying them appeared. Max Klinger (Jamie Farr-the only cast member to actually have served in Korea) was trying to work his ticket home by dressing in women's clothing. A genuine first for US network television which was initially very uncomfortable with the idea of a series featuring a cross- dressing character in such a high profile role. 
The series survived a number of cast changes during it's long run, Colonel Blake was killed in a plane crash on his return home to be replaced by Sherman T. Potter, (highly respected character actor Harry Morgan, formerly Joe Friday's sidekick in Dragnet) and when Trapper John returned home safely he was replaced by Mike Farrel, as the equally laidback B.J. Hunnicut. Frank Burns replacement was the pompous Bostonian Charles Emerson Winchester (a wonderfully snobbish characterisation from the accomplished David Ogden Stiers).
The show first aired in 1972 and finally bowed out in 1983 with a two-and-a-half hour special, Goodbye, Farewell and Amen, at that time it became the most watched programme in television history. It is reported that Twentieth Century Fox Television made $25 million from the first round of syndication in America and five times that on the second. When the series was originally aired in Great Britain it was minus the dubbed laughter that accompanied it in the US, although eventually that was dropped in the USA as well, at the insistence of Alan Alda. Quite possibly the finest example of the successful transfer of a hit motion picture to the episodic television format ever executed, M*A*S*H more than earns it's place in television history for being able to entertain in a thought provoking way. It got it's message across without trying too hard, allowing the viewer to sit back and simply enjoy every moment of it. 

Published on January 3rd, 2019. Written by Laurence Marcus & Peter Henshuls (1999) for Television Heaven.