I Love Lucy
1951 | United States
A genuine pioneer in the way in which TV programmes were recorded and presented, I Love Lucy laid down the all important, yet deceptively simple winning pattern for the domestic sitcom as far back as 1951. Remaining the creative template that is still followed to this day, the series also elevated it's star, Lucille Ball, to be regarded by many as US television's comedienne without peer. 
Following Lucille Ball's CBS radio show 'My Favourite Husband' in which she co-starred with Richard Denning, the star recorded a pilot with her real life husband, actor and musician Desi Arnaz, which was then taken up by the company for conversion to the small screen. The series centred on the life of Lucy Ricardo, (nee MacGillicuddy), the scatterbrained wife and showbiz wannabee of Cuban dance leader Ricky. The Ricardo's lived in an apartment on the East side of Manhattan where Lucy hatched most of her disaster-prone schemes to improve life around the home, make money, or be anything other than an ordinary housewife.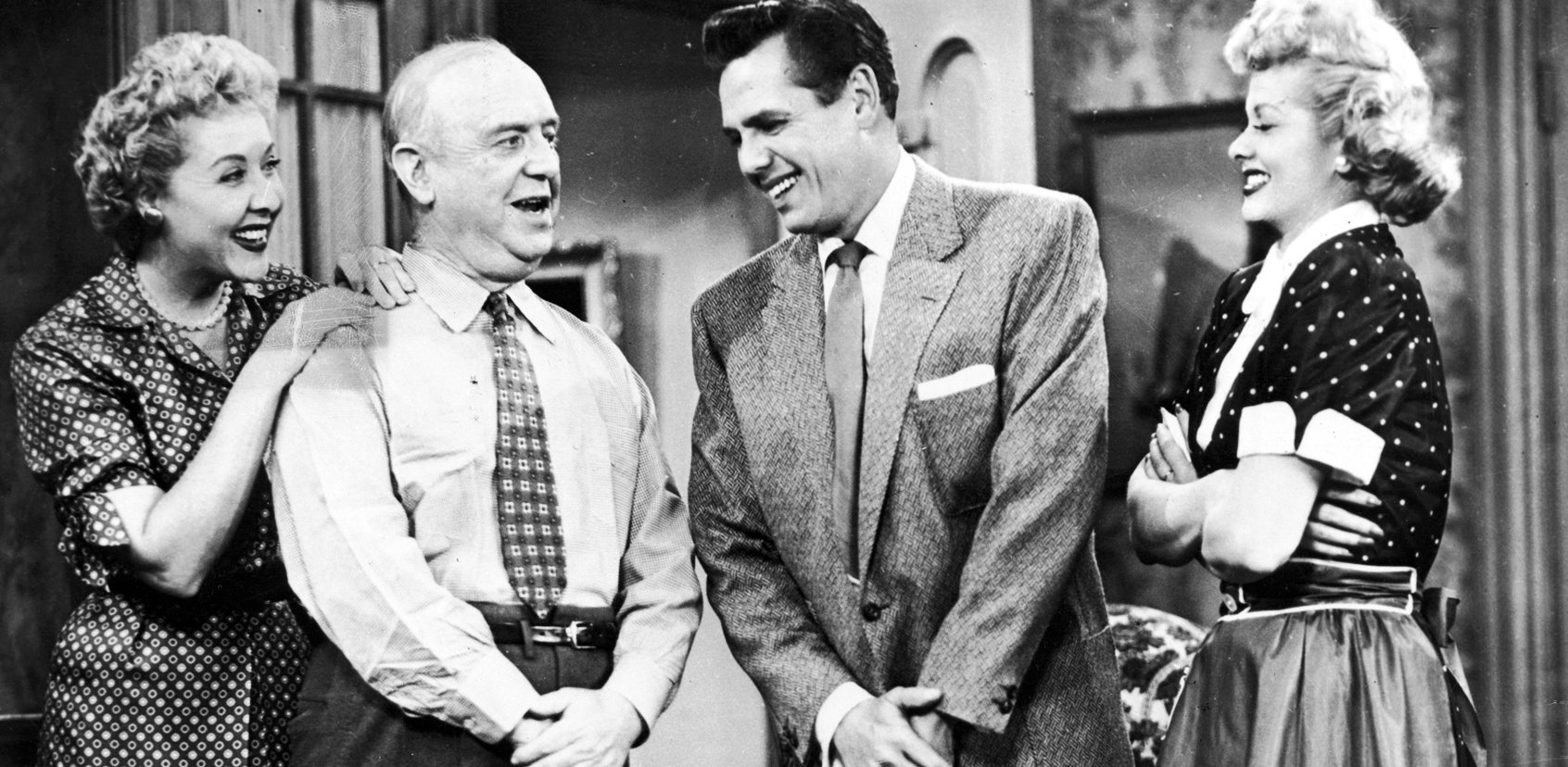 Sharing these adventures with her was best friend Ethel Mertz, married to the considerably older Fred, who's wisecracking asides made him a viewers favourite. A smash hit from it's first season, Lucymania swept America, and when in 1953 Lucy gave birth to Ricky Jnr, an event that coincided with Ball's real life delivery of Desi Arnaz Jnr (the episode was screened on the same night), and actually headlined in newspapers above President Eisenhower's inauguration. The high quality of acting, scripts and production values (it was made by Ball and Arnaz's own production company, Desilu), won it five Emmy awards, and the fact that it was filmed means that each episode is preserved in remarkably good condition. It is estimated that the show has been running somewhere in the world at any time for over sixty years! 
At the end of the 1956-1957 season of I Love Lucy, the show's stars decided that they wanted to experiment with a longer format of the programme. Over the course of the next few seasons, all of the I Love Lucy regulars starred in a number of one-hour specials (originally aired as The Lucille Ball-Desi Arnaz Show), in which they travelled to different places and became involved with various guest stars. 
Following Lucy and Ricky's real-life divorce in 1961 the show was renamed The Lucy Show and the star was relocated to Danfield, Connecticut, where she became Lucy Carmichael, mother of two children, Chris and Jerry; who shared their home with boarders, Vivian Bagley, a divorcee, and her son Sherman. For work Lucy became secretary to Theodore J. Mooney, Vice President of the Westland Bank. Desi Arnaz continued to produce tv shows and among his credits was the classic series based on crime-buster Elliot Ness, The Untouchables.

A hit on both sides of the Atlantic I Love Lucy was also one of the first US sitcoms to be seen on British commercial television, when in 1955 it appeared in ITV's first week on air (although it was not the first - the first US Sitcom screened on Commercial Television was My Hero starring Bob Cummings and Julie Bishop and was shown on ITV on 24 September 1955-preceding I Love Lucy by a day). Whilst most shows come and go only to be forgotten in the mists of time, there are some that are assured of their place in television history. If ever a show deserved a place in Television Heaven, then I Love Lucy is that show.
Published on December 21st, 2018. Written by Laurence Marcus & SRH (1999) for Television Heaven.