Born in Oldham on 4th May 1923, Eric Sykes, like many entertainers of his generation, first got a taste for show business whilst entertaining the troupes during the Second World War, which is where he met Flight Lieutenant Bill Fraser. On returning home to life on "Civvie Street" Eric decided to try his luck in London, and arrived at Euston Station in the middle of what he later described as the coldest winter in living memory. He took lodgings expecting to find employment very quickly, but by the end of the first week found himself to be cold, hungry and broke. On the Friday night of that week he was walking along the embankment when out of the foggy night air he heard someone call his name. It was Bill Fraser, who was starring in a comedy at the Playhouse Theatre, and Bill took Eric to the theatre with him where he offered him food and drink. "I must have looked like death." Eric recalled years later. Bill then asked Eric if he'd like to write for him. "It was the turning point of my life."
Eric began providing scripts for both Bill Fraser and Frankie Howerd, and within a short space of time he found himself in demand as a writer of comedy material, and began contributing to the BBC for their phenomenally successful radio series Educating Archie, as well as Variety Bandbox. In 1948 he began writing material for TV, which was still very much in its infancy, and although his main source of income remained radio comedy it would ultimately prove to be on television that Eric would become a major star.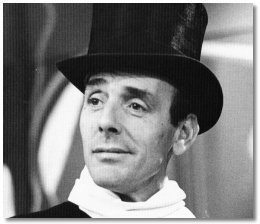 In 1955 Eric appeared in a Christmas spectacular for the BBC, a spoof pantomime called Pantomania, which he also wrote and directed. The show featured many BBC personalities of that era and was directed by Ernest Maxin, who some 20 years later would produce some of the most famous comedy routines for Morecambe and Wise. That same year Eric signed a contract as scriptwriter and variety show presenter for the newly formed independent television company ATV, however, he continued to write and appear in BBC productions, the next of which was another 60 minute special called Sykes Directs a Dress Rehearsal. The show was set in a fictional TV studio rehearsal room moments before being transmitted live on air. In it Eric played an harassed director. Later that year Eric wrote and appeared in another all-star spectacular called Opening Night which was made to welcome the opening of the 1956 National Radio Show at Earl's Court. The following year he also devised a show called Closing Night which closed the 1957 event. By now Eric had developed hearing problems, which would eventually make him almost totally deaf. However, he learned to lip-read and this can be seen in his performances as he watches intently as other performers say their lines, so as not to miss his cue. In 1957 Eric wrote and appeared in an edition of Val Parnell's Saturday Spectacular in the first of two shows he made with Peter Sellers. The first went out under the title of Eric Sykes Present Peter Sellers, and the second, in 1958 was called The Peter Sellers Show.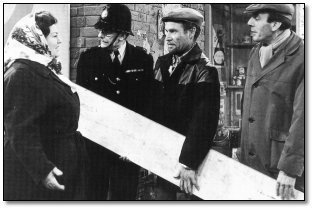 In 1959 Eric wrote and directed another one-off special for the BBC called Gala Opening. The cast included Stanley Unwin and a comedy actress with whom Eric had first worked with on Educating Archie in 1950, Hattie Jacques. The following year Eric made the first of a series of 30-minute sitcoms in which he played an accident prone character called 'Eric' who lived with his sister 'Hattie'. The instant rapport that Eric and Hattie formed was the basis for one of Britain's best loved comedy series partnerships and one that endured for the next 20 years, up until the untimely death of Hattie Jacques in 1980. (For a full review of this series see 'Sykes' on this Website). One of the episodes of the show, Sykes And A Plank was remade for the cinema in 1967 and Eric also appeared in the 1965 release Those Magnificent Men In Their Flying Machines, starring a whole host of British TV and film stars including Terry Thomas, Tony Hancock, Robert Morley and Dame Flora Robson, as well as US stars Stuart Whitman and Red Skelton. During the first and second series of Sykes And A... Eric also made a one-off comedy penned by Ray Galton and Alan Simpson called Clicquot Et Frils, which was the first in the series of the long running and very successful Comedy Playhouse strand. 
In 1969 Eric appeared alongside Spike Milligan in a Johnny Speight written comedy series called Curry and Chips. Speight, who had written the earliest Sykes And A... shows before Eric took over the writing himself, had already aroused a lot of controversy for his series about East End bigot, Alf Garnet, in Till Death Us Do Part. Unafraid to tackle sensitive subjects such as racism, but intended to show them up as the opinions of a small-minded minority, Curry and Chips was written along the same theme as TDUDP. In this series Eric played the part of Arthur, a liberal minded factory worker who more often than not sprung to the defence of his co-worker, Milligan, who, with black makeup on, played the part of 'Paki-Paddy' Kevin O'Grady who claimed to be half Irish (on his father's side). Even in the days before political- correctness ITV were deluged with complaints about the series content and its use of bad language (by everyone except Eric, who refused to swear), and so the series was a short lived one, lasting for just six episodes.
During the 1970's Eric made a number of one-off specials for both the BBC and ITV including Sykes -With The Lid Off, A Policeman's Lot, The Eric Sykes Show and another remake of The Plank. Following a seven-year break, the BBC revived his series of shows with Hattie Jacques and together they chalked up another 68 episodes, the last of which was made in 1979. In the 1980's Eric continued to make his 'specials' including Rhubarb Rhubarb! another remake of a cinema release. The story concerned itself with Eric, as a police inspector, intent on winning a round of golf against the local vicar (Bob Todd). Apart from the word 'rhubarb' -used by actors to feign off-microphone dialogue, and repeated numerous times, the film was silent. It starred a whole host of British TV stars including Charlie Drake, Roy Kinnear and Bill Fraser, as well as Hattie Jacques. Sadly, this was Hattie's last appearance, as she died between filming and the shows transmission. In 1989, Eric appeared in his last sitcom to date as the secretary of a golf club in the short-lived comedy series The Nineteenth Hole, which he eventually took on tour in a 1992 theatrical production. This was by no means Eric's first foray into touring productions. Years before he had teamed up with Jimmy Edwards for the comedy Big Bad Mouse. However, both stars were unhappy with the scripted version and took to ad-libbing all the way through their performance. On occasions, and much to the delight of the audience, Edwards would turn his back on Sykes intentionally, knowing that he wouldn't be able to read his cue. But Eric never failed, and the show played to packed West End houses before going on innumerable tours, not only in Britain but all over the world.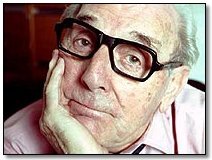 Through a winning combination of personal warmth, superbly observed, written and performed comedy and a deeply intimate understanding of what a viewing audience wanted, Eric Sykes deservedly carved himself an enduring place as one of only a small handful of genuine creative geniuses working in the field of British television comedy.
The very best comedy has always sported an essential core of warm humanity. For decades of British television viewers, no one conveyed that warmth or humanity more successfully than the great Eric Sykes.
Eric Sykes passed away on 4 July 2012 

Published on February 20th, 2019. Written by Laurence Marcus & SRH (2001) for Television Heaven.