Sykes and A... | Sykes
1960, 1972 | United Kingdom
Classic British sitcom in which the irrepressible comedian got himself involved with all manner of new technology in order to improve his lifestyle. Of course, this being the 1960's, new technology to Eric meant everyday objects such as the telephone. The highlight of the series, apart from the sharp and well-observed comedic routines, was the perfect combination of Sykes and comedy actress Hattie Jacques (as his spinster sister) both of whom forged a relationship so convincing that a large section the viewing public thought that they really were siblings. 
Eric and writer Johnny Speight originally devised the series, although it was Eric's idea to have Jacques play his sister rather than his wife in order to break the mould of the usual domestic sitcom scenario. Together they shared a house at 24 Sebastopol Terrace, East Acton, where they lived on our TV screens for the next five years. The series was called "Sykes and a..." with the object that was about to cause havoc inserted into the title. Eric took over writing from series two onwards, although John Antrobus and Spike Milligan scripted some, and Speight continued to work on the storylines until the end of series three, when it became Eric's sole responsibility. Speight, Sykes and Milligan teamed up again for the controversial 1969 series Curry and Chips. Apart from having to contend with snooty next-door neighbour Mr. Brown (Richard Wattis), Eric and 'Hat' managed to get themselves into all sorts of difficulty, including episodes which found them accidentally handcuffed together, running a bus route minus the bus, or trying to transport a piece of wood from a timber yard to the home of a friend -in a classic episode that was later remade as a 54 minute film for cinema release.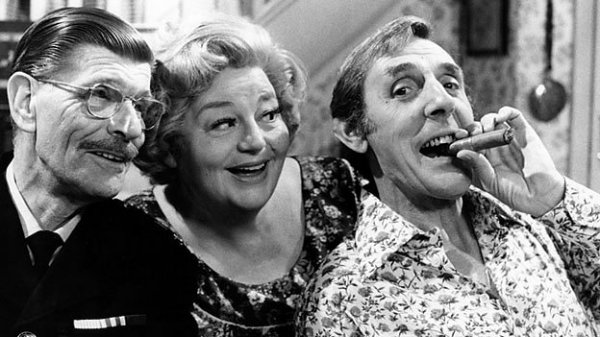 After a break of seven years the series returned under the title of Sykes for an even longer run of 68 colour episodes. By now Eric and 'Hat' had moved -to 28 Sebastopol Terrace, but continued to find difficulty in the everyday goings on of life. Returning to the series was Mr Brown (who had left at the end of the original series' third season to emigrate to Australia), and another regular was added, local policeman Corky Turnbull (Deryck Guyler -who had played an irate bobby in Sykes And A Plank). Eric and Hattie also became the proud owners of a cuckoo clock, naming the temperamental bird inside, Peter. It was the closest they came to a pet and they spoke to it as if it were real. Many of the earlier scripts were re-workings from the original series, including an episode in which Peter Sellers appeared as an ex-convict who arrived on their doorstep claiming Hattie as his fiancé. (Leo McKern had previously played the character).
A number of guest stars appeared in the series from time to time such as Joan Simms and Les Dawson, but by and large it was the magic combination of Sykes and Jacques that kept the series flying, even if by the end of its run it was beginning to look a little dated. However, the show was brought to an enforced conclusion after its 1979 series following the sudden death of Hattie Jacques in 1980. Simple, yet richly observed and consummately performed, both series successfully managed to maintain a winning 'child-like' innocence in its central characters that endeared both it, and its core group of actors to the entire nation.
Published on February 5th, 2019. Written by Laurence Marcus (2001) for Television Heaven.