Room at the Bottom
1966 and 1986 | United Kingdom
In 1986, ITV decided to rework a little-known show that started life 20 years earlier. While Room at the Bottom may not be remembered as a classic for either incarnation, it certainly offered an enjoyable vehicle for some of sitcom's favourite talents of the 1980s, and gave a way into the business for a pair of writers who would create one of Britain's best loved comedies.
Comedy Playhouse was effectively a series of separate pilot episodes to test the waters for prospective comedy series, and it gave birth to a number of sitcoms that would go on to achieve remarkable success, such as Up Pompeii!, Are You Being Served? and Steptoe and Son. Of the 1966 offerings, aside from The Bishop Rides Again, which would morph into Derek Nimmo success All Gas and Gaiters, there were no shows that would etch their place in comedy folklore. However, one comedy that is never seen and seldom referenced – Room at the Bottom - did indirectly contribute to one of the most loved comedies the BBC ever produced.
Writers John Esmonde and Bob Larbey had been penning sketches and skits in their spare time away from their day jobs. Success with sketches for Dick Emery was enough to secure a radio comedy in 1965 starring Kenneth Connor called Spare A Copper, in which Connor played Police Constable Albert Hereward Lamp, a crime-buster who made up for his lack of intelligence and resource with bucket loads of enthusiasm.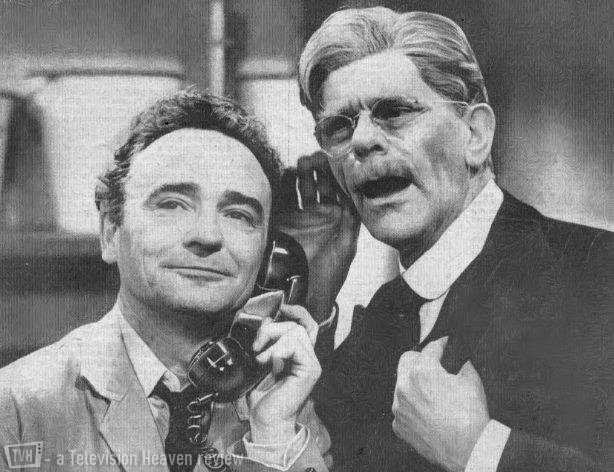 From here, Esmonde and Larbey were given the opportunity to write their first television special for Comedy Playhouse. Having achieved some modicum of success with their radio effort, the pair were once again able to call on the comedic talents of Kenneth Connor, along with Deryck Guyler, who had played many characters in Spare A Copper and would go on to be best known as the friendly policeman Corky in Sykes and a… and Sykes.
The premise of Room at the Bottom would be one Esmonde and Larbey, both together and in individual projects, would call on a number of times – the 'them and us' elements of the class ladder, but here restricted to a business setting. Connor played Gus Fogg, the head of a group of maintenance men in an industrial building. His accomplices are played by Kenny Lynch, Brian Wilde and Gordon Rollings, although the original pilot included Francis Matthews without Lynch.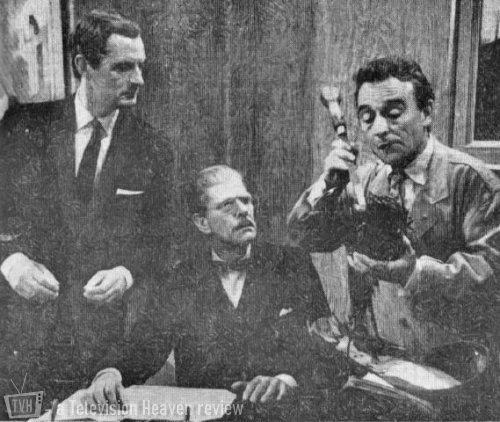 The comedy focuses on the power struggles the apparent minions within the building have over the executives who hold the higher positions, with Fogg holding the most cards and holding the most sway with the executives. Key to the power struggle is Mr Powell, played by Guyler. He plays an executive who believes that while his standing in the company guarantees him a level of superiority over the maintenance gang, his ability to relate to 'the common man' allows him to keep the basement crew on side. In reality, although he believes he has the good will of both workers and bosses, he has in fact neither.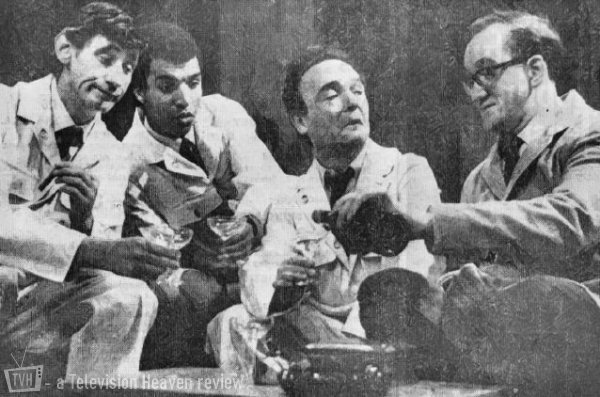 The episode for Comedy Playhouse did enough to get a seven episode series in 1967, with Lynch added to the cast and Matthews leaving, but the reality was that the script was too rough around the edges to establish itself as a successful comedy in its own right. One reviewer commented that while it was a pleasant enough programme, the laughs were just never quite there, describing it as a build up to a sneeze that never comes, so nearly laughing frequently but that never actually happening.
For its limited faults though, Room at the Bottom gave clear indications of what would follow. Within a year of Room at the Bottom ending, Please Sir! would establish a firm foothold in the sitcom writing business for Esmonde and Larbey, and via a number of other shows they would eventually hit gold with The Good Life in 1975.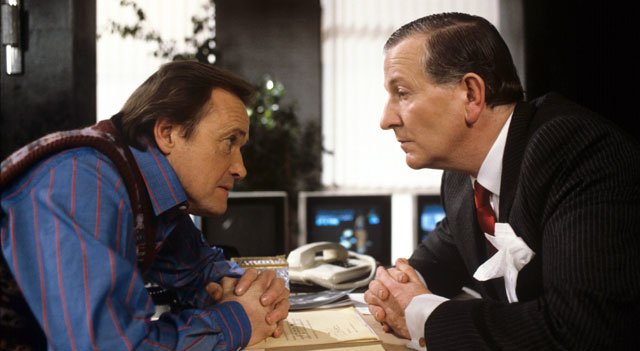 In 1986, Room at the Bottom was brought back to life in a variation on its original premise. At the writing helm were Ray Galton and John Antrobus, the latter of which worked on some of the 1966 episodes. This time, the executive power struggle is moved to the world of television, with James Bolam taking the role of Nesbitt Gunn, a television executive whose career gets what is perceived to be the ultimate insult – relegated from drama to light entertainment. Just as in the 1966 version, where bottom floor was saved for Connor's maintenance men, so it is that the basement is assigned to light entertainment, snootily dismissed as the lowest offering television has.
If relegation to the basement wasn't enough, Gunn's life is made more of a misery by the corporation's head, Kevin Hughes (Keith Barron). Barron, fresh from his successful three seasons on Duty Free, is suitably tyrannical as he gets the better of Gunn at every opportunity. Bolam is of course expert at the downtrodden, and it's a talent well used in this show as he rarely succeeds against Hughes.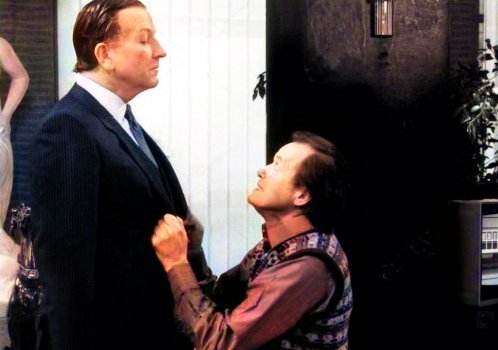 That Hughes dominates so much is a deviation from the 1966 version, where Connor's character managed to exercise an element of influence upon the stuffed shirts higher up in the building. Perhaps what is more striking about the 80s version is the very specific swipe Galton and Antrobus take at the BBC, specifically referencing them as the corporation in question.
Well-known supporting cast members appear aplenty, including Richard Wilson as a gay and inept chaplain, reuniting him with Bolam from his Only When I Laugh days. That said, the chaplain and a few other characters do fall below the political correctness radar when looked upon with modern eyes.
The 1986 version lasted two series, and while seldom seen again it was actually one of the better efforts of commercial television. Perhaps its jokes are a little too specific to the industry to appeal to audiences now, and the 1966 original has long since disappeared. However, Room at the Bottom is a show that gave a route into the business for the creators of The Good Life and 20 years later offered more of the talents of Bolam, Barron and Wilson. If for no other reason, that is plenty to justify its recognition.
About the writer of this article:
Born and raised in Dorset, Brian Slade turned his back on a twenty-five-year career in IT in order to satisfy his writing passions. After success with magazine articles and smaller biographical pieces, he published his first full-length work, `Simon Cadell: The Authorised Biography'.
Brian is a devoted fan of the comedy stars of yesteryear, citing Eric Morecambe, Ken Dodd, Harpo Marx and Dudley Moore amongst his personal favourites. He was drawn to the story of Simon Cadell through not only `Hi-de-hi!' but also `Life Without George', a programme he identified with having grown up in the Thatcher era.
Published on March 29th, 2021. Written by Brian Slade for Television Heaven.