Very few actresses have ever been given a role that redefines the public's vision of women on television. That in itself would be a significant achievement; but as Cathy Gale in The Avengers, Honor Blackman not only altered that public perception and re-characterized the role, she also single-handedly kick-started the whole 1960s 'second wave' feminist movement. And while her name may not be on a list of 'notable historical feminists', her contribution to the cause can never be overestimated. Before Cathy Gale, the role of the female in television drama was to be the dutiful wife or the damsel in distress waiting for the dashing male hero to rescue her. After Cathy Gale, the writers' rulebook to television would have to be completely rewritten. Things would never be the same again.
Honor Blackman was born on 12th December 1927, in Cumberland Road, Plaistow (pronounced Plah-stow), East London. In her early days, Honor was very athletic; a gifted sprinter and games captain at Ealing Girls School. "As a child I was a complete tomboy," she said. "I used to fight with my brother and his friends. We did everything together, and Ken was the one I matched myself against. He was a year older than me and his early death at the age of 35 was a terrible blow."
Honor had no aspirations of becoming an actress at an early age. On her 16th birthday her father offered her a choice of two gifts: a bike or elocution lessons. She said she would have preferred the bike, but knowing her father would rather she took the lessons was enough to sway her. It turned out to be a fortuitous decision. The lessons her teacher chose, in order to rid Honor of her cockney accent, was reciting poetry and scenes from plays, and in doing so, the teacher spotted a talent and suggested that she attend drama school. Her family could not afford this, so at the age of 16, Honor left school and followed both her father and her sister into the Civil Service. She worked as a clerk by day, and with the money she earned was able to afford lessons at the Guildhall School of Music and Drama, twice a week at lunchtime and once a week in the evening.
In 1942 Honor also did her bit for the war effort by volunteering as a dispatch driver. "I was known as 'Top Gear Tessie'," she said. "I was only just old enough to ride a motor-bike and my mother was terrified, but I thought it was heaven. It was pretty dangerous because we were in the midst of war and had to mask the headlights during the blackout. I remember one girl drove straight over a roundabout, whilst another found herself in Brighton, which wasn't supposed to be her final destination. Bombs were falling, but the roar of the motorbike engine used to drown out the sound of the doodlebugs so we never heard them coming. It seemed terribly exciting to me. We were young and believed ourselves invincible."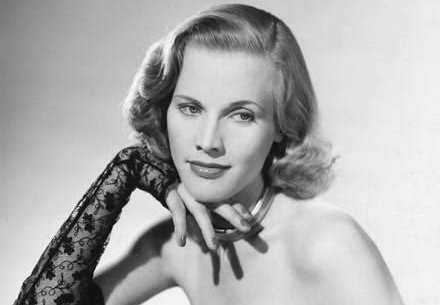 Her break into movies came at the age of 18. She was interviewed by John Boulting shortly after making her mark in a play called The Guinea Pig - in which she had to take the lead role at short notice after the leading lady fell ill. She was very nervous at the interview-especially when a request to take off her shoes revealed that she was wearing darned stockings. Nonetheless, she won a part in Fame Is The Spur. Not long after, she became a Rank starlet. "I signed up for a two-year contract. Although the films weren't always great, I was constantly in front of the camera and this was a very good training ground." She was seen in A Boy, A Girl And A Bike - which also starred a young Anthony Newley. She was also cast in Diamond City - which featured another up and coming starlet...Diana Dors.
But things were destined not to go smoothly and she was beset with personal troubles. The failure of her first marriage to Bill Sankey, whom she'd married in 1946, led to a loss of confidence in her professional life. "To find myself, after the unreal success of the Rank contract days, with a failed marriage, a failed career and, worst of all, with the feeling I had failed completely as a person-that was more than I could bear. I had a nervous breakdown." With the aid of psychiatric help, Honor got through what she later described as her 'private hell.'
"You've got to fight - or go under. There's a pretty tough streak in me, and I survived. My father always used to tell me success seldom comes easily. He was certainly right about that! But I kept plugging away - hoping for the really big breaks to come. Eventually they did - but they took an awfully long time!"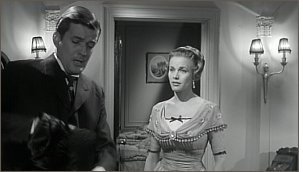 In 1958 she landed a role of Mrs Lucas in A Night to Remember, a film about the Titanic disaster. That was followed by a role in the Norman Wisdom comedy The Square Peg. The following year (1959), Honor landed the role of Iris Cope in the first hour-long TV series that ITV produced; Probation Officer. She began to turn up on TV screens with great regularity and landed parts in The Four Just Men, Danger Man, and The Saint. Then, in 1962, she landed the role that would prove seminal.
The Avengers, already an established and popular crime/drama series on ITV, was losing one of its two leading men. Ian Hendry had decided to quit the series and producer Leonard White and series creator Sydney Newman were looking for a new side-kick to Patrick Macnee, who, as John Steed, was to be promoted to lead actor. In his autobiography, Blind In One Ear, Macnee recalls that when Newman suggested replacing Hendry with a female character ITV bosses "shook their cynical heads." In fact, it was Leonard White and not Sydney Newman who originally came up with the notion of casting a woman. There was huge resistance to the idea, even with a threat of the show being scrapped. But being the determined character he was, Newman, who completely supported White's idea, forged ahead with their plan. "At the time of the Mau Mau insurrection in Kenya, Sydney read of a redoubtable lady whose farm had been besieged by native insurgents. With a gun in one hand and a baby in the other, this lady had managed to survive the onslaught while her husband and other children were hacked to death in the sitting room of their bungalow. Greatly impressed by such courage and coolness, Sydney wanted to introduce such a female character into the series."
"The character would be called Mrs Catherine Gale. Added to the outstanding characteristics of the Kenyon heroine, Mrs Gale would also be imbued with several attributes of two further real life ladies, Margaret Bourke-White, one of Life Magazine's leading photographers, and Margaret Mead, the eminent anthropologist. Sydney envisaged her physically as an ice cool blonde in the Grace Kelly mould. A woman of impeccable moral standards, Mrs Gale would combine intelligence with great strength of character. She would be an ace with firearms, a judo champion, and possessed of acerbic wit, great feelings of humanity and enormous resilience." 
Eventually, Sydney Newman won out over his reluctant bosses but not without a fight, which took the form of a succession of rows and threats. Leonard White began auditioning actresses for the role of Cathy Gale and Honor was cast, although she was Leonard White's first choice, not Sydney Newman's, who wanted to cast Nyree Dawn Porter. The casting decision was to be made while Newman was on holiday. He left feeling certain that Leonard White would cast Porter and was surprised on his return to find that Blackman had been given the role. But once the decision was made, Newman backed it to the hilt. "I was aware that the scripts were innovative and enigmatic," said Honor of the role, "but I didn't envisage just how ground-breaking the series would be. I remember when reading those first scripts, I liked the fact that Dr Cathy Gale was an anthropologist and in every way an intellectual equal to Steed." It was decided in the early days of Honor's arrival that her relationship with Macnee's John Steed character would be a strictly formal one and he would refer to her as "Mrs Gale" and she would refer to him as "Steed." Once again ITV bosses tried to interfere and demanded a romance between the two characters, but the production team didn't want to go down that route and said so. With the rules of the character set out the next step was to design Cathy Gale's wardrobe. The man put in charge of this was fashion designer Michael Whittaker, who dressed her in tailored suits, rakish hats and knee-length boots. But as fashionable as they were these clothes were totally unsuitable for the action scenes that Cathy Gale would get involved in.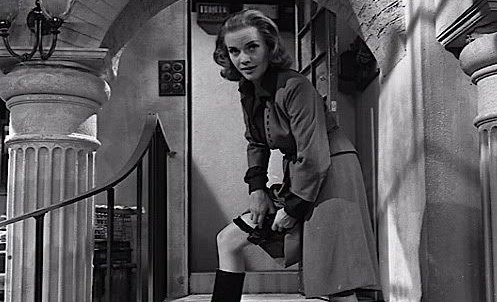 "The original plan," remembered Macnee, "was to have Honor equipped with a tiny .25 calibre pistol, which she'd carry in her handbag." Since this proved impractical, other methods of concealment were experimented with. Honor Blackman also remembers this: "I recall that practically every script contained the following line, 'Cathy Gale reaches into her handbag for a gun'. Well, you and I know that we'd all be dead if we had to find a gun in our handbag! So that was pretty amusing." Patrick Macnee: "It was then that an imaginative and sensual mind came up with the quite novel idea of what we dubbed a garter holster." But this also had its drawbacks; the main one being it caused Honor to walk bowlegged. With the combat gear proving to be a big problem the two stars were packed off to Rene Burdet, a former head of the French Resistance, for a course in self-defence. Douglas Robinson, a Black Belt was also bought in to teach the actors the basic moves of Judo.
"I noticed that Honor appeared to be unhappy." Wrote Macnee. The problem was that whenever the scene called for Cathy Gale to take a tumble in a fight scene the audience would see the tops of her stockings. "I'm not sure what inspired me to telephone my old friend Peter Arne, but possibly thinking that Peter had the answer to some of life's more interesting problems, I explained the predicament to him." Sure enough, it was Arne who suggested putting Honor into trousers - black leather trousers with matching jerkin and boots. The two of them went to Honor and suggested their new idea. In response, Honor looked at them both and said, "Oh God. Don't the two of you realise what you might be starting?" Nevertheless, she went along with the idea although once again it was met with resistance from ITV chiefs. It was another battle that the producers of the show won and the style was adopted. Cathy Gale first appeared on The Avengers in 1962. The public went wild for her.
"I had no idea she would be so successful." Said Honor. "I don't think any of us had. I just knew I liked the character and I enjoyed the fighting, and it was when the fighting really began that the series clicked. In those days it wasn't possible to edit videotapes so it had to be right first time.
I use to go out to kill.
I remember Pat Macnee saying: "Darling, you don't have to be quite so hard..."
"Oh yes I do!" I said, and meant it.
I had to go in with all my strength if I was going to throw those great big men about, and the truth was I wasn't sure I could do it. I'd have looked a right Charlie if I'd tried and not been able to manage it, and I didn't want to look a Charlie. I didn't break anyone's neck, but I accidentally knocked out Jackie Pallo (the all-in wrestler). He hit his head as he fell, so it wasn't really my fault."
"All the time I was making The Avengers I was black and blue all over. Nobody believed I did the fighting myself, till they came to the gym and watched. I surprised myself in a way because playing Cathy revealed a violent streak in me that I didn't know I'd got, though I suspect, deep down it's in all of us."
There is no doubt that Cathy Gale helped change the perception of women on British television forever. "When I started, men were still of the opinion that women would always be seen as the weaker sex due to their lack of strength. I was the first woman to be seen defending herself and so illustrated that this was no longer the case. Despite being glamorous and witty, Cathy was also Steed's intellectual equal. I think her character gave heart to many women at the time. Cathy Gale was a fantasy woman - but there was an awful lot of me in her. I liked her because she was cool and determined and unsentimental, and she never gave up. She could take on a man on his own terms and go all out to win; yet she managed to stay sexy. She was a tantalising mixture - faintly male and very female."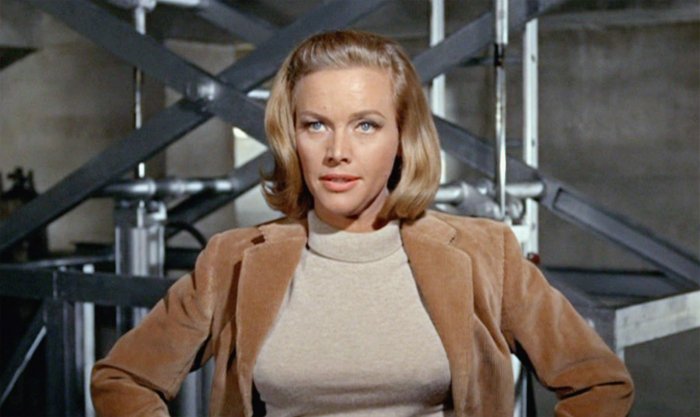 Honor's contract for the series was due to expire on 21st March, 1964 and as that date approached she had to make a tough decision. "I didn't want to be permanently typecast as an offbeat sex symbol in black leather and boots." But at the same time she didn't want to return to the conventional English rose roles she had been cast in previously. Then-a couple of months before the vital date-there came an offer that was to make up her mind. The offer was to play a character called Pussy Galore in the next James Bond movie; Goldfinger.
"I was already a James Bond fan but I asked to read Goldfinger before taking the part and by the time I had read it, I was convinced it was absolutely me!"
The films co-producer Albert R Broccoli, who had noted her success in The Avengers also thought she was perfectly cast. "The Brits would love her because they knew her as Mrs Gale, the Yanks would like her because she was so good - it was a perfect combination."
Although gone from The Avengers, she was not forgotten. In a 1965 episode, titled Too Many Christmas Trees, John Steed received a Christmas card from Cathy Gale. "A card from Mrs Gale!" Steed exclaimed in delight. Then, reading the inscription, he said, (in a reference to the 'Bond' movie), "Whatever can she be doing at Fort Knox...?".
Some years later, Honor reflected on the fact that her decision to leave The Avengers might have come a little too soon. "I walked away at the wrong moment. They were just going from black and white to colour; they were starting to get real film money."
Her popularity in the high-profile Bond movie should have led to better films, but it didn't, and for the most part the only offers that came in were for low-level melodrama and routine adventures. So Honor returned to the stage, and received rave reviews, as a blind heroine in the thriller Wait Until Dark
 "Playing the part of a blind woman was an enormous challenge, because it wasn't enough to give the impression of blindness. Technically it creates a lot of problems because you are acting in a vacuum." She said. "It is a strange experience to cut yourself off from any communication by sight with the other actors."
Around the same time, Honor also launched into the business side of entertainment, forming Six-Star Entertainment, an alleged million pound venture with John Mills, Hayley Mills, Richard Attenborough, Herbert Lom and Curt Jurgens.
Her second marriage, to actor Maurice Kaufman (in 1961) led to the adoption of two children, Carlotta (Lottie) in 1968 and Barnaby in 1969. "We waited a long time before we decided to adopt simply because we couldn't believe we couldn't actually make a baby," Honor was quoted as saying in 1968. That same year Honor appeared in an ABC Armchair Theatre production (Recount) in which she played the role of a woman who discovers she is pregnant in middle age. Her marriage to Maurice Kaufman ended in divorce in 1975 but Honor never remarried. Following that, TV appearances became few and far between, and although Honor kept working in film and theatre, it wasn't until 1981 that she was seen in anything like a regular role on British television when she appeared as Veronica Barton in five episodes of the sitcom Never The Twain.
In 1986 Honor also returned, briefly, to the world of 'cult' TV when she appeared in four episodes of the Doctor Who story Terror of the Vervoids from The Trial of a Time Lord season. It was another four years before she returned to play a regular starring role as the sexy grandmother Laura West in the hit sitcom The Upper Hand, a British version of the US series Who's The Boss? In 1995 Honor was chosen by 'Empire' magazine as one of the 100 Sexiest Stars in film history, coming in at number 51. After being asked her secrets of youth many, many times, she wrote a book in 1997, 'How to Look & Feel Half Your Age for the Rest of Your Life.'
The Lib Dem-supporting former Avenger has long been involved with the Fairtrade Foundation, a British organization that offers a "Fairtrade" mark for products grown or manufactured in the third world, if the importers can certify that low-level foreign workers received reasonable wages and fair treatment. "Most of the Bond girls have been bimbos." She said. "I have never been a bimbo." She turned down a CBE in 2002 because she claimed that to have accepted it would have made her a hypocrite as she is also a member of Republic, The Campaign for an Elected Head of State. "We're supposed to be a democracy and we, quite shamefully, are not," she said. However, she made it quite clear that she never sought publicity for refusing the 'honour'.
 "I don't know how that story got out, but it did. I never told anyone about it."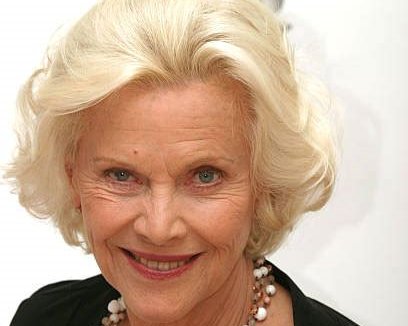 Honor Blackman has continued to grace the small screen with guest appearances in a number of established series', the most famous of which was Coronation Street (2004) as the flirtatious pensioner Rula Romanoff. "I was terribly surprised. I never thought I'd be in something like this, and I never thought they would ask me," she said. "When I read the script I thought it was so much fun, and it's the best soap in the country. It is so iconic." And as she approached the grand age of eighty there was no hint of her slowing down. She did a one-woman show called Word of Honor and in 2007 she took over from Sheila Hancock the role of Fraulein Schneider in Cabaret at the Lyric Theatre in London's West End. It was her first West End role for 20 years and she found it exhilarating. "When I put my foot on the stage, I come alive and that's it. It's always a bang. It's thrilling, I think, theatre. Thrilling." And because of that thrill there has never been a thought of retiring. "I shall retire when I'm made to retire." She said. "I mean when nobody offers me a job or my memory goes or I can't walk or when I die! I mean we're so lucky, it's not like going into the office, it's so varied and you don't know what is round the corner." 

Published on February 20th, 2019. Written by Laurence Marcus (27th April 2008) Sources: TV Times (April 1968), Wikipedia, Star TV and Film Annual 1966, Armchair Theatre The Lost Years by Leonard White, The Avenger Returns by Patrick Macnee, various Internet snippets for Television Heaven.