Aaron Spelling was one for the books. No, really. Pick up a copy of the "Guinness Book of World Records," and you'll find the man behind such series as Dynasty and The Love Boat listed as the most productive television producer in history with more than 4300 hours of series and both theatrical and made-for-TV films to his credit.
Not that critics had been kind to this prolific writer and producer who died on 23 June 2006 after suffering a stroke five days earlier.
Most of his series–whether crime dramas, anthologies or prime time soaps–were the most part predictable with clear-cut heroes and villains and a lack of complexity. But they struck a chord with a majority of American viewers who wanted nothing more than escapism at the end of a long, hard day. For them, Aaron Spelling was their saviour. And to be fair, he managed to create some gems along the way.
Aaron Spelling was born on 22 April 1923 in Dallas, Texas. The youngest of five children in a Russian Jewish family, he suffered anti-Semitic taunting from other children; he later said he was too shy and reserved to fight back. (He suffered what he called a "nervous breakdown" at age eight from the taunting and began an appreciation for writing.)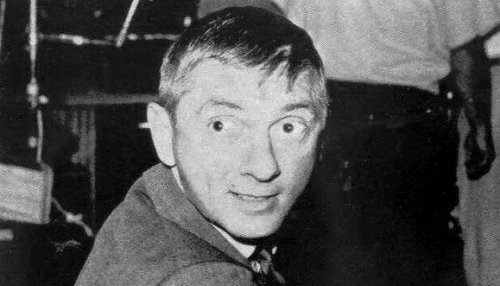 Spelling began putting on shows while serving in World War Two. After the war, he graduated from Paris' Sorbonne University and later received a degree from Texas' Southern Methodist University. It was at SMU that he won awards for a series of one-act plays; he later went to New York and tried his hand on Broadway with little success.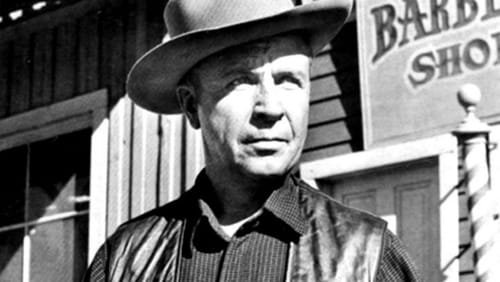 Spelling moved to Hollywood in 1953 and became a character actor (I Love Lucyfans can catch Spelling in the "Tennessee Bound" episode that aired during the 1954-55 season). But while Spelling's acting career never went anywhere, he was able to sell scripts to various television producers; his prolific ways helped him land a steady writing role on the Western anthology series Dick Powell's Zane Grey Theater and eventually became producer; he was hired by Powell to produce more shows under the actor's Four Star Productions banner.
After a couple of short-lived series, Spelling scored his first hit as a producer with Burke's Law in 1963. Starring Gene Barry as a rich Los Angeles detective who solved murder cases, Burke's Law was the first example of the prototype Spelling series--a mixture of well-to-do and attractive lead characters in glamorous situations with flip, cocky attitudes, boosted by high-profile guest stars. Burke's Law became a much-needed hit for ratings-starved ABC (it ran for three seasons, becoming Amos Burke: Secret Agent in its final season), and Spelling was finally on his way.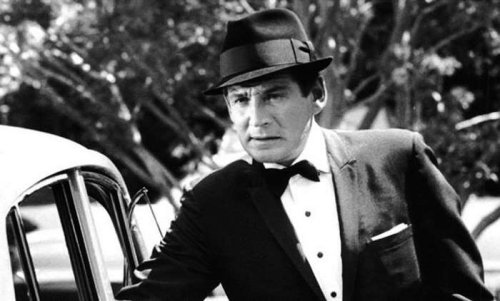 When Powell died, Spelling teamed up with actor/producer Danny Thomas. The Guns of Will Sonnett (a half-hour Western with Walter Brennan in the title role); The Danny Thomas Hour (musical-variety) and The Smothers Brothers Show (a mediocre sitcom starring the real-life siblings before they won their own controversial variety hour) were produced under the Thomas-Spelling banner.
The pair's biggest hit came with the 1968 debut of The Mod Squad. It was a police series that featured three "hippies" ("One white. One black. One blonde.") who worked undercover for the cops. Attractive leads, plenty of violence and the friction between the counterculture and authority (though authority always won out in the end) made "Mod Squad" a big hit for ABC; it lasted for five seasons. One year after "Mod Squad's" debut, Spelling signed an exclusive contract with ABC to produce series and made-for-television movies.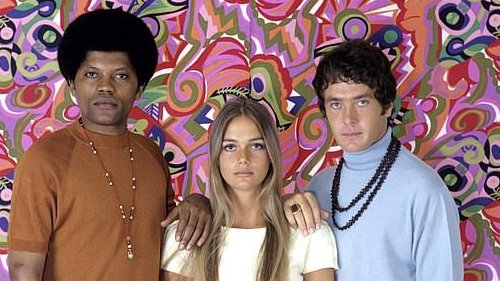 In 1972, Spelling and Thomas parted ways, and Spelling began a partnership with former ABC programming executive Leonard Goldberg.
Their first drama–a cop series called The Rookies –became the first hit under the Spelling-Goldberg banner in 1972. Other police dramas followed, including S*W*A*T and Starsky & Hutch. Both were successes, but they paled in comparison with Spelling's next police procedural–-a saga about "three little girls" who fought crimes for a mysterious man that was originally known as "The Alley Cats."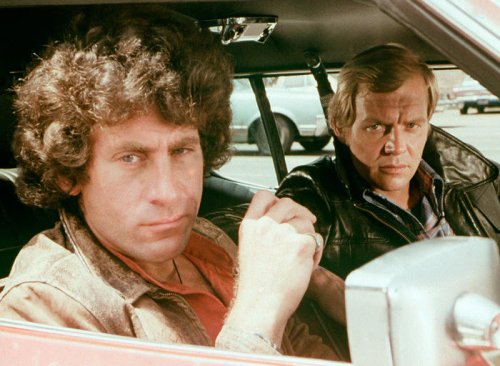 The script had been languishing on the desk of ABC executives for several years before the network's new entertainment president, Fred Silverman, saw the script and ordered a pilot. With Kate Jackson, Jacklyn Smith and Farrah Fawcett-Majors as the leads, and a new title to go with it, Charlie's Angelsbecame a smash hit in the fall of 1976, pulling in about half the available audience. Its popularity (and a rather sexy poster) helped elevate Fawcett-Majors to the status of sex symbol.
By this time, Spelling began to defend his work on behalf of mainstream entertainment, "I think there is a need to escape. I think it is a release valve that keeps people from blowing their brains out or having nervous breakdowns. We find that the majority of our audience is worried, really worried, about the cost of food, how much it costs to send your kid to school, the cost of clothes. Unfortunately, we often have to make the choice between 150 critics and 150 million Americans out there, and I have always felt that my job was to...entertain them."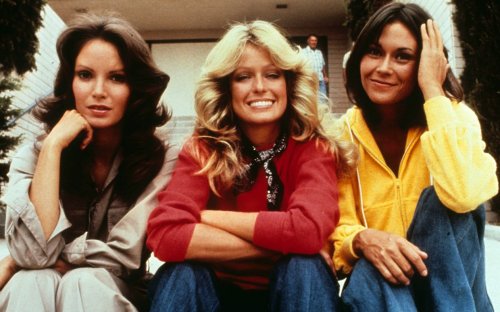 Spelling broke his usual escapist formula with what he considered the best series he had ever created, Family. Launched in 1976, the Emmy-winning drama about an upper-middle-class Pasadena, California family and its problems was lauded by critics. It dealt with everything from divorce and illness to homosexuality and teenage sex. Spelling and Goldberg teamed up with prolific producer/director Mike Nichols for Family; Spelling later said its cancellation in 1980 "decimated" him, and called the making of Family"the happiest creative time of my life".
Spelling went back to the anthology format in 1977 with The Love Boat, a comedy-drama about the staff and passengers of a luxury cruise ship.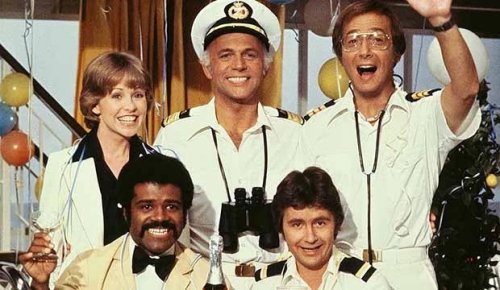 With a core cast as the ship's staff, plus a ton of guest stars (everyone from veteran actors to up-and-coming stars on TV shows from ABC and the other networks), The Love Boat sailed along the upper reaches of the Nielsen ratings until its cancellation in 1986. Its Saturday night partner-in-crime was Fantasy Island, which starred Ricardo Montalban as the mysterious Mr. Roarke who owned an island where (for a price) your fantasies could come to life. The twist: Be careful what you wish for. That moral gave Fantasy Island an edge that blended well with the now-successful Spelling format, and Fantasy Island ran for eight seasons.
The early 1980's were successful ones for Spelling, with the launches of the successful police drama T.J. Hooker and the private eye shows Hart to Hart and Matt Houston. But Spelling's biggest hit of the Reagan decade was a show perfectly tuned to its times. Originally seen as a copy of CBS' successful nighttime Dallas, Dynastysurrounded itself in luxury with high fashion and over-the-top performances from the wicked and oversexed Alexis (Joan Collins); her wanton ways and desire for elegance powered Dynasty to the top of the ratings by 1984–Spelling's biggest series hit ever. He followed Dynasty with another hit anthology, Hotel, based on the Arthur Haley novel of the same name.
But the US television scene was changing, and so was viewer habit.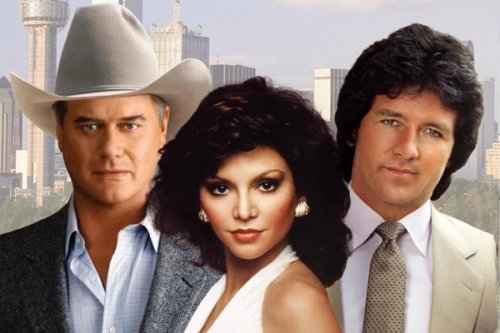 At a time when new-wave dramas such as Hill Street Blues and St. Elsewherewere winning both critical acclaim and increased viewer response, Spelling's crime shows were beginning to seem old-fashioned. And by 1984, the situation comedy was making a comeback, thanks to The Cosby Show– and Spelling was not a specialist in the genre.
By this time, his various escapist dramas made up one third of ABC's prime time schedule. (Critics nicknamed the network "Aaron's Broadcasting Company," and it was not far from the truth.) Unfortunately for Spelling and ABC, the older shows were fading and new series such as Glitter and Finder of Lost Loves were flops, indicating the public's taste for the Spelling formula was starting to wear thin.
The shows that helped ABC pass its rivals in the ratings during the late 1970's were pulling the network back to its old third place status. Even Dynasty began losing audiences as the storylines became more outlandish and unbelievable; a spin-off called The Colbys lasted just two seasons.
Another setback for Spelling was Life with Lucy. When Lucille Ball decided to return to weekly prime time television, Spelling offered to produce the show; he and ABC gave Ball complete creative control. Lucy wanted her show to be much like the programmes that made her a star in the 50's and 60's–but in a world of more relevant comedy and somewhat relaxed content and language, it turned out to be a mistake.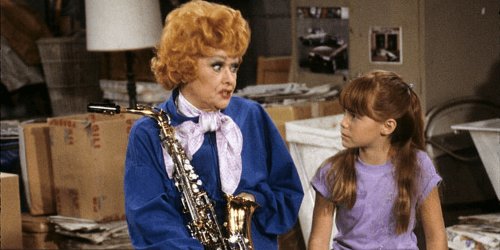 The scripts from her former writers were old fashioned and the premise of Lucy living with her family and owning half of a hardware store with long time TV partner Gale Gordon did not make for watchable comedy. As for slapstick, it was actually painful to see a now 75-year-old Lucille Ball wearing heavy makeup and shot in soft lighting, bravely doing some of the same physical comedy she perfected in the I Love Lucy days. (Ditto for Gordon, who was then 80 years old.)
The initial episode of Life with Lucy made the top 25 when it aired in the fall of 1986; but viewers never returned and the show landed at the bottom of the ratings. When Spelling got word that ABC had cancelled the series just three months later, the cast was filming what would be their final episode. In deference, Spelling delayed telling Lucy and the crew about the cancellation until after the filming. The failure of "Life with Lucy" sent Ball into a deep funk, convinced she was no longer loved by the viewing public. Less than three years later, Lucille Ball passed away. (But it should never be forgotten that her work on I Love Lucy and the best moments of The Lucy Show and Here's Lucy remain true TV classics to this very day.)
A few years later, Spelling's exclusive contract with ABC lapsed and was not renewed.
In the spring of 1989 came a Spelling project for NBC. Nightingaleswas a saga about student nurses in training, but it died quickly because the young an attractive nurses seemed to be doing more "physicals" with doctors than healing the sick. Advertisers and viewers stayed away, while nursing organizations denounced the women of Nightingales. Spelling suffered a double whammy when ABC announced the cancellation of Dynasty around the same time. By the fall of 1989, Spelling was left without a prime-time series on any of the networks for the first time since 1960.
Speaking of women, Spelling had two wives. He married actress Carolyn Jones in 1953; Spelling and the former Addams Familystar divorced in 1965. Three years later, Spelling wed his second wife, socialite Carol Jean ("Candy") Marer. The couple had two children, Victoria Davey ("Tori") and Randall Gene ("Randy"). By the 1980's, Spelling's personal fortune was worth in excess of $300 million. The family definitely lived as well as the fictional Carringtons of Dynasty; the Spelling estate in the Southern California area of Bel Air was one of a kind. As the "Los Angeles Times" described it, the "56,000-square-foot, 123-room mansion — complete with bowling alley and indoor skating rink — (was) built on Bing Crosby's former estate and dubbed 'The Manor.'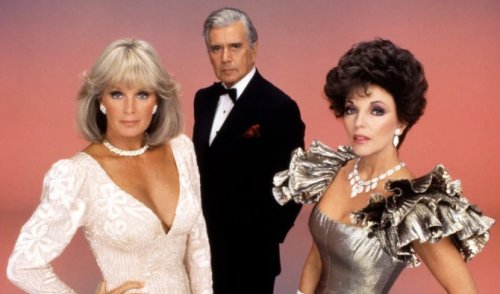 After years of chatter about the gargantuan home and complaints from neighbours about the construction disrupting their quiet community, the Spellings wryly announced that the work was done with a postcard to friends and the media saying simply, 'We've moved.'" But he never forgot why he was able to build "The Manor": ''Those tour buses stop by my house a lot....'I go out and talk to them.... You can learn a lot. They made my career, they built my house, and they know television.''
And in the end, so did Aaron Spelling. He proved to have a second act left in him. In 1988, he was approached by the new Fox network to create an updated version of Charlie's Angels; it never got off the ground. But Fox Chairman Barry Diller came across a script about teenagers in one of California's most upscale zip codes, from a young writer named Darren Star. Diller suggested to Spelling that he produce Star's concept. The veteran producer argued he didn't know about the high school scene. Diller's response: "What about your two kids, you idiot?"
The result was Beverly Hills, 90210, which became a hit for Fox not long after its premiere in 1990. With daughter Tori in the cast, "90210" dealt with the friction between the middle class and the privileged, along with the usual teenage tribulations and tragedies, in a glossy and slick package featuring young actors (Luke Perry, Shannon Doherty and others) who became heartthrobs. Spelling extended the "90210" spinoff with a spinoff, Melrose Place; it pit twenty-something characters in a trendy Los Angeles apartment and mixed it with the world of soap.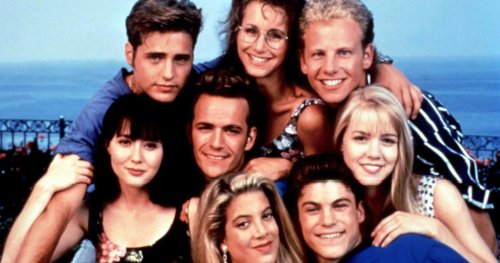 In many ways a restyled version of Dynasty, "Melrose" was wonderfully over-the-top and another hit for Fox. (A spinoff of "Melrose," Models, Inc. flopped after two seasons; a short-lived drama about a rock band, The Heights was cancelled just as its theme song "How Do You Talk To an Angel" hit the top of the pop charts.)
Fox wasn't the only network who benefitted from Spelling's productions in the 1990's and beyond. He helmed several key series for rival WB, including the soap opera Savannah; the supernatural series Charmed and the family drama 7th Heaven, which became the highest-rated series in WB's 11-year history.
Spelling was also responsible for producing a number of theatrical films (including "Mr. Mom and "Soapdish") and such television movies as "And The Band Played On" (HBO's all-star production based on Randy Shilts' definitive book about the early years of the AIDS epidemic) and "The Best Little Girl In The World" (which dealt with the eating disorder anorexia nervosa).
No matter what you thought of the quality of the work Aaron Spelling put out, his place in television history is secure. He wrote the rules at a time where TV didn't have too many to follow; and while he didn't aim to uplift the culture of the viewing public, he proved he had the knack to entertain the masses. In a 1995 interview with the "Sydney Morning Herald," Spelling was asked how hard it was to produce hour after hour of television entertainment. His reply: "Is it difficult? Yeah, it's difficult, but once you win the network over and they trust you and believe in you, [it's] easy." And for six decades, Aaron Spelling made it look as light and breezy as the shows he helmed.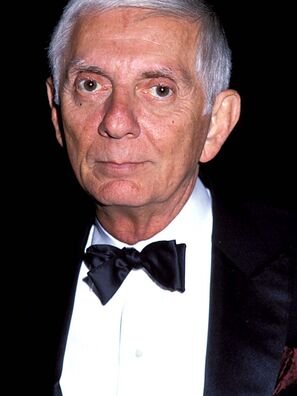 Published on February 3rd, 2020. Michael Spadoni (June 25th 2006).