Winning Widows
1961 | United Kingdom
Created by ATV as a starring vehicle for Peggy Mount, who had recently finished (or so it seemed) with her Ada Larkins character in the hugely popular sitcom The Larkins. 
Winning Widows was the first British sitcom to be written round two woman even though it was scripted by two men; Sid Green and Dick Hills-and produced by former "Larkins" producer Alan Tarrant. 
Peggy Mount starred as Martha, a thrice-married widower who, for reasons of economy, is forced to share a semi-detached property with her mild-mannered sister, Mildred, played by Avice Landon (later to star as Roy Dotrice's wife in the BBC comedy Misleading Cases). Mount's persona was very much in the same mould as her "Larkins" character, being a practical realist and something of a fearsome battleaxe who ran her household with an iron will, and Avice was a fluttery romantic whose impulsive nature lands them in awkward situations - really a substitute for Alf Larkins in this sitcom. (The same relationship was recreated in Mount's final sitcom, You're Only Young Twice, with Pat Coombs in the subservient role).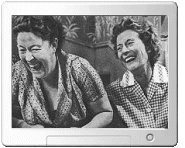 The series was popular enough to run a second season and benefited from male guest stars Pete Murray, Hugh Paddick, Davy Kaye and Bernard Cribbins, all of whom tried to prove themselves as eligible bachelors for Mildred, before coming up against, and turning tail from her fearsome sister. Pop Singer Craig Douglas also made an appearance. Season two finished in November 1962 and the following year The Larkins returned to British TV screens for a further two-year run.
Published on February 12th, 2019. Written by Noel Onely for Television Heaven.