For over 50 years Pat Coombs dominated radio and television often playing spinsters, eccentrics and ditherers. She was often the stooge to some of the funniest stars on television such as Reg Varney, Arthur Askey, Dick Emery and Peggy Mount and co-starred in numerous sitcoms, most memorably in the retirement home comedy You're Only Young Twice in which she appeared alongside Mount, who had never been upstaged by any other actress. But Pat Coombs managed to do it and Peggy Mount loved her for it.
Born on August 27th 1926 in Camberwell, South London, Pat Coombs (Pattie to her friends) was educated in Beckenham, Kent before leaving school only to return as a nursery teacher. Keen on acting, she took drama lessons during the Second World War, travelling "half an hour a week on a bus through the Blitz". At the age of 19 she won a scholarship to train as an actress at LAMDA where her contemporaries included Diana Dors. After acting in repertory theatre in Scunthorpe, Coombs worked all over Britain before breaking into radio and making her name in Hello Playmates (1954-55) starring Arthur Askey and David Nixon as eligible bachelors and written by the comedy scriptwriting team of Bob Monkhouse and Denis Goodwin. In this she played the dim-witted Nola, daughter of Irene Handl with whom she became good friends. She continued working on radio alongside stars of the day such as Ted Ray and Charlie Chester, but it wasn't long before television beckoned.
An early TV appearance came alongside Tony Hancock in The Great Detective episode of his classic series Hancock's Half Hour(1957), in which he dreams of becoming "Sexton Hancock" and unravelling a murder mystery. She followed it with regular appearances in The Cyril Fletcher Show(1959), written by Johnny Speight. Other early TV appearances were with Bill Maynard, Terry Scott, Jimmy Edwards and Dick Emery who was a great admirer of her work. She became a regular on The Dick Emery Show in 1963 and this led to her first sitcom role, as Miss Hobbitt in Barney Is My Darling(1965-66), written by Barry Took and Marty Feldman. She was confidante to Ramona Pank (Irene Handl), who was coming to terms with living once more with her husband Barney (Bill Fraser) after being apart for 12 years. In 1966 she appeared in a Comedy Playhouse episode entitled Beggar My Neighbour. In this Pattie played Lana Butt, married to Harry (Reg Varney) who were constantly at war with their neighbours - Lana's sister Rose Garvey (June Whitfield) and brother-in-law Gerald (Peter Jones, later Desmond Walter-Ellis) - who were always broke, in contrast to the opulent Butts. The one-off production was quickly turned into a series that ran for three series between 1967 and 1968.
In 1971 Pattie appeared in the sitcom Lollipop Loves Mr Molein which she and Rex Garner played Violet and Bruce Robinson, who return from Africa and go to live with Bruce's ever-obliging brother, Reg (Hugh Lloyd), and his domineering wife, Maggie (Peggy Mount), in their cottage in Fulham. It was the start of an enduring partnership with Mount. She then played Dorothy, the eccentric spinster sister of Cyril Blake (Stephen Lewis in the role of the retired Inspector Blake from On the Buses), in Don't Drink the Water (1974-75). You're Only Young Twice(1977-81) saw Pattie in a retirement home for elderly women, Paradise Lodge. In it she played the meek and dithering Cissie Lupin while Peggy Mount was the less-than-retiring Flora Petty. It was a series in which Mount, everyone's favourite battle-axe, was expected to be the lead in, but she was perfectly upstaged by Pattie's excellent comedic performance.

Patricia Hayes joined Pattie to play Old Pat and Lanky Pat respectively in the Channel 4 sitcom The Lady is a Tramp (1984) written by Johnny Speight, before she teamed up with Hugh Lloyd once more. Together they played Mr and Mrs Carey in In Sickness and in Health (1985-92), the sequel to Speight's landmark sitcom Till Death Us Do Part. She joined Stanley Baxter to play Miss Flavia Jelly in the first two series of Mr Majeika(1988-89). Although most of her professional life was spent in comedy she also played character roles in drama and was in the BBC's 1985 version of Bleak House. She was also much in demand for voiceovers for television commercials and in the children's series Ragdolly Anna. She joined Noel Edmonds on his House Party where she appeared as Prudence Prendergast for three series and was often a guest on the Bob Monkhouse hosted quiz Celebrity Squares.
Pattie appeared in a number of well-known British comedy films, two Carry Ons, Spike Milligan's Adolf Hitler - My Part in His Downfall, Willy Wonka & the Chocolate Factory, Dad's Army and Ooh...You Are Awful!
In 1989 she jumped at the chance to appear in her favourite TV show EastEndersas Marge Green, Brown Owl of the Walford Brownies. Her axing from the show caused viewer outrage and fans started a campaign to get her reinstated; but it wasn't to be.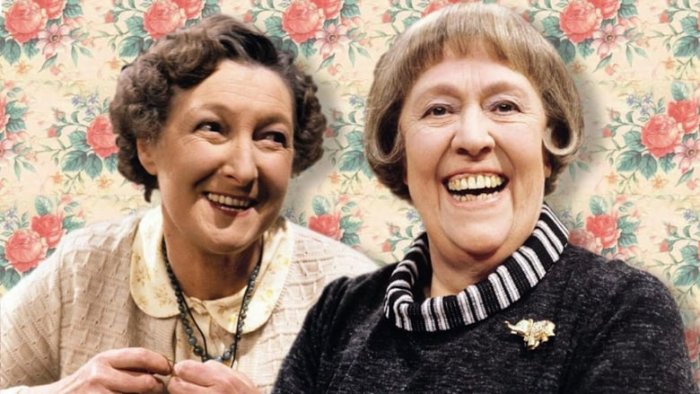 A heavy smoker all her life, Pattie was diagnosed with osteoporosis in 1995. She quickly became involved with the National Osteoporosis Society becoming its patron three years later and, through her Christmas appeal letter, helped to raise more than £100,000 for it. In 2001 she appeared as a bed-ridden patient in Doctors and as a regular in the BBC radio series Like They've Never Been Gone, alongside Roy Hudd and June Whitfield. She had recorded the last episode just two weeks before she died. Pattie's last TV appearance was as herself in a tribute show to Dick Emery. She lived the last 3 years of her life at the actor's rest home in Denville Hall, Middlesex - Pattie had never married and lived with her parents until she was in her forties.
Patricia Doreen Coombs passed away on 25 May 2002. Roy Hudd told The Stagenewspaper "Pattie really was totally unique. In her own way she was a sort of Tommy Cooper. She was a wonderful character actress and marvellous to work with."

Published on February 27th, 2019. Written by Marc Saul for Television Heaven.