Biography by Brian Slade.
When Bruce Forsyth decided to leave his smash hit television show, The Generation Game, in 1978 it could have sounded the death knell for one of the BBC's most assured successes of the decade. But instead it propelled Larry Grayson to new heights and with it embedded him into the hearts of the viewing public, who fell for his charms as much as he adored them.
Larry Grayson's life didn't have a conventional childhood. Born William White in 1923, he was the child of an unmarried couple at a time when such things were the ultimate in scandal. It resulted in him being handed over for adoption in the first few weeks of his life. His new family, based in Nuneaton, Warwickshire, would be the centre of his life, forever grateful for their love and loyalty.
School was of no interest to the youngster. The end of the school day couldn't come quickly enough so that he could get to the local cinema and see the Hollywood greats on the big screen. His adulation for his cinematic heroes gave him a taste of the career he wanted and he would frequently find himself in trouble at school as he impersonated his on-screen idols.
Grayson would perform in his own shows at the age of twelve in the local wash house and subsequently gave what he deemed to be his first professional performance at the Labour Club in Athelborough, ironically based in Everard Road. His initial stage name was Billy Breen and he would go on to tour in variety as part of The 4 Vary-Lites after the war – the war that nearly claimed the life of him and his two sisters as they escaped to a bomb shelter just minutes before his home and those surrounding it were levelled in an air raid.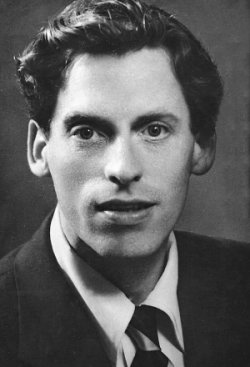 Years of variety appearances would follow, with Billy Breen now becoming Larry Grayson courtesy of his manager Eve Taylor. His act, which at times included drag performances, was finely crafted as Larry proceeded to create a world of characters that would follow him through his entire career. An entourage of suggestively-named locals were always referenced, most notably Everard Farquharson. Pop-it-in Pete, the postman, Slack Alice from the jam factory who worked with non-stick Nel – the cast of characters seemed endless and yet became an integral part of Larry's performances. Grayson always said that the characters were fictitious only in their names, but each one was a real character from some point during his life.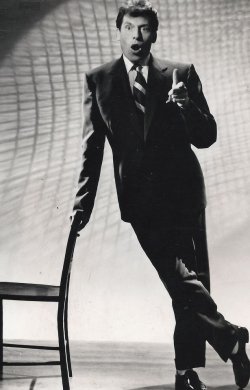 Despite the successes of his stage show, Larry was always waiting for his big break. Pantos and summer seasons would follow aplenty, but despite not getting the breakthrough to stardom he remained always content with his position on the bill, convinced that without the big names ahead of him he wouldn't be able to be as successful as he was.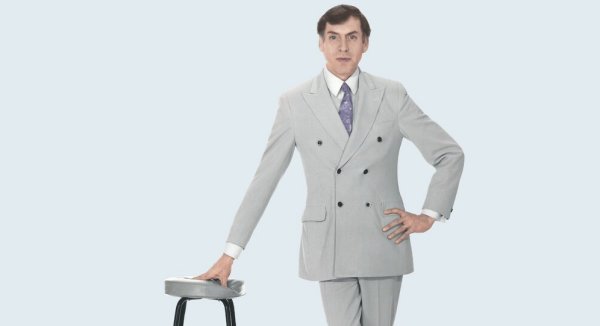 In 1970, Larry Grayson was spotted by Danny La Rue, the most famous drag act in the business. La Rue was convinced that Larry could be a star, so much so that he entrusted Larry to take his place in his own night club during a rare break, something largely unheard of. La Rue wasn't the only person to spot Larry's talents however, and when Michael Grade spotted him at The Stork Club he  signed him up almost instantly.
Grade's intervention led to Larry getting his own television show, and he was a hit almost immediately. He had started as a guest spot on Saturday Variety, but Lew Grade saw the same talent that his nephew had done and demanded he be booked for the rest of the series. By 1972 he had already begun winning awards for his performances despite having been in the business for almost 30 years. Shut That Door!! and The Larry Grayson Show both showcased Larry at his finest. Bringing with him a curved chair to lean on as his only comic prop, Larry would welcome people to the show and then launch gently into how he felt and the escapades of his colourful characters that the public were getting to know, despite never seeing them. There was more than an element of Frankie Howerd about his routines. The occasional complaint about aches and pains, along with working in the comments towards the audience – 'well, you know don't you', 'you are common', 'he's anyone's for a doughnut' – Larry would in some circles even become known as the Northern Frankie Howerd, despite the fact that Howerd was born in York and Larry was based in Nuneaton!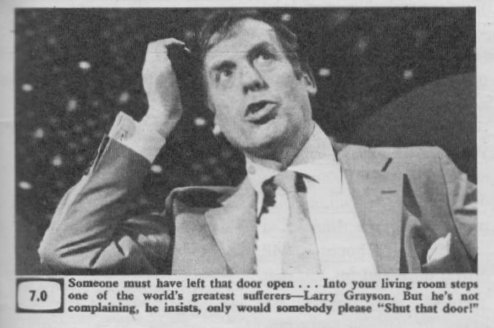 Larry's shows were largely variations on a theme. When he wasn't simply chatting about Everard's latest holiday while leaning on his chair, the subsequent sketches largely just introduced an additional character in a setting where he could be exactly the same character. But what set Larry's performances apart were the warmth that he exuded. Although considered at times to be pushing the boundaries of suggestive comedy, there was always a twinkle in his eye that reminded you that it was all just fun. It was perhaps this that led to the biggest success of his career.
Bruce Forsyth had made The Generation Game a colossus of the weekend schedules. With the show from its inception and instrumental in shaping its success, Forsyth's game show in which pairs of contestants from two generations competed in challenges and eventually claimed prizes had been a smash from the word go. When Forsyth decided to leave to pursue a stage show it seemed unthinkable that he could be replaced by anybody capable of reaching the same levels of success. But in Larry Grayson they found the perfect host to keep the show at its peak.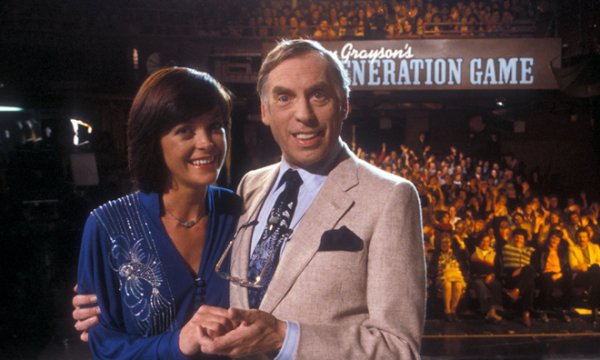 As Forsyth's theme tune was replaced by the tones of 'Shut That Door' Larry continued with his familiar stage persona. He welcomed the show's new assistant, Isla St Clair – Slack Alice he deemed unsuitable with her balaclava and ankle socks – and the pair were an immediate success. Forsyth's style had been at break-neck pace, but once again people seemed to warm to the gentler nature of Larry. With Forsyth, comic quips and looks to the camera jokingly had a look of 'look what I have to put up with', while for Grayson, it was largely empathetic giggles. At the age of 55 he had finally become a massive star.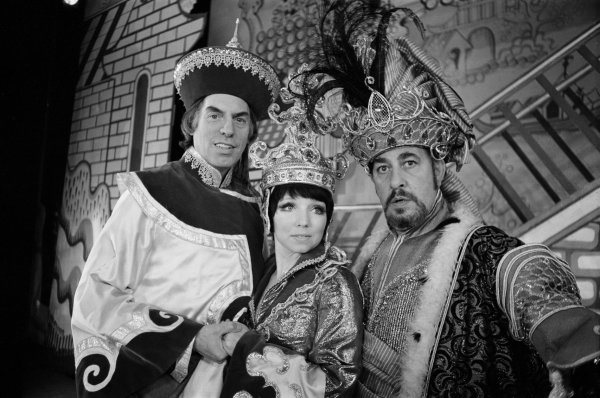 With The Generation Game such a success, it was a shock that Larry decided to leave in 1982. Comic tastes were changing and Isla St Clair believed Larry simply wanted to go out on top. The show was still doing well in the ratings, but she felt that Larry loved the programme so much that he wouldn't have wanted it to fall away.
Amazingly however, the speed of Larry Grayson's rise to prime-time stardom was almost immediately matched by his disappearance from the television screens. For a star so loved by the public, somehow the BBC found no home for his talents and all subsequent ventures were brief and largely unsuccessful.
In 1991, Larry slipped while on holiday in Austria. He broke five ribs and had to have implants in his eyes, and his injuries and long recovery drove him into depression, but a return to the stage in pantomime lifted him. But by 1992 as he neared his 70th birthday, he conceded that his television career was effectively over. He didn't feel there was anything in the offers he received that he wanted to do and seemed quite content to continue with pantomimes and the occasional chat show appearance.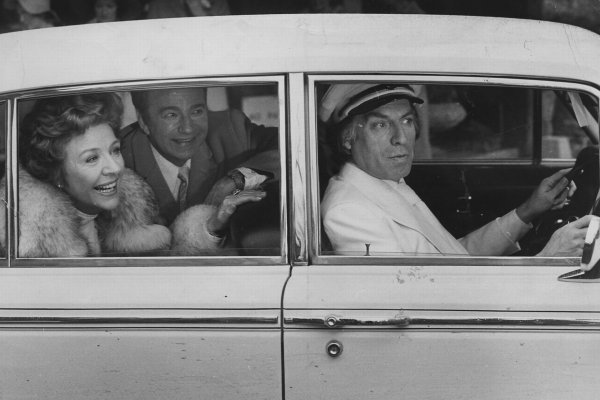 Throughout his career, Larry Grayson had been all about warmth and familiarity. He adored his home town of Nuneaton, taking a brief spell living in Torquay before returning to Warwickshire home sick. His adopted sisters remained an integral part of his life and reciprocated the nurturing they had shown him throughout his lifetime.
In 1994 Larry made one final public appearance, fittingly on stage at The Royal Variety Performance. Out of practice at holding such an audience solo, and unknowingly just a few weeks from the end of his days, it was certainly not vintage Grayson, but it was a very welcome chance for the public to show him the love that he had given everybody who had appeared on The Generation Game.
Larry Grayson passed away in January 1995. His had been a very late rise to stardom, but a spectacular one. Spanning barely ten years at its peak, he brought a kindness to his comedy routines rarely seen then or since. But in that comparatively brief time at the top, Larry Grayson left a lasting impression. As Terry Wogan said, 'he was a funny, lovely, gentle man.'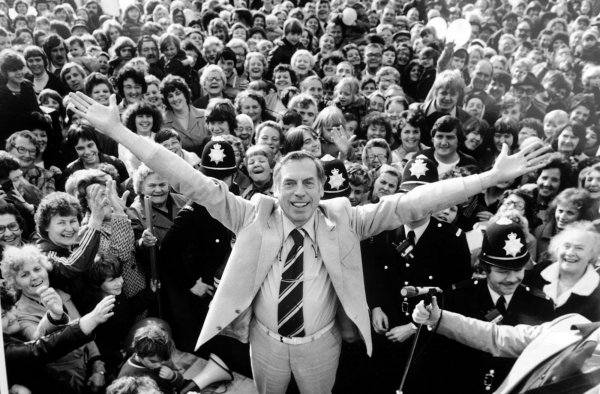 Born and raised in Dorset, Brian Slade turned his back on a twenty-five-year career in IT in order to satisfy his writing passions. After success with magazine articles and smaller biographical pieces, he published his first full-length work, `Simon Cadell: The Authorised Biography'.
Brian is a devoted fan of the comedy stars of yesteryear, citing Eric Morecambe, Ken Dodd, Harpo Marx and Dudley Moore amongst his personal favourites. He was drawn to the story of Simon Cadell through not only `Hi-de-hi!' but also `Life Without George', a programme he identified with having grown up in the Thatcher era.
Published on February 22nd, 2020. Written by Brian Slade for Television Heaven.