Faces of Jim
1961 | United Kingdom
Already a major radio and television star, Jimmy Edwards was provided with a chance to expand his repertoire of characters with a series of comedy playhouse episodes entitled The Seven Faces of Jim, which was not only popular with both critics and public of the time but has since found its way into the enduring universe that is television heaven, by introducing a TV audience to a minor supporting character actor who would go on to become 'the guv'nor' of British comedy...Ronnie Barker.
James Keith O'Neil Edwards aka Professor Jimmy Edwards was a much-adored comedian who had starred, since 1956, in the BBC sitcom Whack-O! For four years Edwards gave full vent to his boisterous voice as he bullied his unfortunate pupils. But when that series ended in 1960 the writers, Frank Muir and Denis Norden, fell back on a tried and trusted formula of writing a series of shows in which the star would play a different character each week. The aim of this was to find a character, which Edwards could develop for a full series. The first episode was called The Face of Devotion in which Edwards played a kind-hearted garage owner who believes he may be loosing his wife (played by June Whitfield) to a professional ballroom dancer. In episode two, The Face of Genius, Edwards starred as a scientist who was ably assisted by Dick Emery, Paul Eddington and Prunella Scales. Ronnie Barker had been booked to say just one line, as an announcer. The following week, for The Face of Power, Barker was given a few more lines and each week his part was expanded more and more.
Four more episodes followed; The Face of Dedication, The Face of Duty, The Face of Guilt and The Face of Enthusiasm. During these shows the guest cast included Amanda Barrie, Richard Briers and Melvyn Hayes. When the series returned the following year as Six More Faces of Jim, Ronnie Barker had been added as a co-star. The first episode, The Face of Fatherhood, saw Edwards introduce the television audience to his popular radio character Pa Glum. In it, Pa discovers that his hapless son Ron (Ronnie Barker) has been secretly dating Eth (June Whitfield), a girl whom he plans to marry. The series continued with The Face of Renunciation, The Face of Wisdom, The Face of Perseverance, The Face of Loyalty, and The Face of Tradition before rounding off with a short Christmas Day special entitled, appropriately enough, The Christmas Face of Jim, which was broadcast as part of a seasonal comedy compilation called Christmas Night With The Stars. For this episode Edwards, Barker and Whitfield reprised the Glum family. In June 1963 the series returned as Six More Faces of Jim in what proved to be its last outing. Again six episodes comprised the series run beginning with A Matter of Amnesia. All the episodes started with A Matter of...and took in 'Growing Up', 'Spreadeagling', 'Upbringing', 'Espionage' and 'Empire'. Later that year Edwards made a one-hour special called Man O'Brass, which spawned a six episode series (Bold As Brass) and with that he left the thirty-minute series of one off shows format behind.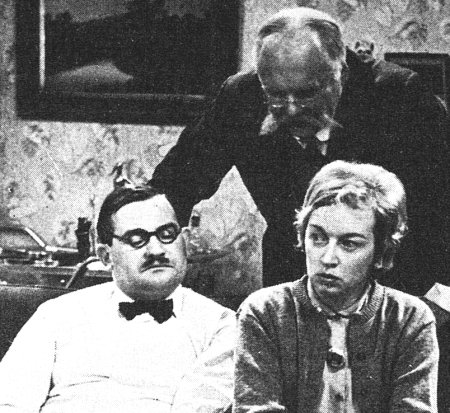 However, 14 years later in 1977 he returned once more to his (arguably) most celebrated character in the Muir/Norden penned The Glums for a series of short sketches within Bruce Forsyth's Saturday night variety show Bruce Forsyth's Big Night. Ian Lavender (best known at that time as Private Pike in Dad's Army) took the Ronnie Barker role of Ron, while Eth was played by Patricia Brake who had coincidently appeared as Barker's daughter in the hit BBC sitcom Porridge. These little ten-minute sketches were one of the few success stories of Bruce Forsyth's show (panned unfairly by the critics and never really given a chance to establish itself), and as a result two new series were produced in 1978 and 1979. Jimmy Edwards passed away in 1988. Those that knew him loved him, and he is rightfully regarded as one of the giants of British comedy. 

Published on December 11th, 2018. Written by Laurence Marcus for Television Heaven.