The Thin Blue Line
1995 | United Kingdom
Review – Brian Slade
By 1995, Rowan Atkinson had become one of the foremost comic talents on British television. From his initial impact on Not the Nine O'clock News, through four variations of Blackadderto his comedic creation of Mr Bean, Atkinson had succeeded at everything. In November 1995, just weeks after Bean's final outing, he continued to be a primetime draw in The Thin Blue Line, Ben Elton's short-lived sitcom that divided critics and viewers alike.
Atkinson plays Inspector Raymond Fowler, a by-the-book chief at Gasforth Police Station. Fowler is old school. For him (keeping in mind the age of the programme) new-fangled ways of detecting crime using internet techniques are no match for traditional methods of sensible law and order enforcement. Indeed, such a stickler is he that in the opening episode, he reminds his team of the meaning of the thin blue line – that which separates order and chaos.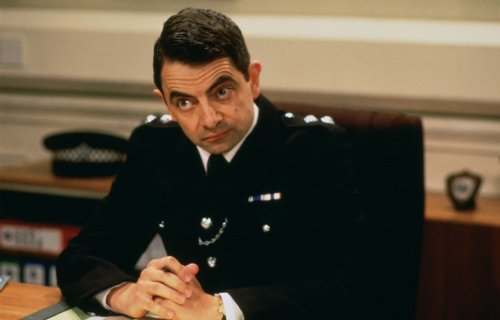 Fowler's life is made stressful by a number of other situations. Firstly, Sergeant Patricia Dawkins (Serena Evans) who is not only a sergeant in his team, but also his significant other. His devotion to his duty leaves him largely ignorant of the passions of Dawkins, who is desperately starved of affection, and Fowler is as incompetent as he is naïve in the romance department.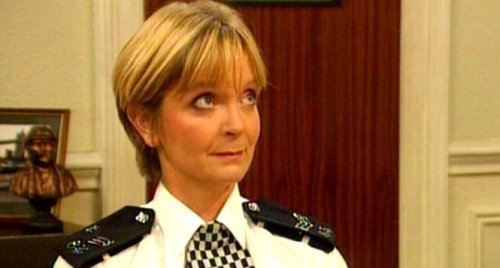 Next up for Fowler is his team of inefficient colleagues. WPC Maggie Habib (Mina Anwar) and PC Kevin Goody (James Dreyfus) clash constantly, primarily down to Goody's incompetence. His failings as an officer are only matched by his failure to woo Habib, something he is desperate to do despite his overt campness.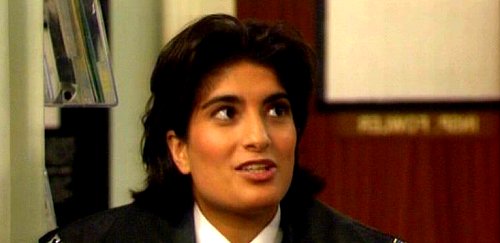 By far the most significant challenge in Fowler's life however, is Detective Inspector Derek Grim, played by David Haig. Grim is the antithesis of Fowler. Where Fowler believes that the bobby on the beat is the cornerstone of the police force, Grim believes uniformed police to be extinct and obsolete.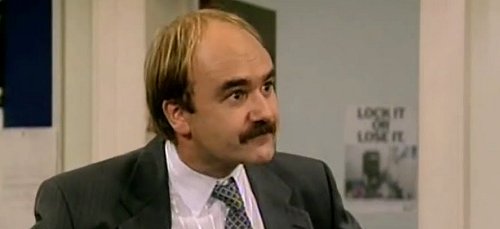 The exchanges and one-upmanship between Fowler and Grim are central to the character building in the programme. The reality is that Grim, however arrogant and unpleasant he may be, is the one more likely to be correct in terms of the changing world of law enforcement. Fowler, in the words of creator Ben Elton, '…is what we'd like police to be: honest, honourable, traditional. It makes him into a completely comic stick-in-the-mud.' Grim is regularly put down for his poor English and generally wanting education, and with his meandering speeches to his team, Fowler is able to hold the moral and intellectual high ground over his adversary.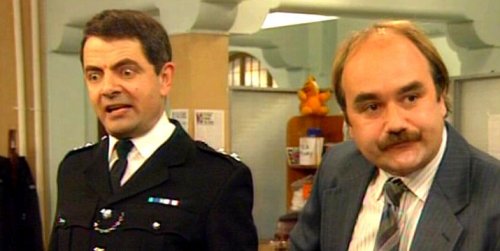 With 25 years now passed since The Thin Blue Line arrived on our screens, looking back the show seems effective enough. Elton was said to be looking to branch into comedy of the more traditional sitcom type, and it certainly holds up well through nostalgic glasses. Atkinson is of course on fine form, switching from the dominant force of the police station to the incompetent romantic partner of Dawkins with ease. Elton gives ample material for him to flex his verbal muscles to the full, but somehow neither Atkinson's talents or the misfit characters within the show was enough to convince its audience – in fact quite the contrary.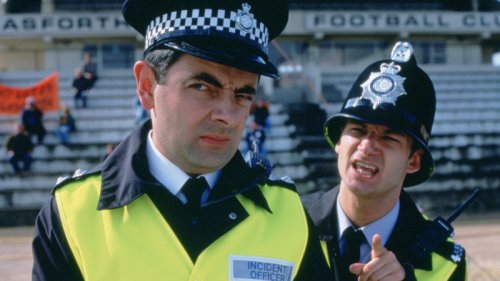 The Thin Blue Line was somewhat of a Marmite comedy at the time, with vocal support and opposition, and that could well have been down to Elton himself. The show was laden with double-entendres of the finest British sitcom variety, so much so that it was shifted to a later post-watershed time slot. It garnered healthy enough viewing figures, reaching around the 13 million mark, but the critics almost as one tore it to shreds. Ben Elton had been the rebellious anarchist, the angry stand-up comic of Friday Night Live and Saturday Live. After being anti-establishment for so long, here he was seemingly preparing families for a comfy half hour on the sofa watching a traditional sitcom he hoped would mirror the style of some of the gentler shows of the previous decades, most specifically Dad's Army. The critics were having none of it and slated the programme.
The show was popular enough to garner awards, with Dreyfus winning best newcomer in the 1996 British Comedy Awards and the show itself winning Best TV Comedy Sitcom. The awards belied the critical reception and by the time the second series had finished, the vitriol had eased somewhat. However, Atkinson was ready to move on, and Fowler's disappearance from the screen also marked the last time Atkinson has been seen in a leading small-screen comedy role to date, very much British television's loss.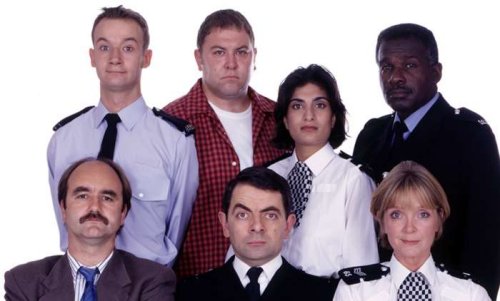 The fact that The Thin Blue Line was hammered so badly by critics at the time of its release shouldn't detract from a modern audience taking a look back. Atkinson and Haig are excellent, the supporting cast do well with their material, Dreyfus in particular, and with the benefit of hindsight, The Thin Blue Line would perhaps be treated a little kinder than it originally was.
Brian Slade
Born and raised in Dorset, Brian turned his back on a twenty-five-year career in IT in order to satisfy his writing passions. After success with magazine articles and smaller biographical pieces, he published his first full-length work, `Simon Cadell: The Authorised Biography'.
Brian is a devoted fan of the comedy stars of yesteryear, citing Eric Morecambe, Ken Dodd, Harpo Marx and Dudley Moore amongst his personal favourites. He was drawn to the story of Simon Cadell through not only `Hi-de-hi!' but also `Life Without George', a programme he identified with having grown up in the Thatcher era. 
Published on May 15th, 2020. Written by Brian Slade for Television Heaven.