Keeping Up Appearances
1990 | United Kingdom
Keeping Up Appearances became one of the best loved British television sitcoms ever, with great casting and acting and the writing talents of Roy Clarke who has written some of the best and funniest sitcoms that have ever graced our TV screens, like Last of the Summer Wine and Open All Hours. Keeping up Appearances ran for five series from 1990 to 1995, with 44 episodes including four Christmas specials. Not only was the show a huge success in the UK, it was also very popular in the United States and Australia. 
Patricia Routledge starred as the Hyacinth Bucket (pronounced Bouquet), who spends her entire time trying to climb the local social ladder, much to the dismay of her long suffering husband Richard, played by Clive Swift. It is Richard that has to put up with the worst of Hyacinth's behaviour and the man must truly have what can only be described as having the patients of a saint. Hyacinth is not a bad person, just one that has high standards that she would like other people to live up to, even though she struggles to meet these standards herself. Hyacinth is just so desperate to rise above her lower middle class standing in society and longs for her candle-lit suppers to be an unmissable event on the local social calender. The thing is, with Hyacinth nothing ever goes to plan, whether it's the local amateur dramatics latest production, or a luxury ocean cruise, something is always guaranteed to go wrong at some point.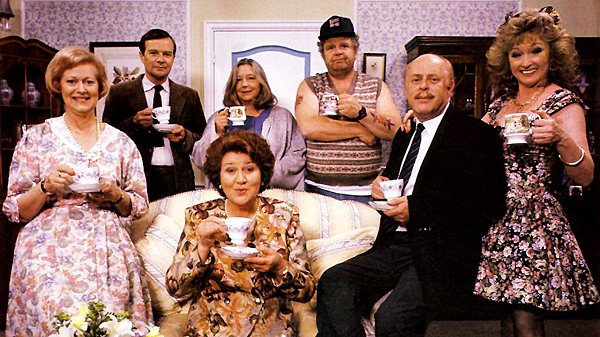 Keeping up Appearances has a great supporting group of characters as well. Hyacinth's family continue to be a source of embarrassment to her. She has three sisters, the man hungry Rose who was originally played by Shirley Stelfox in the first series but then was replaced by Mary Millar for the rest of the shows run. Another sister Violet, who has a swimming pool, sauna and room for a pony, is not seen in the show until the last series played by Anna Dawson, but she does often phone Hyacinth and ask for advice about her husband, who has a penchant for cross dressing. It is her sister Daisy and her work-shy husband Onslow that cause Hyacinth the most embarrassment. 
Daisy and Onslow, played by brilliantly Judy Cornwell and the sadly missed Geoffrey Hughes, are the members of her family she would rather not admit to. They live on the local council state and share their house with Rose and the girls Daddy, who when he is seen, is often re-enacting the war, complete with bayoneted rifle! Then there are the neighbours Elizabeth and her brother Emmet who are often reluctantly involved in her attempts to integrate with the great and the good of the local parish. There are some brilliant running jokes through the whole of the series, like a very nervous Elizabeth played by Josephine Tewson, being unable to drink a cup of the coffee round the Bucket's house without smashing a cup of Hyacinth's best Royal Doulton with the hand painted periwinkles. Elizabeth's divorced brother Emmet lives in fear of Hyacinth, fearing that she will sing at him! Hyacinth actually thinks that Emmet's nerves are down to him being infatuated with her. Emmet is brilliantly underplayed by David Griffin.
There are other characters that put in appearances during the series, like the young Vicar and his wife, who Hyacinth is always out to impress and the postman who cannot deliver a letter or parcel without having to abide by Hyacinth's complaints. Then there is Hyacinth's son Sheridan who is never seen but often on the phone to his mother, asking for some financial help while he is studying needlework at college. It is not hard to see why this show is still so popular whenever and where ever it is shown. It has a formula it follows, but it works so well with such a brilliant cast with such well written scripts.
Published on December 28th, 2018. Written by Glyn Howells for Television Heaven.