Flickers
1980 | United Kingdom
Fresh from a third-rate career in the music halls, forty-year-old Arnie Cole (Bob Hoskins) has turned movie pioneer, showing single-reel films in makeshift cinemas during the first quarter of the twentieth century. 
Arnie's true ambition is to produce films of his own; but he is barely able to keep his creditors at bay as the head of a travelling company that screens movies in any available hall or store. The troupe includes Llewellyn (Fraser Cains), his girlfriend Letty (Sherrie Hewson) and his piano player Violet (Sheri Shepstone). Arnie's only chance at survival is to explore every possible source of financing, no matter whom he has to con. Clive (Andrew de-la-Tour), son of a department store owner, is a prime candidate. That is, until Arnie is introduced to Maud (Frances de-la-Tour), Clive's plain and snobbish sister, who takes one look at the hapless showman and declares, "He'll have the fillings from your teeth!"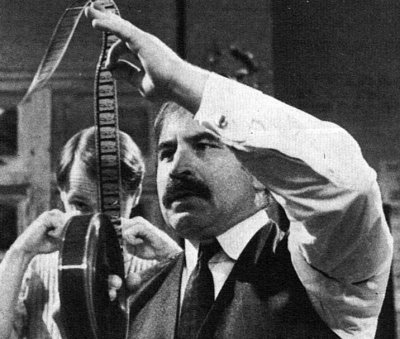 However, fate is about to deal Arnie an unexpected hand: The unmarried Maud has had the misfortune to get herself pregnant, and the would-be father has taken flight. So, in return for a promise of marriage and a father for her baby, Maud bankrolls Arnie's movie projects. This light-hearted, captivating series was created and written by sitcom veteran Roy Clarke (Keeping Up Appearances, Last of the Summer Wine) and won great critical acclaim in 1980 as well as a Primetime Emmy nomination for Outstanding Limited Series in 1982.
Published on December 12th, 2018. Written by Laurence Marcus for Television Heaven.