Hallelujah!
1983 | United Kingdom
Religion in television comedy isn't the easiest of things to get right. The success of Vicar of Dibley was remarkable and it remains a much-loved staple of nostalgia channels, reflecting its position as one of the most successful sitcoms of the last 30 years. However, long before Geraldine Grainger was adapting to the quirky characters of Dibley, one of Britain's finest actresses had already tried her hand at mixing bible studies and comedy with much success, with the wonderful Thora Hird bringing us 15 episodes of the Salvation Army based comedy, Hallelujah!
Writer Dick Sharples had proven himself a successful writer for a successful female lead, Thora Hird also playing the lead in his comedy In Loving Memory. Such was the success, Sharples set about writing another comedy vehicle for the talented Hird, choosing to focus on a member of the Salvation Army whose antics prove as troublesome as they are productive. Hird plays Captain Emily Ridley, a powerhouse for the Salvation Army in the small Yorkshire town of Brigthorpe.
In the opening voiceover we already hear the passions of Captain Ridley as she implores her brethren to assist in bringing 'salvation to those who have succumbed to the evils of strong drink, loud music and the temptation of the flesh.' But it seems that her endeavours are just a bit too militant for the charity's hierarchy.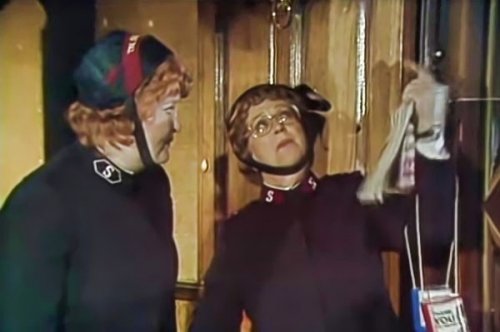 In the first episode, Ridley is launching into the local pub armed with megaphone, collecting tins and charity magazines as she cajoles local punters to contribute their cash to help atone for their multitude of sins. On leaving the pub she runs into a man who in her eyes is clearly a sinner, evidenced by eyes that she believes are 'tortured by years of depravity.' She tells this soul that his sins are of scarlet, and she is subsequently summoned before the local Colonel for having attempted to absolve the priest of St Joseph's for his transgressions.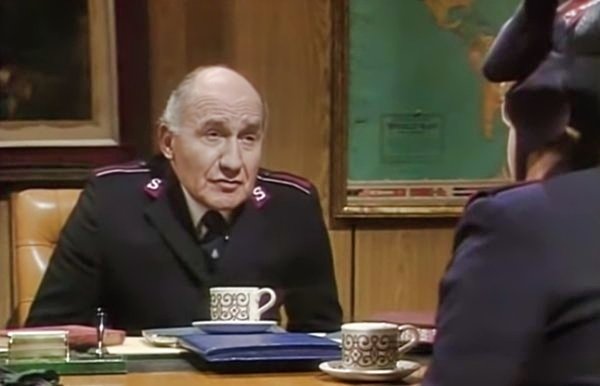 Ridley's latest failing is the last straw. Colonel Henderson decides that enough is enough. Ridley's hell, fire and brimstone approach after 42 years of service is no longer deemed appropriate and she is encouraged to retire. In desperation to continue her devotion she appeals for a place to continue her work, which leads her to be assigned to Brigthorpe, 'one of the most lustful, sinful and utterly depraved places' where she has a month to prove her worth or take retirement.
She arrives at the former Salvation Army Hall, now a Bingo Hall performing the devil's work. Alongside her is her niece, Alice Meredith, played by Patsy Rowlands, and the pair immediately get to work. Their first recruit is an unlikely one, heavy metal fan and man-chaser Dorothy Smith, played by Rosamund Greenwood. Smith arrives for Bingo night, but on discovering it has been cancelled she decides to join the campaign as she looks for a fella 'with a bit of go in him.'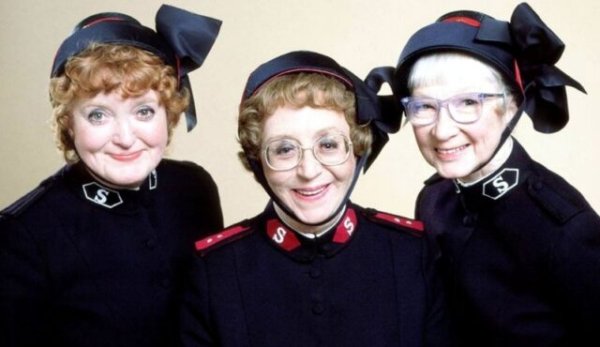 Just as Ridley believes that her prayers are going unanswered and that she is unable to achieve what she needs in Brigthorpe, she finds an old newspaper in her office drawer left open at an advert for the Brigthorpe Stripperama and Bondage Club, and it is here that she makes her move. Sister Dorothy recognises a multitude of the men at the club, information that comes to good use for Ridley. Instead of her hard sell of magazines for fund raising, in exchange for her silence she persuades club owner Mr Armstrong to get all the club's attendees to come to a Salvation Army meeting attended by Colonel Henderson, thereby granting her a stay of execution for having re-established the Salvation Army's presence in the town.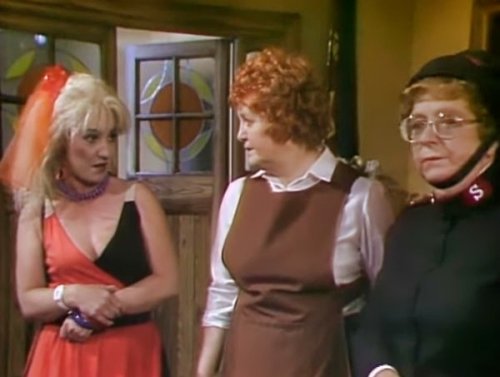 For the remainder of the first series, Ridley continues to try to convince the Brigthorpe residents to offer their time and support for her cause. Just as series one had seen Ridley plead her case to Colonel Henderson to avoid retirement, series two begins with her rushing off for an audience with Brigadier Langton where he tells her that she is moving on after twelve months in Brigthorpe to Blackwick. Here, sitting Salvation Army man Major Perry is in need of a break from his congregation. He has been attacked by a particularly angry member of his clan, while criminals use the hall to hide from the police and Perry has allowed the local prostitute to use his phone while her own is out of order. Ridley has plenty of perceived sinners to play with here.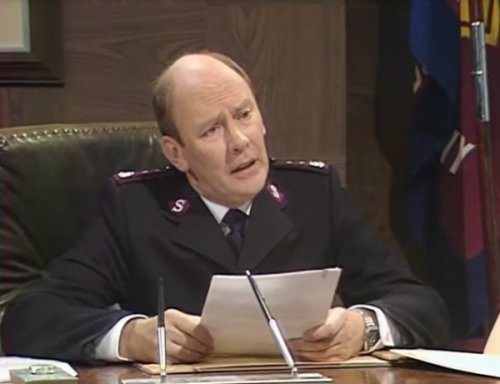 The second series suffers somewhat for the absence of Greenwood's Sister Smith. The first second-series convert becomes a more regular character however, David Daker as Brother Benjamin, the angry drunk who attached Major Perry. Benjamin converts after seeing a long lost friend in the face of Alice.
Thora Hird was glorious in pretty much everything she turned her hand to, and Hallelujah! was no exception. She dominates and runs the show, and while there are a fair few stereotypes for her to pass judgement upon, the scripts are surprisingly kind to the wayward sheep, given that the programme went out in the early 1980s, still short of the politically correct era.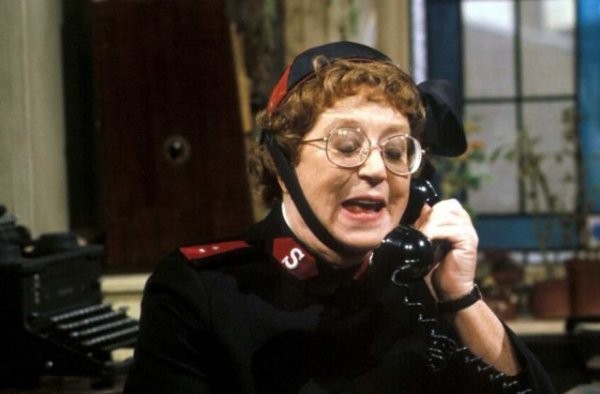 As well as Greenwood's man-hungry Smith, Patsy Rowland offers great support. It's a welcome role, given how under-used Rowland was in the number of Carry On films she contributed to, for she is able to contribute far more within these half hour slots than the movies would allow when surrounded by so many Carry On regulars, although she still carries the downtrodden element - Brother Benjamin's conversion rests on her having an uncanny likeness to his old cocker spaniel, Rover!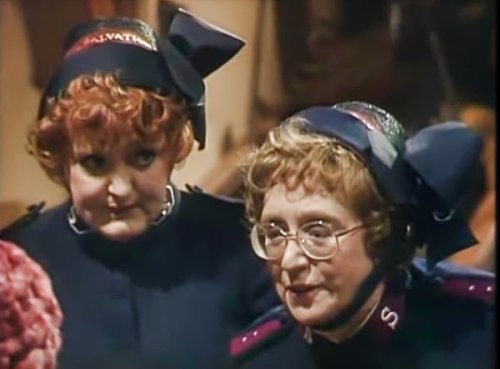 Hird's subsequent place in the runaway success of Last of the Summer Wine, along with her five series of In Loving Memory coupled with her many acclaimed dramatic roles mean that Hallelujah! is rarely referenced and never repeated, but it is nonetheless a very enjoyable watch and a fine reminder of the talents of two wonderful actresses.
Review: Brian Slade
Born and raised in Dorset, Brian Slade turned his back on a twenty-five-year career in IT in order to satisfy his writing passions. After success with magazine articles and smaller biographical pieces, he published his first full-length work, `Simon Cadell: The Authorised Biography'.
Brian is a devoted fan of the comedy stars of yesteryear, citing Eric Morecambe, Ken Dodd, Harpo Marx and Dudley Moore amongst his personal favourites. He was drawn to the story of Simon Cadell through not only `Hi-de-hi!' but also `Life Without George', a programme he identified with having grown up in the Thatcher era.
Published on January 27th, 2021. Written by Brian Slade for Television Heaven.