Harry O
1973 | United States
Nobody lives forever
If ever an actor seemed fated to play a TV detective, that actor, ranked in 1996 by US publication TV Guide as number 36 in its 50 Greatest TV Stars of All Time, could not have been better imagined than the star of 4 major television series, 20 TV movies and 44 feature films - the prolific and ultimately tragic David Janssen.
In fairness, that top 50 list is noticeable for the stars it left out rather than the stars it included, but it's safe to say that Janssen became essential viewing as the man who led detectives on a merry chase between 1963 and 1967 as the falsely accused murderer Dr. Richard Kimble in The Fugitive, whilst turning detective himself in trying to find the man who really did murder his wife. This coming after his stint as Richard Diamond, Private Detective from 1957 to 1960.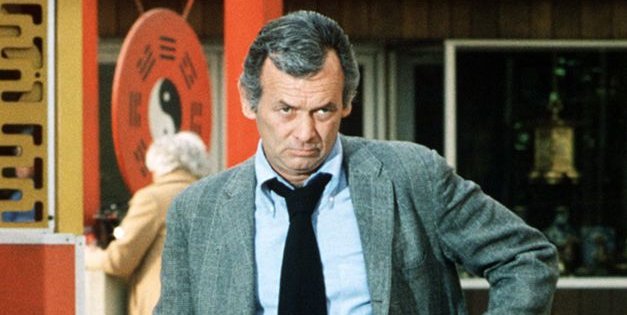 Harry O (sometimes mistakenly spelled Harry-O), is not to be confused with Janssen's previous 22 episode run as U.S. Treasury agent Jim O'Hara in the similarly titled O'Hara, U.S. Treasury which ran between 1971 and 1972. Instead, as the wry, dishevelled and world-weary Harry Orwell, Janssen gave us probably the closest and most successful small screen interpretation of what had become a popular movie genre trope - the film noir sleuth, since Bogart had first donned his peak lapelled double breasted jacket in The Maltese Falcon. It had been tried before on the small screen without success. It would be tried over and over again with similar results. Janssens first-person narrative practically eclipses Stacy Keach's Mike Hammer, and all other attempts (wholeheartedly in The Outsider as performed by John Duttine, or half-heartedly as in Magnum P.I. by Tom Selleck) are quite firmly placed in the corner of a darkened room with a blanket over them.
Harry Orwell is a tough former San Diego cop who has been pensioned off from the force after taking a bullet in his back whilst trying to stop a robbery in a liquor store. That same robbery also resulted in the death of his partner. The bullet, which is lodged in Harry's spine has left him with recurring pain and mobility problems. To support himself, the hard-drinking Harry O now works as a private investigator, charging $100 a day plus expenses plus mileage. He lives in a beach house on Coronado Island, San Diego, with a variety of beautiful, but unattainable female neighbours for company.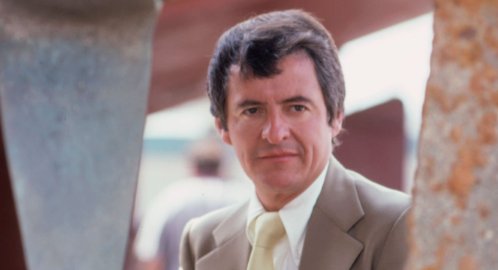 The pilot film Such Dust as Dreams Are Made On had Harry hired by none other than the man who shot him. Not recognising Harry, he wants the PI to find the other man who was involved in the shooting as they have now fallen out. Appearing in this episode is Martin Sheen (The West Wing, Grace and Frankie), Margot Kidder (Lois Lane in Superman) and Cheryl Ladd (Charlie's Angels). Another ex-partner is Harry's police contact, Lt. Manny Quinlan (Henry Darrow - Manolito Montoya in The High Chaparral) although he would become reluctant to help whenever he felt he was being asked to confide just a little too much – which was quite frequently.
Due to the high production cost filming in San Diego was abandoned and the series shifted location to Los Angeles for the second half of the first season. This was also the signal for a number of cast changes as the series was completely retooled. In the episode Elegy for a Cop Lt. Quinlan visits LA to find his drug-addicted niece and is killed during the investigation. It was a shock to viewers to see a major character killed off halfway through a season, but this was a major part of the retooling to give the series a lighter tone with more action. By season two the change was complete, even to the point where Harry's mobility is noticeably improved with hardly a mention of the bullet that had previously restricted him.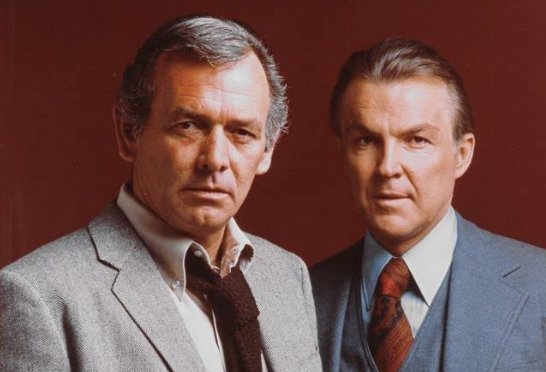 His police contact is now the less agreeable Lt. Trench (Anthony Zerbe who won a Primetime Emmy Award for his role on the series). Harry has purchased another beach house but still has a variety of beautiful airline stewardesses as neighbours including another pre-Charlie's Angel star, Farah Fawcett (later Fawcett-Majors). Other actors who passed through Harry's neck of the woods included Linda Evans, Stefanie Powers, Leif Erickson, Kurt Russell, Leslie Ann Warren, Louis Gossett Jr., Mike Farrell and Robert Loggia.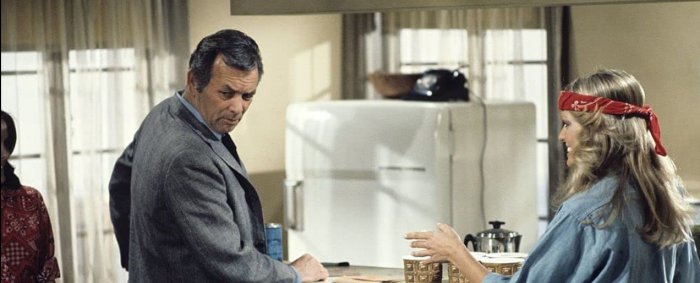 There was very nearly a spin-off from Harry O. Les Lannom played Lester Hodges, a wealthy youth who wants to model himself on Harry. One episode, The Mysterious Case of Lester and Dr. Fong, teams Hodges with criminology professor Dr. Creighton Fong (Keye Luke) and would have served as a lead-in for a "Fong and Hodges" pilot. But it was never produced. Some have surmised that this particular episode's low ratings may also have been the catalyst for Harry O's cancellation. Since its change in format viewing figures for Harry O had remained steady but ABC president Fred Silverman, decided to take his network in a different direction and cancelled the series in favour of, ironically, Charlie's Angels.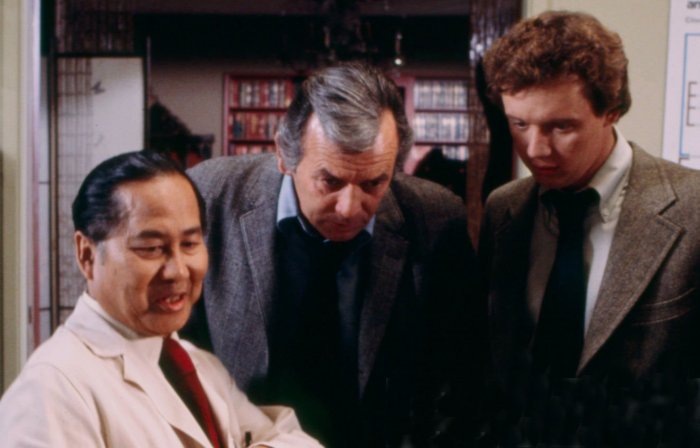 David Janssen had possibly reached the pinnacle of popularity on television with his 1960s hit The Fugitive (a gruelling schedule of 120 one-hour dramas over the course of four years), but his personal favourite was Harry O. The cancellation greatly disenchanted him as he believed that he had found and shaped probably his most ideal character in Harry Orwell - and as a result he vowed never to participate in another television series again (he did return two years later in the TV miniseries Centennial but would never star again in a long-running prime-time series).
According to friend and Fugitive co-star Barry Morse, "David Janssen was well known as one of the hardest working actors in the USA", regularly working 12–14 hours a day. Whether that routine eventually took a toll on him is open to speculation. But in the early hours of February 13, 1980, paramedics were called to his house in Malibu. He was later pronounced dead from a massive heart attack at Santa Monica Hospital. He was only 48. His agent stated that the actor had no history whatsoever of heart problems and said his doctor was "in as much of a state of shock as we are." Others have suggested that his sudden demise was an example of an intense, dedicated, determined actor who simply worked himself to death.
Harry O continued to gain viewership and critical acclaim throughout its run and its cancellation felt premature to its many fans. It remains as a fitting final tribute to the distinctive whiskey-tinged voiced actor whose quiet, low-key acting style and rough, tough image belied a totally different true-life personality which his friends considered sensitive, considerate, and gentlemanly.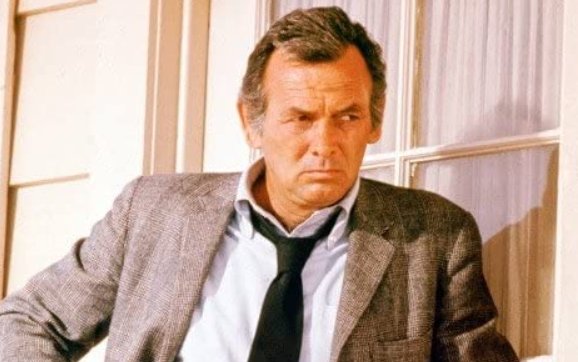 Perhaps the best eulogy for him was captured in this scene from Elegy for a Cop in which Harry enters a bar, purchases a bottle and asks the bartender to place it on a high shelf.
Harry: Every once in a while, somebody will come in here and you'll see that you like them right away, 'cause they're decent and just good people. So give them a drink out of this bottle. It doesn't matter if they have any money or not. Tell them this drink is on Manny Quinlan. Maybe they'll remember him. And if you feel like it, tell them he was a friend of mine.
Bartender: What'll I do if the bottle runs out?
Harry: Nothing. Nobody lives forever.
Published on May 5th, 2022. Written by Marc Saul for Television Heaven.