Grace and Frankie
2015 | United States
When your divorce lawyer husband invites you to dinner with his business partner and wife, you naturally think they are finally announcing the business will be passed on and they will be retiring to spend more time with you. At least, that is what Grace and Frankie both thought when they sat at the table in the restaurant that night. However, they could not have been more wrong, and the show starts as it means to go on with hilarious twists and turns at every corner. The news that Robert Hanson, played by Martin Sheen, and Sol Bergstein, played by Sam Waterstone, actually have for their wives is that they are lovers and have been for many decades and now wish to get married. Of course, the announcement in a public place was carefully crafted to ensure that neither of them could react badly.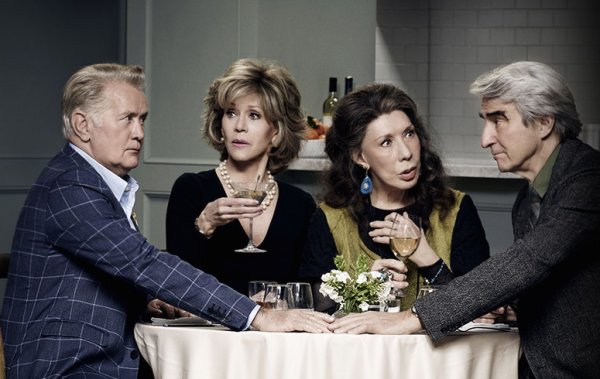 Stunned and heartbroken, the women retreat from the marital homes and end up at the beach house, a shared holiday home the two families jointly own. This would be okay except for the fact that they actually cannot stand each other. The two could not be more different, and this is where the tensions arise. Grace is an ex-corporate cosmetic entrepreneur who is always prim and proper and perfectly made up. Her wardrobe is immaculate, her plastic surgeon has paid thousands, and she certainly has no intention of ageing gracefully.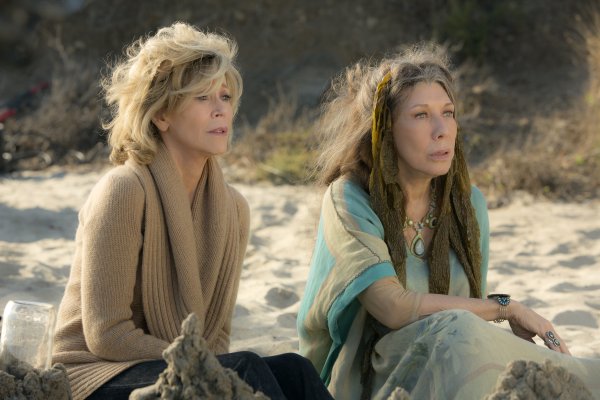 On the other hand, Frankie is an absolute riot - an ageing hippie; she still smokes pot and is generally thrown together in a sea of patchouli oil and flowing robes. Grace is annoyed by Frankie's laid back and relaxed demeanour, and Frankie finds Grace stuck up and mean. With the two women stuck in this uncomfortable friendship, thanks to a situation that neither expected, the show is set to offer entertainment for the full duration of every single episode.
As the first series starts to unfold, we meet the rest of the families. What appears to be two relatively normal families on the surface actually devolves into carnage and chaos as you dig a bit deeper. We discover that Grace and Robert have two 'chalk and cheese' daughters loud, sniping cold go-getter Brianna (June Diane Raphael), who has taken on her mother's company and gentle mumsy type Mallory (Brooklyn Decker), who is in the process of growing her own family and at one point is pregnant with twins.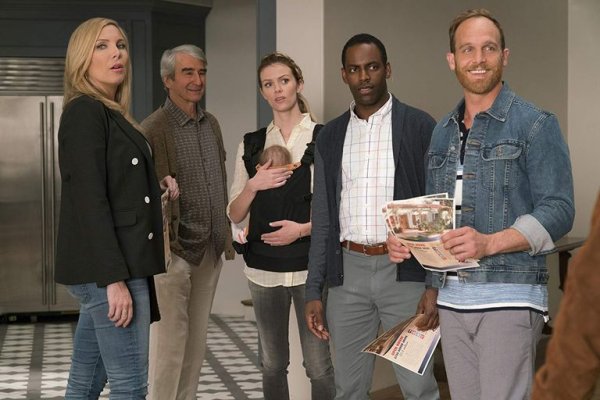 Jewish family Frankie and Sol adopted two boys, who are now men. Again, each something of a contrast with different ethnic backgrounds and views on life. Nwabudike, known as Bud, a divorce lawyer ready to step into the family business and Coyote, a rather off the rails teacher who struggles to hold down a job because of his constant struggle with alcohol addiction, with a bit of a crush on Mallory.
It is fair to say the laughs just keep coming, but they are interspersed with some heart-breaking moments as life must restart for our heroines, and their ex-husbands discover that life as an out and proud gay couple isn't always plain sailing. Some of the action is delightfully cringe-worthy, like the first family dinner for the new couple and the blended children, but you find yourself wanting more and never want to see the credits rolling. Action chops and changes between all of the six leading characters, with stories crossing and entwining. Grace and Frankie both struggle with the dating scene, which is mirrored in both Coyote and Brianna's lives, with neither being able to find romance. Bud finds love with Alison, who has more allergies and health problems than anyone has ever endured, and Mallory starts happily married but ends up a divorced mother with a pack of feral children at her skirts.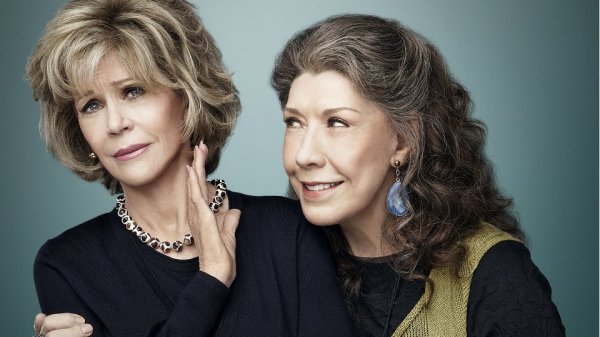 All of the actors who appear regularly are outstanding. Still, it has to be acknowledged that IT IS Jane Fonda, the talent that brings Grace to life, and the superb comedy meets crazy performance of Lily Tomlin as Frankie that make this a truly magical show. Tomlin received an Emmy nomination for Outstanding Lead in a Comedy Series in 2015, 2016, 2017 and 2018, which shows just how compelling this series really is and a Golden Globe in 2018 for Best Performance Actress in a Television Series - Comedy or Musical. Fonda was also nominated for the same accolade in 2017, and the show has received numerous other nominations and awards. The pairing could not have been better cast as the two actresses spark together in a unique way making these lead characters engaging and much loved with the audience.
Download or buy the DVD
Review by Anna Mae
Anna Mae is a writer, proofreader and voice artist. 100% Storyteller, 90% Talent and 10% Coffee. Her website can be found at Home | Anna Mae Author
Published on March 6th, 2021. Written by Anna Mae for Television Heaven.