Ellen
1994 | United States
It can be argued that Ellen DeGeneres did for homosexual characters on American television, what Bill Cosby's role on the drama I Spy did for African-Americans-make them more acceptable to viewers. Not only did her character Ellen Morgan come out as a lesbian, so did DeGeneres herself. For over a year, she fought both conservative groups and her own network over the show's direction. But viewers had the last say, and Ellen went off the air one year after her "coming out" party. 
Like many US sitcom stars of the 1990's, Louisiana-born DeGeneres found initial fame as a stand-up comic, playing at comedy clubs across the country. An appearance on the Tonight Show cable TV appearances led to roles in the short-lived sitcoms Duet and its spin-off Open House. Another role-this one on a 1992 comedy called Laurie Hill-caught the eye of the show's producers, who offered to created a show based on DeGeneres' observational humour. ABC aired the programme, initially titled These Friends of Mine, as a mid-season replacement in early 1994. DeGeneres played Ellen Morgan, a single woman in her early 30's who managed a bookstore in Los Angeles and got involved in her friends' personal lives. These Friends of Mine got off to a strong start; it landed in the top ten almost immediately. And while critics praised DeGeneres' performance, many didn't think much of the show, liking it to a copy of NBC's successful Seinfeld. 
DeGeneres was not happy with the initial shows and changes were made for the 1994-95 season. Out went the title and in came the star's name: Ellen. The original cast was eventually written out and several new characters were added, including bookstore employee Joe, flighty best friend Page, and child-like, slightly off-centre Audrey. Although the ratings were good, DeGeneres was not happy about ABC's demands to have her date more men on the show-something she didn't want to do. By the third season, Ellen was rarely dating but the co-stars became more prominent as the producers and writers looked for new plot devices. Critics were unhappy; they felt Ellen lacked direction and writers who interviewed DeGeneres, found her willing to discuss just about everything except her personal life. That led tabloids to try and "out" the sitcom star. By this time in Hollywood's gay community, DeGeneres' sexual orientation was well-known, and she began to have a following among lesbian fans. Ironically, producers wanted to add a gay female character to the show; DeGeneres rejected the idea.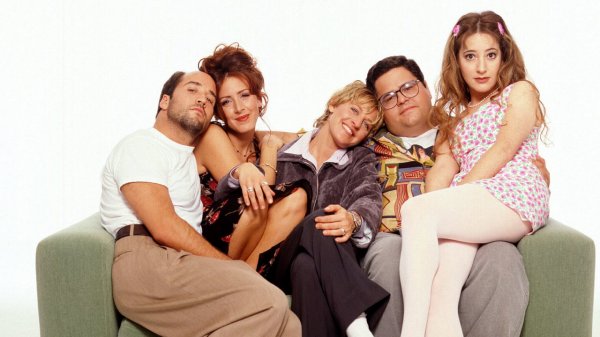 By 1996, Ellen began to fall out of the top-20. Before the new season began, DeGeneres asked her writers and producers whether Ellen Morgan should come out as a lesbian; they liked the idea. But ABC had to approve the new storyline, as did the network's new owner, The Walt Disney Company. Disney executives feared conservative backlash, and wanted to see some scripts before giving final approval. Initially, the plan was to introduce the lesbian storyline in early 1997. But "TV Guide" and the Hollywood trade papers learned about the planned gay storyline. ABC and Disney executives were flooded with pro-lesbian letters from gay rights groups while conservative and religious organizations urged the network to cancel the idea. Instead, ABC approved a script on the night the episode aired more than 35 million Americans watched Ellen come out. 
During the summer break, DeGeneres received many letters from gays and lesbians who said the episode helped them come out to family and friends, and was especially moved by the letters from gay teenagers who had thought of suicide before watching the show. Those letters made DeGeneres more determined to make Ellen more gay oriented. The new direction also had DeGeneres at odds with ABC executives, in public feuds over how the lesbian storyline should be handled. Some television observers thought the Ellen experience would steer network executives away from gay-themed shows. That didn't happen. Just months after Ellen's cancellation, NBC premiered Will & Grace-a sitcom about a gay man and a straight woman who were the best of friends. It eventually became one of the network's biggest hits.

Published on December 10th, 2018. Review: Mike Spadoni.