Home Improvement
1991 | United States
A family comedy built around the talents of a stand-up comic, Home Improvement was ABC's most popular series of the 1990's-and turned out to be a refreshing antidote to the many "singles in the city" comedies that popped up on rival NBC.
Comedian Tim Allen's routine was based on his love of tools and cars; his macho mantra was "MORE POWER!" He and show creator Matt Williams managed to bring the brash feel of his pro-male message with a strong reminder that marriage and family life is a give-and-take partnership. That theme resonated with millions of viewers-men, women and children alike. Even though the show never became a critical darling, 'Home Improvement' was a justified success because it was built upon a solid foundation of situation, laughs and talent.
Born Timothy Allen Dick in Denver, Colorado on June 13th, 1953, the one-time class clown graduated from Western Michigan University in 1975 with a degree in television production. Three years later, he was arrested for dealing drugs and spent two years in prison. After his release, he adopted the stage name "Tim Allen" and became a comedian on a dare; he began his new career at Detroit's Comedy Castle.
Eventually, Allen played across the country and appeared in a series of cable television specials. It was on one of those specials that Disney's Touchstone Productions spotted Allen and Williams created a comedy around his stand-up act.
Allen played Tim Taylor, the star of his own Detroit-based cable television show 'Tool Time' (sponsored by the fictional Binford Tool firm), where he showed off his reputed prowess in things mechanical. But somehow, something always went wrong when Tim grabbed a hold of a power drill or some other implement-either on the show or in his modern suburban home.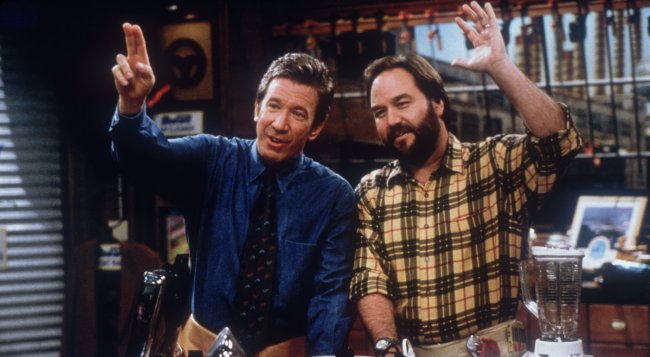 Helping to keep Tim humble on the job was his competent, teddy bear of an assistant, Al Borland (Richard Karn). At home, Tim spared and loved with his intelligent wife Jill (Patricia Richardson) and their three sons Brad (Zachery Ty Bryan), Randy (Jonathan Taylor Thomas) and Mark (Taran Noah Smith). Earl Hindman played next door neighbour Wilson, whose face was never seen on the series (it was always hidden by the high wooden fence that separated Wilson's home from the Taylor abode). Wilson always dispensed sensible advice to both Tim and Jill on marriage, life, and the real meaning of being a man, husband and father. 'Home Improvement's' fictional "Tool Time" also featured the well-endowed "Tool Time Girl", played by a then unknown Pamela Anderson. She eventually left for a rather successful TV career based partly on her assets; Debbe Dunning took over as "Tool Time Girl" for the remainder of the show's run. 
Home Improvement premiered on September 17th, 1991. It was an instant hit; the show ranked #5 after its first season. For the next several seasons, 'Home Improvement' was among the top three series on television, often hitting number one and surpassing the edgier 'Roseanne' as ABC's top-rated scripted series.
But that success was threatened by what became one of the most competitive scheduling battles in US television history. Rival NBC, believing Roseannewas running out of gas, decided to slot its budding hit Frasier against the aging domestic comedy for the fall of 1994. 
ABC executives panicked and moved Roseanne out of Frasier'sfiring line. Instead, ABC slotted the family-friendly "Improvement" to do battle with Kelsey Grammer's critical darling. (The scheduling decision angered both sides; Allen had hoped to take Home Improvement to number one in the ratings; Grammer had a brief falling out with NBC executives because of the time slot change.)
Critics likened the challenge to "class versus mass". But fortunately, in the end, both shows survived, largely because they appealed to different types of audiences. Even though Home Improvement drew larger audiences than Frasier, the Cheers spin-off had a younger viewership. Both shows were comfortably among the top 20 series on TV.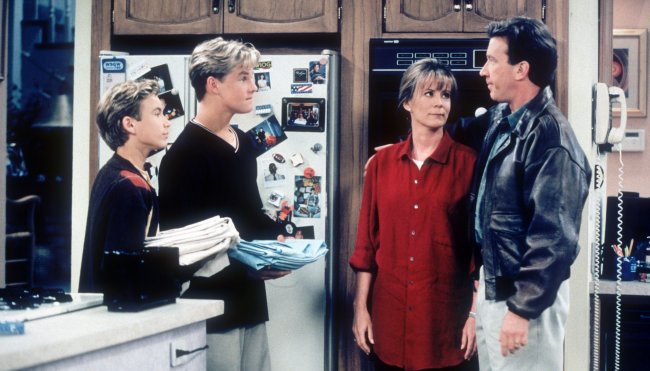 Like most successful sitcoms, Home Improvement was syndicated to local stations, while new episodes aired every Tuesday on ABC. Unlike most of those sitcoms, a special Home Improvement was taped to kick off the syndication run in September 1995. But Allen was no one-trick pony; he also became a film star (thanks largely to the success of "The Santa Clause" and his work in the computer-animated "Toy Story" and their respective sequels). He also wrote two best-selling books. And by the end of 'Home Improvement's' run, Allen was making over a million dollars an episode.
But eventually, Home Improvement had to end, and it did on May 25th, 1999 in an hour-long episode that had Tim give up a big raise and more control over "Tool Time" so that Jill could take a job in Indiana. The show's final scene had Tim tow the family's two-story house from Detroit to Indiana...or was it one of Tim's fantasies? 
Whatever it was, the reality of Home Improvement was clear enough. In a 1996 cyberchat on America Online, co-star Richard Karn accurately summed up the show: "I do feel it is one of the best series created...This show is not a groundbreaking show like 'All in the Family' or 'I Love Lucy', but it deals genuinely and truthfully with universal themes in a way the whole family can watch and appreciate." For a series that existed in a multi-channel universe, that's a real accomplishment. 

Published on November 15th, 2019. Written by Mike Spadoni for Television Heaven.