Hazell
1978 | United Kingdom
Review: Marc Saul
An East End lad, once a copper. Tall, blond, baby face, he is not the type to play with physical violence. He does not like fighting, but he is no coward. A rough and ready cockney, he may drop his aitches, but he never loses his determination.
Private detective James Hazell arrived on our TV screens in January 1978, a creation of the unlikely writing team of Glasgow born author Gordon Williams and Dagenham Essex born football coach Terry Venables. The duo had published three pulp-fiction Hazell tales after collaborating originally on a football novel called They Used To Play On Grass. Williams had previously written The Siege at Trencher's Farm, which became Sam Peckinpah's controversial movie Straw Dogs.
The boys, who by this time had become good friends, decided to have a go at writing a love story about two mothers who were given the wrong babies in a maternity hospital. But when they discovered that heart-pulling sentiment was not their forte, they decided to bring in an ex-cop turned private detective and write it as a crime novel instead. The result was Hazell Plays Solomon, and was released by Penguin Books in 1974 – the writers using the pseudonym P.B.Yuill. Two more novels followed.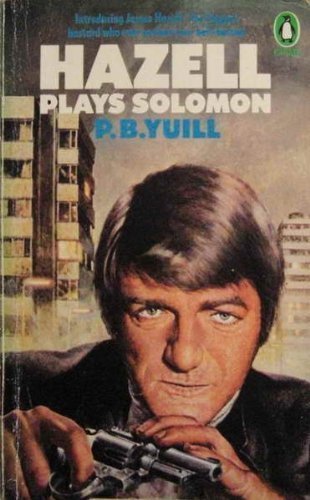 In transferring the novels to television the character of Hazell was toned down from "The biggest bastard who ever pushed your bell-button" to a cockney wide boy with attitude - a sort of tarnished East End version of Raymond Chandler's Philip Marlowe. In fact, the series paid homage to classic film noir and 1940s American private eye movies, set in the kind of seedy London locations that would be revisited in Minder - the series created by screenwriter Leon Griffiths following his recreation of the Hazellcharacter as seen on our screens. Other high-profile writers included actor and writer Brian Glover, playwright Willis Hall, Trevor Preston (The Sweeney) and author Richard Harris (A Touch of Frost). The original authors also had quite a lot of input.
The back story for Hazell was that he had been a police officer before it had all gone sour for him after an injury, his marriage had broken up and he had reacted by crawling into a bottle and staying there. By the time we meet him that is all in the past. He has cleaned himself up and is now running a detective agency, has a flashy wardrobe and a flashy car to boot. But a bit like the down-at-heel Frank Marker in Public Eye, his business in not exactly what you would call thriving and he must keep up the payments on that car (a Triumph Stag) lest it gets repossessed. However, unlike Frank Marker, James Hazell is also blessed with a natural charm, graceful style and robust sense of humour. In spite of these qualities Hazell can be utterly ruthless when he needs to be.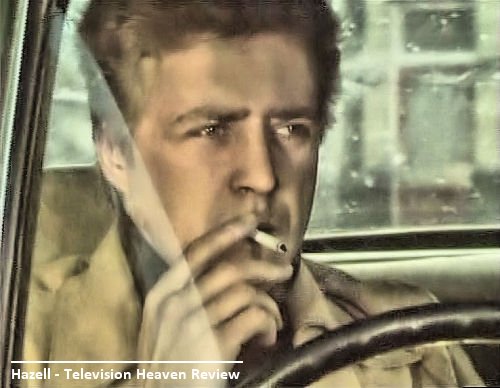 The bane of Hazell's life is Detective-Inspector (Choc) Minty (Roddy MacMillan), a dour Scotsman who is perpetually unimpressed by Hazell and who would no doubt happily run Hazell in if he ever crossed the line of the law. Desmond McNamara starred as Hazell's cousin and assistant Tel, with Barbara Young as his office landlady Dot.
Nicholas Ball, who was perhaps a bit too young to suggest the jaded, world-weary character from the books (but was nonetheless preferred over John Nettles for the title role), managed to effortlessly play Hazell as a contrite but charming cockney lad who easily handled the humorous yet tough portrayal required.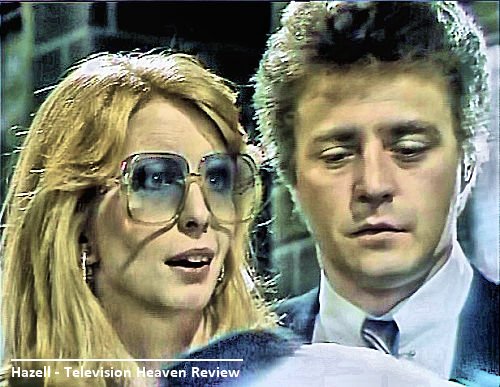 Hazell was not an immediate hit with viewers, but a technicians strike meant that the original series of 13 episodes was pared down to 10 and by the time it came back for its second run any creases appeared to have been ironed out and the series easily managed to find the right balance of humour and action and became a hit for ITV. Also a hit was the show's raunchy theme tune composed by Roxy Music's Andy Mackay (lyrics by Judy Forrest) which provided a Top 40 success for former Stone the Crows vocalist Maggie Bell.
Stylish, offbeat and unconventional, Hazell hit just the right balance of drama, dark humour and cockney charm with a mixture of 1940s pastiche thrown in for good measure. 
Published on June 10th, 2020. Written by Marc Saul for Television Heaven.