Market In Honey Lane
1967 | United Kingdom
Created by Louis Marks and beginning on Monday 3rd April 1967, Market In Honey Lane was British TV's first attempt to break Coronation Streets' supremacy as the number one soap opera with an East End version. 
Billed in the TV Times as a place where "you can learn more by standing here for five minutes than travelling round the world. It's all here: Bustle, colour, backchat, character and humanity." Over 100 actors and actresses were interviewed in order to select the 13 regulars for the series. There was Billy Bush (John Bennett), a quick-witted lean faced Cockney who worked on the vegetable stall. Billy was a grafter-but only when his money ran out, but that was quite often as he was a compulsive big-time gambler who liked his Scotch. And although he hated unions of any sort he was always the first to stand up for the underdog. Harry Jolson (Ivor Salter) ran the flower stall. Flamboyant with a dash of the olde worlde, Harry always kept a carnation in his buttonhole and a nice line in cheeky-chat for the women. He was everything that Billy Bush wasn't and the two men had a smouldering dislike for each other. The man who usually ended up as peacemaker for the two of them was Sam English (Michael Golden), Chairman of the Honey Lane Street Traders' Association, who ran a fruit stall.

Just like any authentic market there was more than one stall selling the same products and Polly Jessel (Pat Nye) also ran a fruit stall with her son Danny (Brian Rawlinson). Polly, a widow, was a tough bargainer with an acute sense of humour. In real life Pat Nye actually had an antique stall in the Portobello Road market in Kensington, London, so she was aptly cast. 
Danny, not exactly the quickest thinker was a cheerful likeable lad who never got involved in market politics and like to think that he always kept a protective arm around his mum, but in truth it was the other way round. Just the opposite to Dave Sampson (Ray Lonnen) across on the vegetable stall. Dark, good looking, sharp and inclined to do a bit shady business, especially if there was a pay-off at the end of it. His younger brother was Mike (Ian Gregory) a scatty girl-chaser.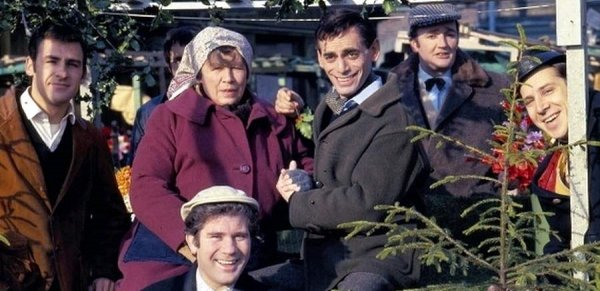 The set was the most ambitious ever erected by an ITV company occupying a space on a waste patch at Elstree Studios it was 150ft by 120ft and the roads and pavements were laid by a 12-strong gang of construction workers in a month. It cost £20,000 to build and added to that was the cost of hiring the stalls on a weekly basis from a dealer at £5.00 pounds a barrow for the ten regulars. The street lamps, (eight of them) were bought from a London council for £15.00 pounds each, every window on the set (16 in total) lit individually. There was enough power to feed a street of 15 houses, plus something like 20 miles of cabling.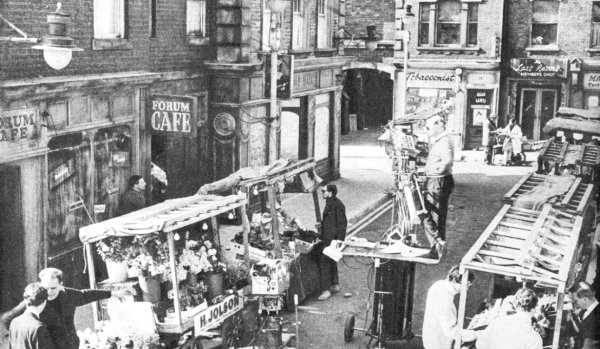 The production team went to great lengths to give the market an air of authenticity with litter and decayed cabbages specially brought in daily from Covent Garden. Books and magazines may have looked real but most just had covers, something of a disappointment to late night thieves who actually broke into the 'shops' twice before the first episode was broadcast. Not everything else was real, over 500 pounds was spent on artificial goods such as plastic potatoes. But everything that was handled in front of the camera, such as flowers, were genuine, only the background stuff was artificial.

The hour-long Market In Honey Lane proved to be a great success in its first twelve months and actually managed to challenge 'Corrie' in the ratings for a while (it directly followed the soap on a Monday night). But by September 1968 it wasn't doing so well and was moved to two weekly afternoon slots and renamed Honey Lane. A year later the stall owners packed away their barrows for the last time and Honey Lane market closed down for good.
Published on January 3rd, 2019. Based on original TV Times article.