Sixpenny Corner
1955 | United Kingdom
This was the first ever serial shown on Independent Television in the UK, and Britain's first daily TV Soap. 
Sixpenny Corner started on ITV's second day of broadcast. It was about the lives of two ordinary young newlyweds, Bill and Sally Norton (Howard Pays and Patricia Dainton) - he trying to make a success of a small dilapidated garage business while she ran the home. All this took place at Sixpenny Corner in the fictional rural town on Springwood.
Their friends and relations helped-and hindered-them from time to time. Notable characters in the series included Sally's parents, Mr & Mrs Sharpe (played by Walter Horsbrugh and Betty Bowden), her sister, Yvonne (Shirley Mitchell), and Bill's brothers, Stan and Tom (Robert Desmond and Bernard Fox). Each episode broadcast at 10.45 am ran for 15 minutes. The series ran for nine months, until 1956. 
The series creators were Jonquil Antony and Hazel Adair - Adair went on to co-create (with Peter Ling) both Compactfor the BBC and Crossroads for ITV. Howard Pays gave up acting in 1968 to become a talent agent, a career that proved to be hugely successful for him. Patricia Dainton, who was born in Hamilton, Scotland, gave up acting in 1963. 
Two of the actors in the series found television fame waiting for them in the USA. Shirley Mitchell (who was born in Toledo, Ohio) starred as Kitty Deveraux in Bachelor Father (1958-59) before playing running roles in The Beverly Hillbillies and Petticoat Junction. In 2006 she was heard in a video game of Desperate Housewives! Bernard Fox portrayed the warlock physician Dr. Bombay on Bewitched and the inept British Colonel Crittenden on Hogan's Heroes. He also appeared in The Man from U.N.C.L.E., Columbo and Murder, She Wrote.
The first six episodes of the serial were filmed in advance but after that it went out live every day and was transmitted from a small studio in High Street Kensington, West London.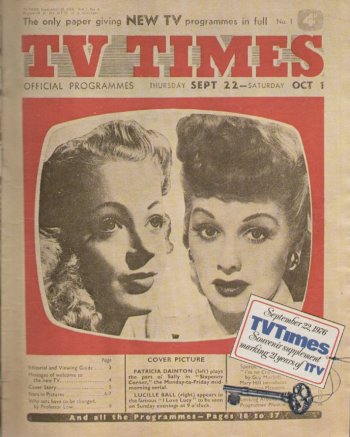 In 1980, Patricia Dainton, who had featured on the front cover of the first issue of TV Times in 1955, was interviewed for the same magazine as part of the 25th anniversary celebrations of ITV. In the article she spoke about the filming of Sixpenny Corner: "We got there at 7am and put on our make-up. At about 8.30 we would meet the crew, which was a different one every day. We would do one straight run-through of the episode, check our make-up and then do the episode.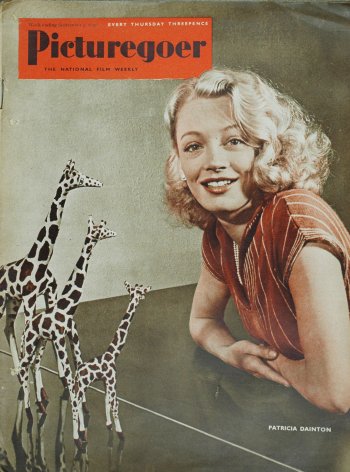 "After an early lunch we would go back and rehearse the next day's episode – without a crew. We never had full technical rehearsals. It was really hard work."
It got harder when, after 50 episodes, production was moved to studios at Wembley. "We were sometimes there from 7 one morning until 2 or 3 the next morning. We also had Sunday rehearsals."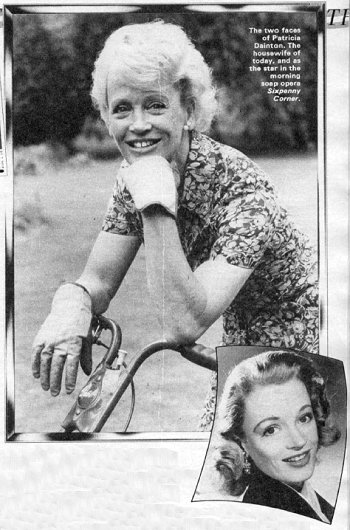 Dainton also explained why she gave up acting in the early 1960s. "I was expecting a baby and it was a Thalidomide child, which I lost. But after that, when I found myself pregnant again, I decided to stop working and concentrate on my family. Although not acting any more Dainton turned to art direction and worked on a number of films. 55 years after her last film role, she appeared in the public eye again, both attending the Renown Film Festival and providing introductions to her films in "An Afternoon with Patricia Dainton" on her 86th Birthday for TalkingPictures TV.

Published on December 4th, 2019. Written by Laurence Marcus for Television Heaven.