The Man From U.N.C.L.E.
1964 | United States
In the 1960's, with the Cold War at it's height and the Cuban Missile crisis still firmly set in everyone's minds, international intrigue and especially tales of secret agents and super spies were all the rage. When Ian Fleming's creation of super spy James Bond took the movie world by storm, it was surely only a matter of time before the small screen turned to that same format in order to emulate Bond's success.
With this in mind, producer Norman Felton, the director of MGM's television division and the guiding force behind Dr. Kildare, approached Fleming himself and began talks with him about possibly collaborating on a spy-oriented TV show for American TV. Fleming contributed some ideas (including the name of a main character; Napoleon Solo), but had to bow out when "Bond's" producer, Albert Broccoli, felt that Fleming's involvement with the series would cheapen his upcoming movie franchise. It was at this stage that Felton brought in Sam Rolfe, one of television's top writer/directors.
Facing network bosses that were unhappy about Fleming's departure, Rolfe developed the ideas that Felton and Fleming had drummed out, being careful not to copy the James Bond format too closely, and emerged with The Man From U.N.C.L.E.; a series that became American television's most successful and fondly remembered spy series of the numerous types that attempted to board the 007 bandwagon.
The series followed the exploits of U.N.C.L.E. (the United Network Command for Law and Enforcement) whose headquarters were located behind a secret doorway in Del Floria's tailor shop on New York's East Side. It's principal agents were Napoleon Solo -the Americanised Bond-alike, played with smooth, stylish, tongue-in-cheek charm by Robert Vaughn, and IIllya Kuryakin -British actor David McCallum as the dry-witted, calmly efficient Russian spy. Working under the direct orders of U.N.C.L.E. head Mr Alexander Waverly, -Hitchcock regular and widely respected British character actor Leo G. Carroll- the duo battled a colourful collection of dastardly adversaries bent on the destruction of the 'American Way', through a series of 132 episodes (29 in black & white, 103 in colour).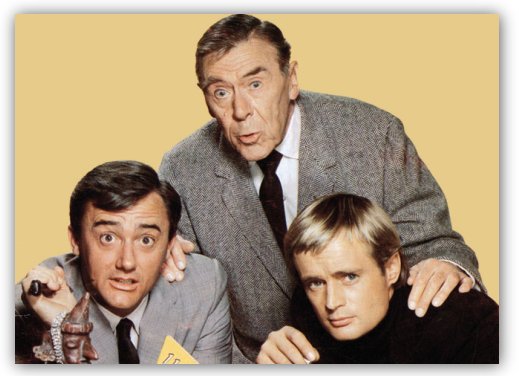 The U.N.C.L.E. duo's never ending fight again the minions of THRUSH (Technical Hierarchy for the Removal of Undesirables and the Subjugation of Humanity), was joined for a single season by Stefanie Powers as April Dancer (who first appeared in TMFU episode 'The Moonglow Affair' but played by the actress Mary Ann Mobley), and Noel Harrison (son of Rex Harrison), as side-kick Mark Slate, in the alternating weekly exploits of the (less than imaginatively titled), 'The Girl From U.N.C.L.E.' (Actually more a 'Modesy Blaze' strip cartoon rip-off than an extension of the 'Bond' phenomena).
'The Man From U.N.C.L.E.' boasted a series of high profile guest stars eclipsed only by the dazzling array of talent to be found on display in the 'Batman' TV series. Among them were such notables as Vincent Price, Angela Lansbury, Ricardo Montalban, Martin Landau, Joan Collins, Slim Pickens, Carroll O'Connor, Kurt Russell, Jack Palance, Janet Leigh, Sonny and Cher and Joan Crawford. One of the more intriguing pairings came in 'The Project Strigas Affair' which starred William Shatner and Leonard Nimoy, two years before they stood shoulder to shoulder on the bridge of 'Star Trek's' USS Enterprise.
'Uncle' was yet another window into the mood of a bright breezy and optimistic decade now forever lost to us. It was simple fun, produced in a more colourful clear-cut time where right and wrong were still clearly defined, and heroes never so much as wrinkled their immaculately tailored attire. The result was a classic series of imagination and atmosphere.
It was basically 'Austin Powers'...but with infinitely better dress sense.
Published on January 2nd, 2019. Written by Laurence Marcus & SRH (2000) for Television Heaven.