The Protectors (2)
1972 | United Kingdom
'There is a small group of private detectives who are able to work more efficiently because they are operating outside the law.' The above outline was handed to Gerry Anderson early one morning by ATV chief Lew Grade, and would form the basis of Anderson's first full live-action (devoid of models or space-age gadgets) series –The Protectors.
Anderson was used to having these early morning meetings with Grade who always started his own working day around 6:30am. The pair had enjoyed a good working relationship for over a decade now with Gerry producing some of ITC's most lucrative transatlantic TV series, but on this particular day Gerry remembers that Grade was in a particularly foul mood. His whole demeanour when he passed Gerry the piece of paper containing the scant series outline suggested a take-it-or-leave-it attitude, and Gerry felt that if he turned this down there would be nothing else on offer.
Still, the outline was sufficiently vague enough for Gerry Anderson to conclude that he could virtually write his own series, and so he accepted it. Grade immediately made an initial order of 26 episodes
The series was to be jointly financed by Lew Grade and John Barry of the Fabergé perfume company which allowed for a bigger than usual budget and for a generous helping of foreign location work. Gerry and Reg Hill developed the concept of a brotherhood of the world's top private detectives led by a London based American called Craig Bradford. He would be assisted by a German investigator, Kurt Neilson, and the beautiful Contessa di Contini, formerly the British aristocrat Lady Caroline, who was in fact modelled on Sylvia Anderson's puppet creation Lady Penelope from Thunderbirds.
Actors considered for the part of Bradford were Paul Burke, Chuck Connors, Robert Culp, William Shatner and Ben Gazzara, amongst others. But before any of them could be approached, Lew Grade phoned Gerry to say that he had personally signed former Man From U.N.C.L.E. star Robert Vaughn in the lead (the character being renamed Harry Rule). Gerry turned his attention to the second lead and signed actor Tony Anholt to play the part of Kurt Neilson although at this point his nationality changed, as did his name. He was now known as Frenchman Paul Dubois and before the series reached the screen that changed again to Paul Buchet.
Some weeks after the casting of Anholt, Gerry attended a Screen Writers Guild dinner. Lew Grade was there too, and so was actress Nyree Dawn Porter, who had been a hit in the classic BBC series The Forsyte Saga. "I was sitting at my table when suddenly a cigar appeared over my shoulder followed by the legendary Lord Lew," remembered Nyree. "He said to me, 'My dear, I'd like you to do a series for us.' Of course, I was thrilled and said 'How lovely. Could I see the scripts?' He answered 'don't worry, they'll be written for you. Now, who would you prefer as your leading man, Gene Barry, Chuck Connors or Robert Vaughn?'"
Gene Barry had already been approached by Grade to star in his own series for ITC (see The Adventurer) but luckily Porter said that she would like Vaughn to be her leading man. She only discovered later that he had already been cast. It was a deliberate ploy by Grade to make the actress think that she had a say in the casting process. With the shake of a hand the deal was done and Grade then sought out Gerry whom he found at the bar. "I've got marvellous news for you!" He told Gerry. "I've just signed Nyree Dawn Porter for the second lead in The Protectors." Gerry thought this less than marvellous. "But Lew, the second lead is a male!" "Oh well," said the TV mogul with a shrug of his shoulders. "You'll just have to rewrite the scripts, won't you?""
The publicity blurb, when it came out, read like this: "The organization exists to protect those in peril, its members being super-agents from the world's best detective agencies. Every Protector keeps in close communication with his colleagues so they can draw on the collective intelligence and skills of these international networks. It is a private organization, unrestricted by the technicalities, which so often hamper the law. Protectors can break through handicapping legal red tape and international frontiers, their methods often being as unconventional as they are hazardous. Money is no object. The Protectors are expensive to hire and are called upon not only by private individuals but also by powerful groups. Those bodies employing them know they are hiring not only individual and collective skills, but also the latest scientific devices".
The series predominantly concerned itself with the two main leads, Harry Rule, living in a mock-Tudor mansion somewhere in London and the Contessa Caroline di Contini (who resides in her late husband's villa in Rome) with Parisian based playboy Buchet appearing every so often over the course of the first series rather than as a regular. Other characters in the earlier episodes included Chino (Anthony Chinn), the Contessa's karate expert chauffeur and Suki (Yasuko Nagazami), Harry's judo expert au pair.
Written by the top TV scriptwriters of the day, The Protectors scripts were of a frequently high calibre, set against a backdrop of glamorous locations and told at a cracking pace. In typical Gerry Anderson style, the introduction sequence featured car chases, punch-ups and explosions and the ending had a stirring theme tune, 'Avenues and Alleyways', which became a top forty hit (charting at number 37) for Tony Christie and until 2005 it remained the singers longest-running chart hit. The lyrics perfectly emphasized the tone of the show: "In the Avenues and Alleyways: Where the soul of a man is easy to buy. Everybody's wheeling, everybody's stealing, all the low are living a high. Every city's got 'em. Can we ever stop 'em?. Some of us are gonna try."
Apparently, behind the scenes there were problems. Gerry Anderson was at constant loggerheads with Robert Vaughn who didn't endear himself to the producer by confessing to his dislike of the series and his unpleasant stay in the United Kingdom. Before the show even hit the screens Vaughn was quoted in the New York Times as saying that all European technicians were a 'load of crap' and didn't know what they were doing. The row that erupted between them resulted in Anderson threatening to sue the star and Vaughn announcing he was going to flay back to California without doing any further filming. Fortunately for both men they were able to settle their differences but by all accounts they never became bosom buddies!
Nevertheless, The Protectors became Gerry Anderson's most successful TV series since Thundebirds and Vaughn's since 'U.N.C.L.E.' and a second season was quickly commissioned. Guest stars included UFO's Ed Bishop and Thunderbirds' Shane Rimmer as well as Stephanie Beacham, Patrick Troughton, David Suchet, Eartha Kitt, Kate O'Mara, Anton Rogers and John Thaw. A third series was planned but was cancelled when Fabergé's John Barry and Lew Grade fell out.
Following the cancellation of the series Gerry Anderson went off to make Space: 1999 a series of his own creation that was much more in keeping with his reputation. Still, The Protectors remains popular to this day, is available on DVD and is a good example of the last of a genre that is popularly described as 'cool spies and private eyes.' 
The Leads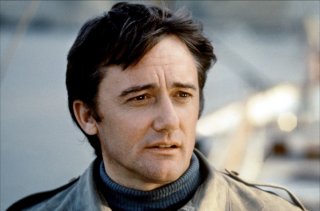 Robert Vaughn was born in New York City on November 22nd 1932. Vaughn's first notable appearance was in The Young Philadelphians (1959) for which he was nominated for the Academy Award. Starting in 1964, he starred as Napoleon Solo, the eponymous Man from U.N.C.L.E., along with British co-star David McCallum. As of 2006, he is the only one of the seven main stars of The Magnificent Seven who is still alive. He continued to act in film and television until he passed away in 2016, probably his best remembered later role was in the 2004 - 2012 BBC series Hustle.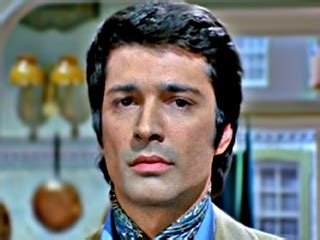 Tony Anholt was born in Singapore in 1941, Anholt moved to England with his mother when he was three. He worked as a teacher before moving into acting at the age of 26. Apart from recurring roles in The Protectors and Space 1999, Tony also played suave tycoon Charles Frere in Howard's Way for five years until the show ended in 1990. Sadly, Tony passed away in July 2002 at the age of 61.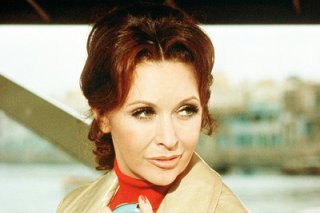 Nyree Dawn Porter, whose first name means little flower in Maori, was born in New Zealand, the daughter of a butcher. At 20 she won an acting scholarship to London and her first TV job was in the title role of BBC2's serial Madame Bovary. She won a host of admirers for her role as Irene Forsyte in The 1967 series The Forsyte Saga. More than 160 million viewers world-wide in 26 countries followed the series, which is one of the most celebrated British period dramas ever made. Nyree passed away unexpectedly in April 2001. Like Tony Anholt, she was just 61 years of age.
Published on January 21st, 2019. Written by Laurence Marcus (4 February 2006) for Television Heaven.