The Odyssey
1997 | United States
The greater than expected success of The Odyssey, a, "miniseries" based on Homer's epic poem, had a big impact on American television production for several years around the turn of the Millennium.
It led to a temporary revival of the "miniseries," a format in decline since its "Golden Age" of the late 1970s and early 1980s. It also reminded producers, at that time obsessed with "cool" shows for young people, that there was still a strong market for traditional family friendly entertainment. In particular, it reminded them of the power of certain classic stories, like Homer's, that had stood the test of time. Yet even as it was looking back, it was also looking forward - to new structures to produce and finance television projects.
At the beginning of the 1990s, the main American networks still kept a tight grip on the production process. They paid the studios who in turn paid the production companies, who did as they were told. One of these was RHI, founded by Robert Halmi Senior, who had arrived in America in 1950 a penniless refugee from Hungary, where he had been imprisoned first by the Nazis and then by the Communists. From this unpromising beginning, he built a solid production operation specialising in fairly cheap "movies of the week," but his company did have some very respectable shows to its credit, including involvement in Lonesome Dove.
As his career to date had demonstrated, Halmi was nothing if not ambitious. In order to secure capital for more prestigious projects, in 1994 he sold RHI to Hallmark. This is Hallmark the greetings card company: it had for many years sponsored a series of "television movies" branded as 'The Hallmark Hall of Fame' on each of the three main US networks, NBC, CBS, and ABC in turn. Some of these were high quality adaptations of literary classics, even if there was nothing very famous about most of the rest. With the RHI deal the greetings card company became a producer - and later a broadcaster - in its own right, not just a sponsor. Of course it was Halmi himself, and his son, Robert Halmi Junior, who remained the driving force in its new production subsidiary, which was renamed Hallmark Entertainment.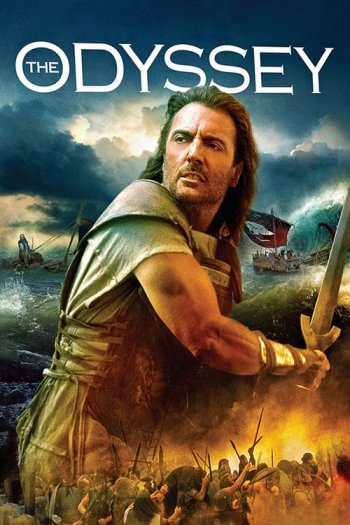 To produce The Odyssey, Hallmark Entertainment teamed up in turn with two more respected names: American Zoetrope, Francis Ford Coppola's production company; and Jim Henson's Creature Shop, which provided some of the special effects. Although the network that eventually broadcast The Odyssey was NBC, the use of external capital and the powerful combination of producers was a reflection of a broader trend of a shift in influence away from the networks in response to the growth in the number of platforms that was just getting started. This led to greater artistic flexibility and higher production values, both of which can be seen in The Odyssey. It never looks or feels like a studio project. Historical purists please note that this is only a crude summary of some fiendishly complicated corporate manoeuvres.
None of this would have mattered if The Odyssey had not delivered the ratings. It did - so impressively that it encouraged a trend for similar "miniseries" and "television movies" based on history, myth, or literary classics. Many of these were produced by the indefatigable Halmi himself, including Moby Dick with Patrick Stewart, Merlin with Sam Neill, and A Christmas Carol, also with Stewart.
Over two decades on, it is not difficult to see why The Odyssey did so well. It is a high quality piece of work.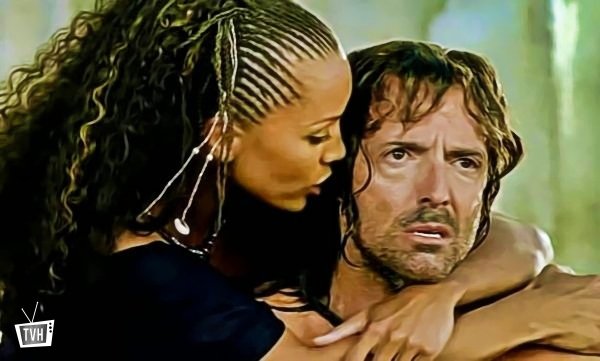 This began with the wise decision to stay fairly close to its source material. The sequel to Homer's 'Iliad' is one of the earliest and most influential classics of Western literature. It is the model of the standard "journey" narrative and the word Odyssey has long been synonymous with any arduous travel or adventure. This is a story that works on every level. The hero has a clear objective, to get home, and there are many memorable obstacles in his way - including a Cyclops, Scylla and Charybdis, and seduction by beautiful women. At one point our hero literally goes to Hell. All this is included in the "miniseries." The only surprising omission is the Sirens, the beautiful women who lured travellers to their deaths with their singing, but they appear to be referenced in another of the seduction scenes - Odysseus really does get tempted a lot in this respect, and frankly his will to resist is not what it ought to be.
Most of such changes from Homer as there are in the in the script seem designed to make him less unsympathetic. The producers understood that there is a big difference between the Ancient Greek idea of heroism and what a modern American audience expects of a hero.
The conceptual team was extraordinarily powerful. Francis Ford Coppola himself is credited as a producer, together Dyson Lovell, an old associate who had also worked on Lonesome Dove, and the talented novelist and film director Nicholas Meyer. The actual director of the project was the highly respected Russian Andrei Konchalovsky, who had worked with Andrei Tarkovsky.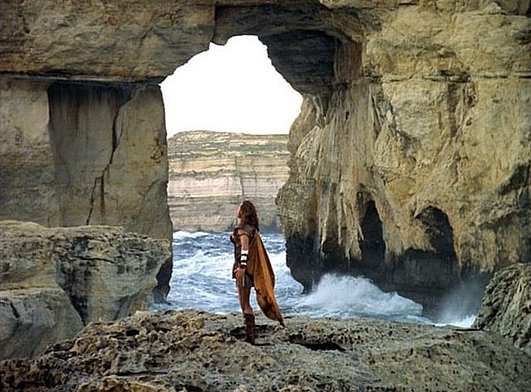 Where a straightforward studio project might have tried to have California stand in for the Mediterranean, The Odyssey was filmed on location, mainly in Malta and Turkey. This was crucial for authenticity, because the colour of the skies and the sea in that part of the world is like nowhere else.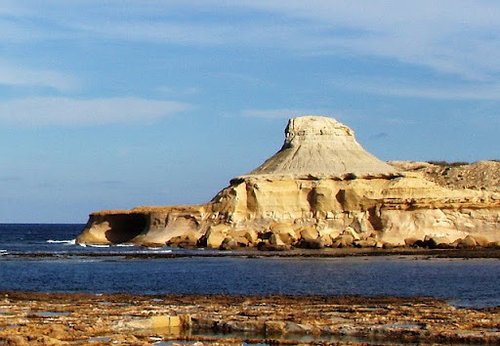 The cinematography made the most of this gift, with some colourful images evoking Homer's famous lyrical descriptions of "rosy fingered dawn," "the wine dark sea," and so on. It was backed by arts departments clearly determined to give the human aspect a realistic sense of the Bronze Age. This is nothing like the more familiar images of Ancient Greece which date from the Classical Era, at least five centuries later. This was an agricultural economy in which even Kings and Queens had to work. There was no hanging around buildings like the Acropolis of Athens wearing impractical clothes. It was good to see details like the shape of the shields conform with what archaeologists tell us about the probable time of the Fall of Troy.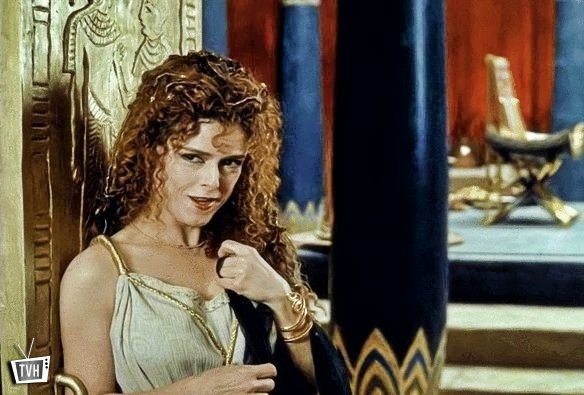 This authenticity on the human side set up the contrast with the supposedly more supernatural elements very cleverly: The Palace of Circe, for example, must indeed have looked otherworldly to Odysseus and his men when his own Palace was architecturally little more than the equivalent of a very prosperous farm in the region. While some of Henson's effects rather clash with the realism established elsewhere, that too is excusable in the context of stressing the difference, and, anyway, like Ray Harryhausen's effects in his Greek films, they are fun.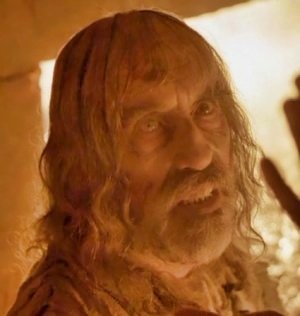 The greatest strength - and, one imagines, expense - of the project was, however, its international cast, which included Armand Assante, Greta Scacchi, Isabella Rossellini, Irene Papas, Christopher Lee, Bernadette Peters, Vanessa Williams, Eric Roberts, Geraldine Chaplin, Jeroen Krabbe, and Michael J Pollard. As often happens with Classical or historical projects, the Americans leavened the supporting cast with a job lot of skilled British character actors, including Ron Cook, Roger Ashton-Griffiths, Nicholas Clay, Tony Vogel, Vernon Dobtcheff, Heathcote Williams, and Peter Woodthorpe.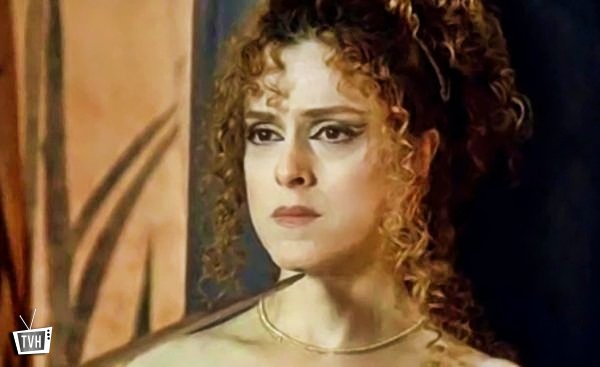 Assante is one of those fine actors who deserves to be a bigger star. Here he gives us a virile Odysseus with many different facets. We get to see the sympathetic Odysseus, dragged away from his wife and new-born son to fight in the Trojan War. Then there is the arrogant Odysseus who foolishly loses everything in a moment of hubris. Of course, there is the proverbial cunning Odysseus, adopting a plausible manner to fool the Cyclops. Finally, there is King Odysseus, wholly in command as he sits on his Throne, exacting ruthless revenge. Assante succeeds in all of them, and therefore in making Homer's original point, that Odysseus was a man of many conflicts, his inner struggles being the cause of many of his outer ones.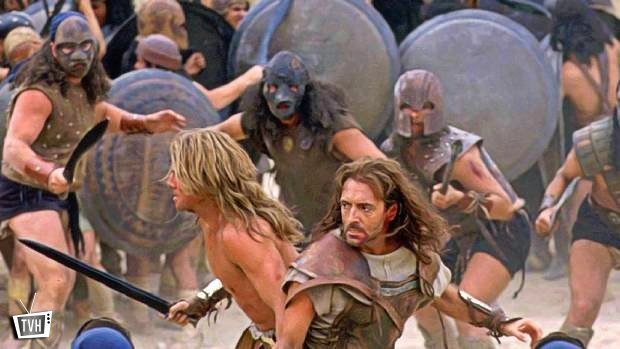 The dominant woman of his house is not his Queen, Penelope, played by Greta Scacchi, but his mother, Anticlea, played by Irene Papas - who had herself played Penelope in an acclaimed 1968 production of 'The Odyssey,' as well as Helen of Troy in the powerful film version of Euripides' 'The Trojan Women.' Her final scene with her son is particularly moving.
Indeed, if there is a criticism of this version of The Odyssey it is that it is too short and does not allow itself enough time to develop all the potential drama offered by the characters, relationships, and situations Homer gave us. Today, it would almost certainly be made in 8-10 hour long episodes rather than the two longer episodes of the old "miniseries" format.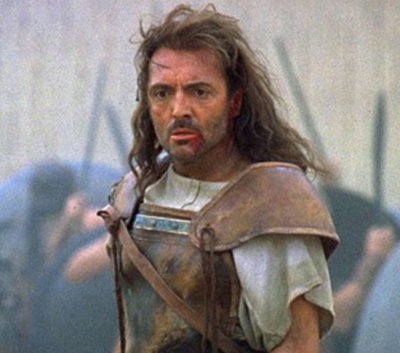 This is why the revival of the "miniseries" format heralded by The Odyssey did not survive the increase in the number of platforms of the 21st Century: while the two hour feature is ideal for an evening's online viewing, and a multi-episode season is ideal for a "binge," a 3-5 hour production is neither. However, the new business structures of which The Odyssey was a successful early product proved well adapted to the new environment. Around the same time that The Odyssey was first broadcast Hallmark Entertainment built up a stake in a cable channel - which happened to be called Odyssey - which later became the Hallmark Channel.
Viewed purely as entertainment, the "miniseries" itself has aged well, apart from some inevitably dated effects. Since Homer's story endures, so does a production that has the sense to stay reasonably close to it, and uses the finest ingredients - cast, locations, photography, sets, and props - in retelling it.
Review by John Winterson Richards
John Winterson Richards is the author of the 'Xenophobe's Guide to the Welsh' and the 'Bluffer's Guide to Small Business,' both of which have been reprinted more than twenty times in English and translated into several other languages. He was editor of the latest Bluffer's Guide to Management and, as a freelance writer, has had over 500 commissioned articles published.
He is also the author of 'How to Build Your Own Pyramid: A Practical Guide to Organisational Structures' and co-author of 'The Context of Christ: the History and Politics of Rome and Judea, 100 BC - 33 AD,' as well as the author of several novels under the name Charles Cromwell, all of which can be downloaded from Amazon. John has also written over 100 reviews for Television Heaven.
John's Website can be found here: John Winterson Richards
Books by John Winterson Richards:
Published on December 31st, 2020. Written by John Winterson Richards for Television Heaven.